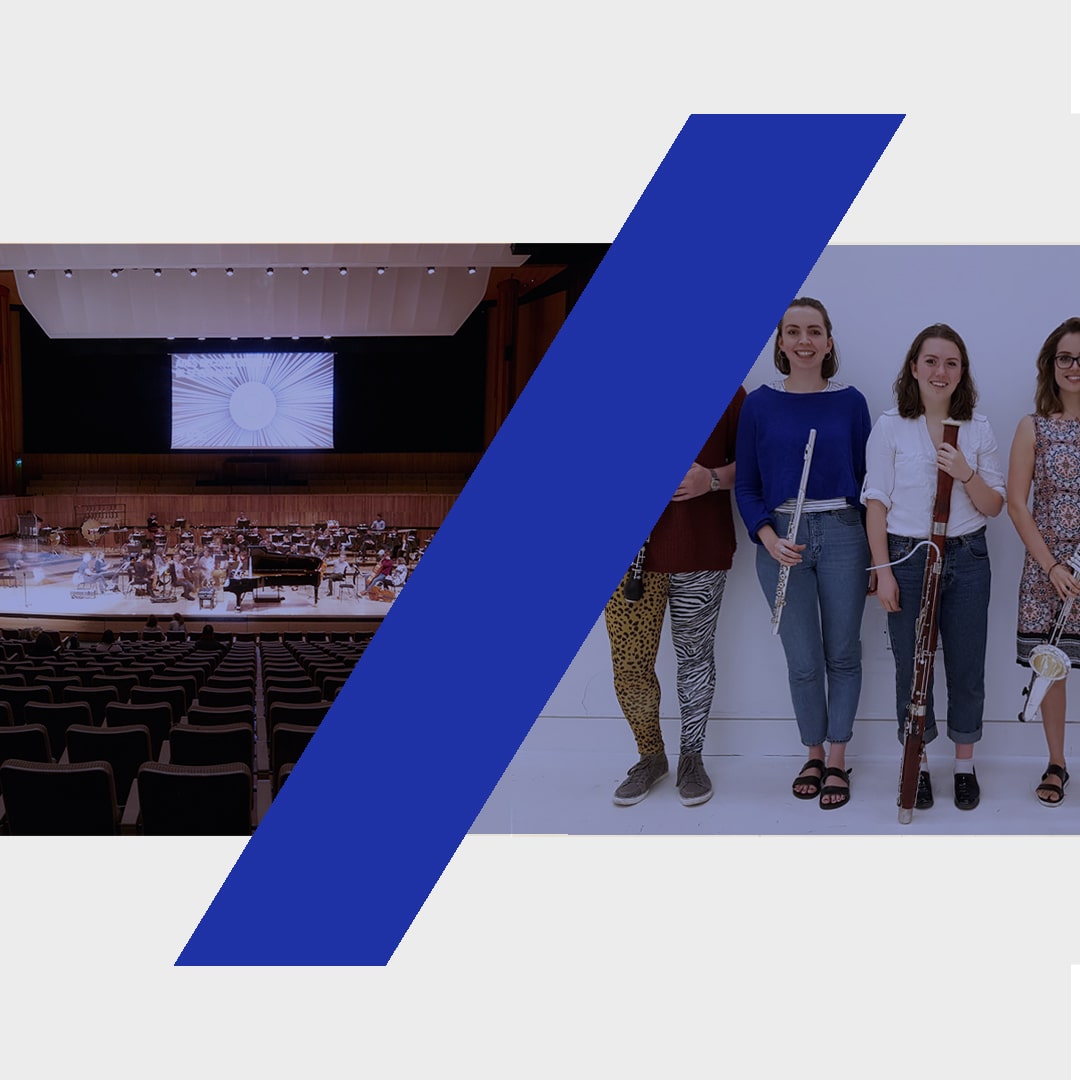 Welcome to tonight's concert
Welcome to this, the culmination of the 12th annual edition of the London Sinfonietta Academy. It is very good for the musicians to be able to perform in front of an audience again and thank you so much for coming. Every year everyone at the London Sinfonietta is amazed by the ability and passion of the young musicians who join us from around the UK for this project. Congratulations to them and we wish them all the best for their upcoming careers. We naturally hope that the experience of the course will mean they seek out and champion contemporary music in future. 
We are grateful to all our funders who have made this project possible, including especially those who allowed their funding from last year's postponed project to be carried forward into this. We are also grateful to Anna-Maria Helsing, who programmed so much of the event tonight but has, for reasons of the pandemic, not been able to travel to lead the project with us. So we are once again grateful to Geoffrey Paterson for taking the podium for the course and concert – and to the London Sinfonietta musicians, whose advice and experience makes so much difference to the final performance and to what the students take away from the experience. 
We hope you enjoy the event.
Andrew Burke
London Sinfonietta Chief Executive and Artistic Director
Did you enjoy this concert? Let us know by filling in this short survey
Steven R Gerber  Soliloquy for solo bassoon
Michael Small  For years now (world premiere)
     Short pause to reset the stage
Pelle Gudmundsen-Holmgreen  OG 
Anna Thorvaldsdottir  Hrím 
Harrison Birtwistle  Carmen Arcadiae Mechanicae Perpetuum
     Interval (15 minutes)
Lotta Wennäkoski  Hava
Andrea Tarrodi  Camelopardalis
Tomi Räisänen  Magus Magnus
Geoffrey Paterson  conductor
Edoardo Casali  bassoon
London Sinfonietta Academy 
London Sinfonietta
Saturday 24 July 2021, 7pm
Cecil Sharp House, London
Please note that this event will be live-streamed on YouTube. Click here to go to the stream
With the friendly support of The Ernst Von Siemens Music Foundation.
The London Sinfonietta Academy 2021 is generously supported by The Radcliffe Trust, Steven R. Gerber Trust, Garrick Charitable Trust, The Derek Hill Foundation, Fidelio Charitable Trust, Aspinwall Educational Trust, Boris Karloff Charitable Foundation, Thriplow Charitable Trust, Barbara Whatmore Charitable Trust and The Harold Hyam Wingate Foundation.
Support our work
If you are enjoying our events, please do consider donating at whatever level you can afford to support the London Sinfonietta's work and musicians both now and in the future – in schools, on the concert platform and in the community. It might be the price of a coffee, or the cost of a ticket to one of our live events.
Text to donate:
Text NEWMUSIC 5 to 70450 to donate £5
Text NEWMUSIC 10 to 70450 to donate £10
Text NEWMUSIC 20 to 70450 to donate £20
Texts cost £5, £10 or £20 plus one standard rate message, and you'll be opting in to hear more about our work and fundraising via telephone and SMS. If you'd like to give but do not wish to receive marketing communications, text NEWMUSICNOINFO 5, 10 or 20 to 70450.
About the London Sinfonietta Academy
The London Sinfonietta Academy is an unparalleled opportunity for emerging performers in new music - an annual intensive course of rehearsals, training and playing alongside London Sinfonietta Principal Players, culminating in a public performance. For the first time, during the 20/21 season LS Academy participants have also taken part in a range of other opportunities to enhance their experience with us. These have included performing as part of our World Premiere Wednesday series, supporting Participation and Learning workshops and Composition Challenges for schools, working with our Writing the Future composer Alex Paxton and taking part in chamber music coaching.
London Sinfonietta Academy has proved to be an invaluable opportunity for young musicians who are about to enter the profession to train with and learn from one of the world's leading contemporary music ensembles. Since 2009 more than 230 young musicians have participated, and many of them have become freelance players with London Sinfonietta and members of other major UK and international ensembles. It remains the foremost training scheme of its kind in the UK, focusing solely on the expert playing of contemporary repertoire.
London Sinfonietta Academy 2021 Participants
Sirius Chau  flute/piccolo/alto flute
Bernice Lee  oboe/cor anglais
Ivan Rogachev  clarinet/bass clarinet
Raymond Brien  bass clarinet
Edoardo Casali  bassoon/contrabassoon
George Strivens  french horn
Helen Kuby  french horn
Bethany Sullivan  trumpet
Dominic Clarke  trombone
Aled Meredith-Barrett  tuba
Olivia Jago  violin (Academy leader)
Eloise MacDonald  violin
Emily Birse  violin
Anastasia Stahlmann  violin
Lucas Levin  viola
Jisu Song  viola
Wallis Power  cello
Meera Raja  cello
Will Duerden  double bass
Hebba Benyaghla  piano/celeste
Paula O'Malley  timpani/percussion
Daniel Floyd  percussion
Esther Beyer  harp
Steven R Gerber - SOLILOQUY
Composed for Bryan Young, this work for solo bassoon is based on the first four notes of Igor Stravinsky's 1913 work Le Sacre du Printemps (The Rite of Spring).
Michael Small - FOR YEARS NOW
Commissioned for the London Sinfonietta by the Royal Over Seas League Composition Prize 2020
In fact, said Austerlitz, I have never owned a clock of any kind… perhaps because I have always resisted the power of time out of some internal compulsion which I myself have never understood, keeping myself apart from so-called current events in the hope, as I now think, said Austerlitz, that time will not pass away, has not passed away, that I can turn back and go behind it, and there I shall find everything as it once was, or more precisely, I shall find that moments of time have coexisted simultaneously, in which case none of what history tells us would be true, past events have not yet occurred but are waiting to do so at the moment when we think of them…
- W.G. Sebald, Austerlitz
The work of the German writer W.G. Sebald is deeply connected with memory, time and place. In his books, the narrator (who is a fictionalized version of Sebald himself) wanders aimlessly through Europe, often beset with fits of anxiety, visiting the sites of some of the 20th Century's most unspeakable horrors. For Sebald, they are literally unspeakable, undiscussable, and instead are referred to only obliquely or by association. He meets ghosts from his past, travels on trains, meditates on architecture or curiosities in museums that often lead the narrator on lengthy historical digressions. Sebald's unique voice blends all these remembrances in a dreamlike, seamless haze of reflection. In his collection of very brief poems, For Years Now and Unrecounted, these images are reduced to mere glimpses, disconnected from any context, but still imbued with a deep vividness.
My work For Years Now is a series of nine interconnected movements which seek to evoke this sense of shattered, lost time. The odd-numbered movements, I, III, V, VII and IX are longer, and seem to have a continuing narrative, while the even-numbered movements in between, ii, iv, vi, and viii are "flashbacks" and "flashforwards" to other events in the piece – these are disconnected, and sometimes faulty memories.
The ensemble is also somewhat shattered – the Flute and Clarinet sometimes play slightly detuned echoes of music we just heard from the other instruments. There are two mini-concerto movements which have a wandering narrator, the first one we hear is for the piano in movement V, and the second is the cello in movement VII.
My deepest thanks go to the Royal Over Seas League for the opportunity to compose this piece, and to Geoffrey Paterson and the musicians of the London Sinfonietta for their performance.
Michael Small
Pelle Gudmundsen-Holmgreen - OG
When I got the commission to write a piece in memory of Søren Kierkegaard my first thought was to comment on his ENTEN-ELLER (Either/Or) with a work having the title BÅDE-OG (Both/And). I soon found out, that this idea was too corny. And only OG was left.
The word OG has a wonderful lack of personal opinion on what to think and what to do. But it has the function of bringing together: 'Det og det og det…' – This, and this, and this. The function is one of addition that could easily be seen as a main feature in my own composing. Different kinds of voices on top of each other are often found in my music – a polyphony parallel to the astonishing meetings of creatures in real life.
Søren Kierkegaard's thoughts are often presented through different voices and different characters: In ENTEN-ELLER by the papers written by A and by B – a wonderful and human and dramatic way of discussing possibilities. Possible answers to a problem where the reader has to find his own way. Of course Kierkegaard points at solutions and has his provocative ideas but formed in discussion – with the reader as well.
In my OG very different "voices" are brought together. They keep going. Do not change. Do not find a "solution". Do not point at one. But they breathe.
Mozart and Don Juan are in the pieces well – as they were in Søren Kierkegaard's mind.
Pelle Gudmundsen-Holmgreen
Anna Thorvaldsdottir - HRÍM
Hrím was written in late 2009 and early 2010 as a commission for the UCSD New Music Ensemble to serve as a companion piece to Ligeti's Chamber Concerto.
The piece is inspired by the notion of dispersion, represented by release and echoing in the sense that single elements in the music are released and spread through the ensemble in various ways throughout the process of the piece. The music is in one short movement.
The work was funded in part by the Icelandic National Broadcasting Service Composers' Fund.
Anna Thorvaldsdottir
Harrison Birtwistle - CARMEN ARCADIAE MECHANICAE PERPETUUM
Sir Harrison Birtwistle wrote Carmen Arcadiae Mechanicae Perpetuum for London Sinfonietta in 1977 and it was first performed at Queen Elizabeth Hall in 1978 conducted by Sir Harrison Birtwistle himself. 
In this piece, Birtwistle sets out to construct a piece of music made from very clearly defined material: high, medium or low registers, loud or quiet dynamics and sustained or rhythmic figures. These elements are constantly shuffled around independently of one another so, in the words of the composer, the music is "redefining itself constantly". 
He describes the piece as being made from "six different machines or songs, musics". And then goes on to say "how they repeat in relation to one another is what the piece is about."  
The piece has become a standard work in the ensemble repertoire everywhere in the decades since then – and no wonder; it is highly appealing, playful and diversified instrumental theatre music (similar to Secret Theatre), in which "mechanisms," i.e. groups behaving like mechanical devices, declare hostilities against one another in various rhythmic patterns and registers.
At age 33, Birtwistle had already found his own musical language, which he used to relate Carmen Arcadiae; its multitude of characteristic traits would come to mark his subsequent compositions.
Lotta Wennäkoski - HAVA
I belong to the generation or type of composer for whom foreign musical starting points are an opportunity rather than a threat. When I came up with the idea for Hava, I was particularly playing with the idea that music could indeed deal with something or a theme in the same way that a novel deals with its theme, from different angles, always in new enlightenment, using its own language. The simple starting point of Hava is to fall or descend - although, of course, sometimes you have to get up first.
The treatment of the falling theme is illuminated by the fact that the working names of the different episodes of Hava in the planning phase have been, for example, Lumi I, Lumi II, Kukka and Lehti. The title Hava is the inflectional body of the Hungarian word snow. However, the word Supi-Finnish associations, such as waking up, are also important to my own ear.
Hava was commissioned by the Tapiola Sinfonietta for the orchestra's 20th anniversary and premiered on 11 January 2008 under Jean-Jacques Kantorow. The precise-virtuoso ensemble was undoubtedly a great source of inspiration during the compositional work.

Lotta Wennäkoski
Andrea Tarrodi - CAMELOPARDALIS
Camelopardalis was commissioned by the Cape Philharmonic Orchestra. The piece was premiered at the Cape Town Music Festival on January 20, 2011, Cape Town City Hall, South Africa. The piece has also been performed by many other orchestras such as the Swedish Radio Symphony Orchestra, the Gothenburg Symphony Orchestra and the Royal Stockholm Philharmonic Orchestra. In 2013 the Helsingborg Symphony Orchestra performed the piece at the Mozart Festival in Vienna.
"One night I dreamt that I had a giraffe. We were the best of friends, my giraffe and I! I climbed up on it, and we jumped out of a window and rode away. We rode through forests, over meadows and mountains. On the horizon we saw a big red sun rising, and a flock of colourful birds flew by. When I woke up I felt immensly happy; it was such a strange and beautiful dream! At that time I was just about to start writing an orchestra piece for the Cape Philharmonic Orchestra and it just felt natural to let the piece be inspired by the dream. Camelopardalis is a constellation in the northern sky, and the word is Latin for giraffe. Somewhere in the middle of the piece you may hear the song of the giraffe, presented by the bassoon…"
Andrea Tarrodi
Tomi Räisänen - MAGUS MAGNUS
The title of the work, Magus Magnus, means a great sorcerer or magician. The title can also be translated as Magnus the Magician, which refers to Magnus Lindberg to whose 50th birthday the work was composed. Lindberg has often told that he takes some existing music work as a starting point for his new work. In this case I wanted to do the same and I chose Paul Dukas' famous orchestral work The Sorcerer's Apprentice as the basis of the form and the instrumental dramaturgy. The harmony world in Magus Magnus is borrowed from Lindberg's work Corrente. The seven pitch class sets of the Corrente are circulated in the manner of a chaconne, as Lindberg tends to do also in his other works. Magus Magnus is a mixture of the magic and the hypnotic dance and it is dedicated to my teacher, colleague and good friend Magnus Lindberg.
Tomi Räisänen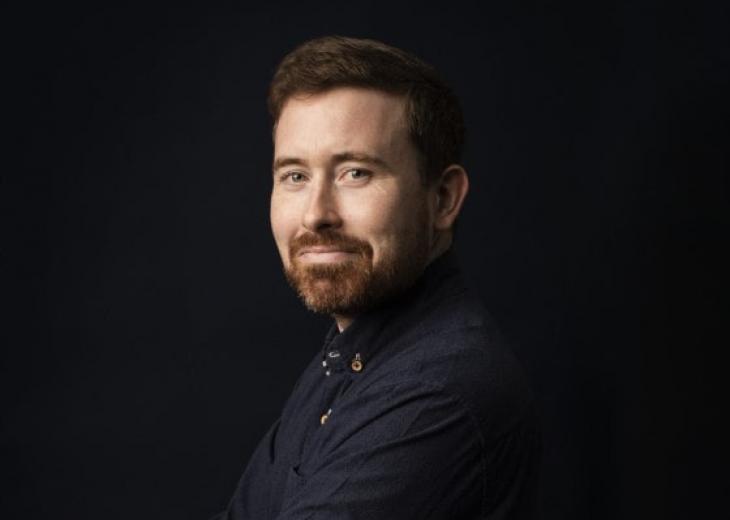 Geoffrey Paterson
British conductor Geoffrey Paterson is admired for his impressive grasp of detail, responsiveness to musicians, and his ability to shape and make music from the most complex scores with natural authority.
Plans in 20/21 include a streamed BBC Prom from the Royal Albert Hall with the London Sinfonietta (whom he conducts regularly) and appearances with the BBC National Orchestra of Wales, Royal Liverpool Philharmonic, Orchestra of the Age of Enlightenment, Copenhagen Philharmonic, Nash and Asko Schoenberg ensembles. Recent highlights have included appearances with the Philharmonia Orchestra, Danish National Symphony Orchestra, Aurora Orchestra, Orchestre National de Lille, National Orchestra of Belgium, Basel Sinfonietta, BBC Scottish Symphony Orchestra and Scottish Chamber Orchestra.
Geoffrey studied at Cambridge University where he also took composition lessons with Alexander Goehr followed by studies at the Royal Scottish Academy of Music and Drama. Having won both First Prize and the Audience Prize at the 2009 Leeds Conductors Competition, he went on to participate in the Luzern Festival conducting masterclasses with Pierre Boulez. During his time on the Royal Opera House Young Artist Programme he assisted conductors including Antonio Pappano, Mark Elder, Andris Nelsons and Daniele Gatti on an extensive repertoire. For two seasons he worked in Bayreuth as musical assistant to Kirill Petrenko for Der Ring des Nibelungen.
LS Players
Philippa Davies  flute/piccolo
Melinda Maxwell  oboe
Michael Whight  clarinet
Jonathan Davies  bassoon
Nicholas Korth  french horn
Bruce Nockles  trumpet
Byron Fulcher  trombone
Gabrielle Lester  violin (London Sinfonietta leader)
Elizabeth Wexler  violin
Paul Silverthorne  viola
Tim Gill  cello
Markus van Horn  double bass
Rolf Hind  piano
David Hockings  percussion