Sinfonietta Shorts are miniature pieces of new music from today's leading composers; commissioned, premiered and released by the London Sinfonietta.
Our Sinfonietta Shorts series was established back in 2008 to celebrate the London Sinfonietta's 40th birthday. Now, thirteen years later, these pocket-sized solo pieces continue to have enduring relevance as a taster to some of the best new music and composers of our time, and include works by Sir Harrison Birtwistle, Anna Meredith and Francisco Coll.
The London Sinfonietta has a strong tradition of commissioning new music from the finest composers of today. To date, we have commissioned over 450 new works, including 49 Sinfonietta Shorts – a feat which would not have been possible without the generosity of our supporters.
Supporting a commission creates a rare opportunity to become a part of the ensemble's history, whilst championing our pursuit of new music. Sinfonietta Shorts are available as unique and inspiring gifts to mark a significant birthday or anniversary, or as a tribute to a loved one.
You can read more about some of our previous Sinfonietta Short commissions below and find out how you can support one of these exciting miniature works.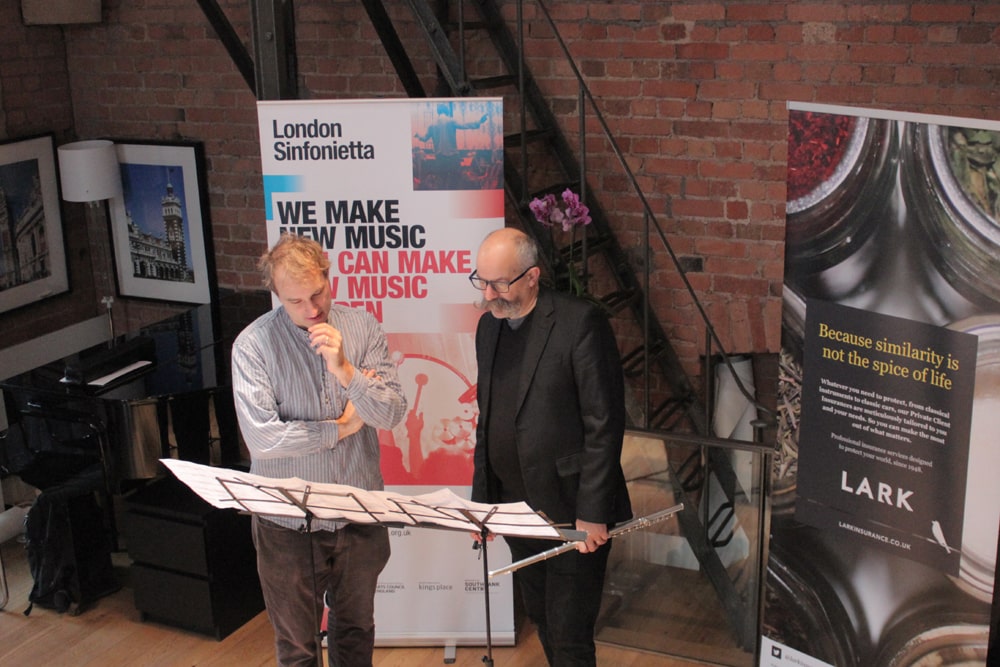 Besilvering by Luke Bedford
Besilvering was commissioned by the London Sinfonietta with the support of Régis Cochefert and Tom Ponsonby for their Silver Jubilée in 2016. Composer Luke Bedford took this story as direct inspiration for the piece, which explores sonically the process of coating glass with silver. In his own words: "A silvery instrument and a silvery theme really helped with the creation of the piece; the shimmery thing you want to grab and touch". Besilvering was premiered by London Sinfonietta Principal Flute Michael Cox at a private event in the St Pancras Clock Tower on 23 November 2016.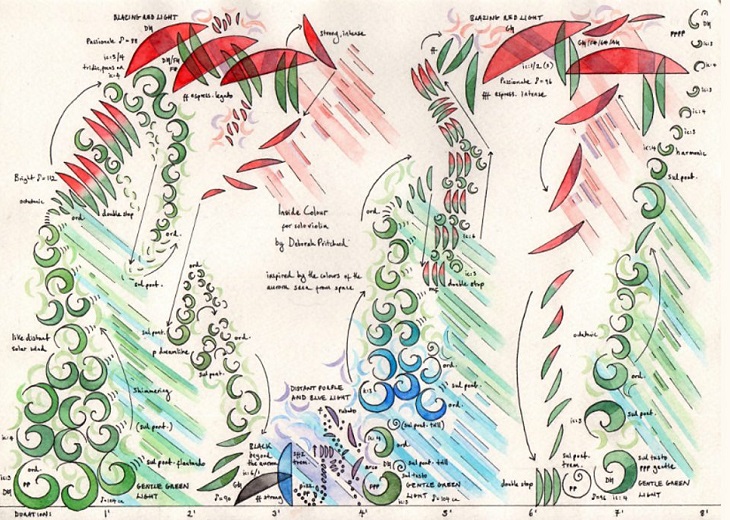 Inside Colour by Deborah Pritchard
Lark Music pride themselves on being the first insurance broker to commission a piece of music. Inside Colour, by synaesthetic composer Deborah Pritchard, was written for solo violin and inspired by images of the Aurora taken from the International Space Station. It was premiered on 23 March 2016 at Hiscox London by London Sinfonietta Principal Violin, Jonathan Morton. Since its premiere, Inside Colour has been performed several times by the London Sinfonietta and in 2017 won Deborah Pritchard a British Composer Award in the solo category. Listen on Spotify
"London Sinfonietta's strapline is 'Making New Music' and that works on so many levels, including our collaboration with them. Commissioning a new piece has been very exciting for Lark and I am grateful to everyone for making it happen" David Foster, Director of Lark Music
Support a Sinfonietta Short
With a gift of just £500, you too can put your name behind one of these commissions and be a part of musical history. Simply follow the link below to donate, or contact us to find out more at info@londonsinfonietta.org.uk. 
Full list of Sinfonietta Shorts
Laura Bowler - The Digger (solo percussion)
First performance: Online as part of Lockdown Live, 6 May 2020
Solo percussion - Joe Richards
Edmund Finnis - Three Solos (solo cello)
Commissioned by Lark Music
First performance: Online as part of Lockdown Live, 15 April 2020
Solo cello - Tim Gill
Patrick Brennan - Aquam nostrum pecunia bibimus, ligna nostra pretio comparavimus (solo piano)
First performance: 1901 Arts Club, 29 January 2020
Solo piano - Clíodna Shanahan
Kate Whitley - Flutter (solo cello)
First performance: 1901 Arts Club, 27 November 2019
Solo cello - Tim Gill
Edward Nesbit - Shepherd's Song (solo cor anglais)
First performance: Studio 2, The Warehouse, 25 September 2019
Solo cor anglais - Melinda Maxwell
Bushra El-Turk - Trochee (solo harp)
First performance: Purcell Room, Southbank Centre, 10 July 2019
Solo harp - Helen Tunstall
Oliver Leith - long cool drink (solo cello)
First performance: 1901 Arts Club, 22 May 2019
Solo cello - Tim Gill
Trish Clowes - Hero (solo double bass)
First performance: 1901 Arts Club, 27 March 2019
Solo double bass - Enno Senft
John Woolrich - Good Morning (solo horn)
First performance: Rotunda Bar and Restaurant, 30 January 2019
Solo horn - Michael Thompson

Josephine Stephenson - Cut Hold (solo cello)
Commissioned by the London Sinfonietta as part of Writing the Future
First performance: Studio 2, The Warehouse, 26 November 2018
Solo cello - Tim Gill

Emily Howard - Outlier (solo viola)
Commissioned by Bob Boas
First performance: Rotunda Bar and Restaurant, 26 September 2018
Solo viola - Paul Silverthorne
David T. Little - Our Sickness (solo cello)
Commissioned by John Hodgson
First performance: Rotunda Bar and Restaurant, 25 July 2018
Solo cello - Tim Gill
Emma Wilde - El Blanco Dia (solo clarinet)
Commissioned by Susan Costello in memory of Robert Clark
First performance: Queen Elizabeth Hall, 16 May 2018
Solo clarinet - Mark van de Wiel
Toby Anderson - Polite Discourse (solo bassoon)
First performance: 1901 Arts Club, 28 March 2018
Solo bassoon - John Orford
Colin Matthews - Bell-wether (solo flute)
Commissioned by Lark Music, and written in memory of Sebastian Bell
First performance: Royal Festival Hall, 24 January 2018
Solo flute - Michael Cox
Edward Nesbit - Two Lines (solo piano)
Commissioned by Stephen Morris
First performance: 1901 Arts Club, 29 November 2017
Solo piano - Rolf Hind
Cheryl Frances-Hoad - McQueen Sketches (solo trombone)
Commissioned by Paul Zisman
First performance: Rotunda Bar and Restaurant, 27 September 2017
Solo trombone - Byron Fulcher
Elizabeth Winters - Prelude 6:52am (solo clarinet)
Commissioned by Stephen Morris
First performance: Rotunda Bar and Restaurant, 26 July 2017
Solo clarinet - Scott Lygate
Emma-Ruth Richards - Dark Radiance (solo cello)
Commissioned by Sally Taylor
First performance: Sunley Pavilion, Southbank Centre, 31 May 2017
Solo cello - Tim Gill
Benjamin Oliver - Changing Up (solo percussion)
Commissioned by Margarita Wood
First performance: Almeida Theatre, 22 March 2017
Solo percussion - Owen Gunnell
Elliot Galvin - Hunt (solo trumpet)
Commissioned by Lark Music
First performance: Hiscox, 25 January 2017
Solo trumpet - Alistair Mackie
Luke Bedford - Besilvering (solo flute)
Commissioned by Régis Cochefert and Tom Ponsonby
First performance: St Pancras Clocktower, 23 November 2016
Solo flute - Michael Cox
Emily Hall - See Through (Sound Projection)
Commissioned by Barry Ife
First performance: Rotunda Bar and Restaurant, 28 September 2016
Sound Projection - David Sheppard
Emma Ruth-Richards - Violated Blossoms (tenor and cello)
Commissioned by Penny Jonas
First performance: Lethaby Gallery, Central Saint Martins, 20 July 2016
Tenor - Mark Padmore
Cello - Tim Gill
Ben Foskett - Four Impressions (solo violin)
Commissioned by Julie Nicholls
First performance: Paul Hamlyn Foundation, 25 May 2016
Solo violin - Zoë Matthews
Deborah Pritchard - Inside Colour (solo violin)
Commissioned by Lark Music
First performance: Hiscox, 23 March 2016
Solo violin - Daniel Pioro
Luke Styles - A Shot at the Stars (solo horn)
Commissioned by Belinda Matthews
First performance: Rotunda Bar and Restaurant, 27 January 2016
Solo horn - Michael Thompson
Richard Baker - Risveglio (solo harp)
Commissioned by Robert Clark and Susan Costello
First performance: Rotunda Bar and Restaurant, 25 November 2015
Solo harp - Helen Tunstall
Charlotte Bray - On the Other Shore (solo cello)
First performance: Rotunda Bar and Restaurant, 23 September 2015
Solo cello - Tim Gill
David Fennessy - elf (solo bassoon)
First performance: Rotunda Bar and Restaurant, 22 July 2015
Solo bassoon - Jonathan Davies
Matt Rogers - Orac (solo clarinet)
First performance: Rotunda Bar and Restaurant, 27 May 2015
Solo clarinet - Mark van de Wiel
Francisco Coll - Hyperlude IV (solo violin)
First performance: Rotunda Bar and Restaurant, 25 March 2015
Solo violin - Thomas Gould
Larry Goves - Extracts from South Korea and Japan 2002 (solo oboe)
First performance: Rotunda Bar and Restaurant, 28 January 2015
Solo oboe - Larry Goves
Sir Harrison Birtwistle - Duet 4 Violute (flute and violin)
Commissioned by Nick Prettejohn
First Performance: Queen Elizabeth Hall, 5 December 2014
Flute - Michael Cox
Violin - Alexandra Wood
Sir Harrison Birtwistle - Duet 5 Echo (horn and trombone)
Commissioned by Nick Prettejohn
First Performance: Queen Elizabeth Hall, 5 December 2014
Horn - Michael Thompson
Trombone - Byron Fulcher
Samantha Fernando - Kinesphere (solo flute)
First Performance: Rotunda Bar and Restaurant, 26 November 2014
Solo flute - Michael Cox
Charlie Usher - Western edge, Euphrates, desert tract (solo double bass)
First Performance: Rotunda Bar and Restaurant, 12 September 2014
Solo double bass - Enno Senft
Tom Coult - Études 3 & 4 (solo violin)
First performance: Rotunda Bar and Restaurant, 23 July 2014
Solo violin - Jonathan Morton
Elspeth Brooke - Green Spring (solo accordion)
First performance: Rotunda Bar and Restaurant, 21 May 2014
Solo accordion - Ian Watson
Philip Cashian - Bone Machine (bass clarinet, violin, cello and piano)
First performance: Queen Elizabeth Hall, 29 March 2011
Tansy Davies - Tymbal Organ (violin and cello)
First performance: Kings Place, 1 July 2011
Violin - Alexandra Wood
Cello - Tim Gill
Dai Fujikura - es (solo double bass)
Commissioned by Robert Clark and Susan Costello
First performance­: Kings Place, 5 September 2009
Solo double bass - Enno Senft
Sir Harrison Birtwistle - The Message (clarinet, trumpet and side drum)
Commissioned by Robert McFarland
First performance: Queen Elizabeth Hall, 2 December 2008
Clarinet - Timothy Lines
Trumpet - Alistair Mackie
Side Drum - David Hockings
Django Bates - The Corncrake Plays the Bagpipes (two violins and cello)
Commissioned by Penny Jonas
First performance: Queen Elizabeth Hall, 2 December 2008
Violin - David Alberman
Violin - Joan Atherton
Cello - Sally Pendlebury
John Woolrich - Fragment (solo saxophone)
Commissioned by Ruth Rattenbury
First performance: Queen Elizabeth Hall, 2 December 2008
Solo saxophone - Simon Haram
David Lang - Lend/Lease (piccolo and woodblocks)
First performance: Queen Elizabeth Hall, 2 December 2008
Piccolo - Karen Jones
Woodblocks - David Hockings
Anna Meredith - Lylat (solo trombone and backing track)
First performance: Queen Elizabeth Hall, 2 December 2008
Solo trombone - Byron Fulcher
Mira Calix - Ort-Oard
Commissioned by Anthony Mackintosh
First Performance: Kings Place, 10 October 2008