An open call for music creators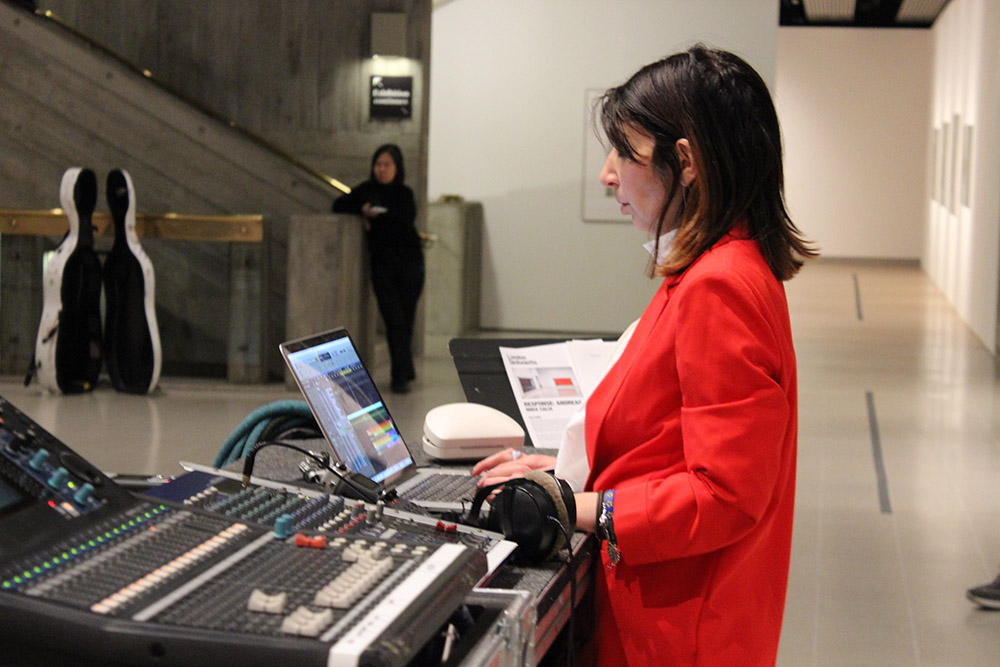 The London Sinfonietta is seeking music creators to join the next round of Writing the Future, an opportunity to create a new work for an ensemble of up to six London Sinfonietta musicians and build a creative working relationship with the ensemble. We are looking for project ideas which would expand the possibilities for a contemporary music ensemble and represent something new within your own practice. The project will culminate in a performance of each new work by the London Sinfonietta. Please note applications for this year are now closed.
Time with musicians – I don't know who would turn that down Mira Calix
Writing the Future is open to all music creators from all cultural and musical backgrounds who are passionate about their art form and would like the opportunity to apply that experience to writing for a contemporary music ensemble. We are particularly seeking relationships with artists from a non-classical background such as sound artists and improvising musicians, as well as music creators from historically under-represented groups or communities such as BAME (black, Asian or minority ethnic), LGBT, and those with a disability. As part of the scheme we will support each music creator with a bursary, relevant artistic mentoring and a production budget.
APPLICATIONS ARE NOW CLOSED. Thank you to everyone that has sent in an application, we will be in touch in due course. If you want to stay up to date on all of our opportunities, follow us on social media, or sign up to our mailing list.
London Sinfonietta gave me the opportunity to develop work outside of normal concert models and supported me from the inception of my idea to the performances. As an early-career composer, it was a valuable opportunity to create a large-scale work and collaborate with experienced professionals on the staging, lighting and direction. This was such an incredibly fulfilling project. Samantha Fernando, Writing the Future composer 2013/14
Writing the Future is generously supported by The Boltini Trust, Michael & Patricia McLaren-Turner and PRS for Music Foundation.
Writing the Future 2017–2019
Josephine Stephenson
Josephine Stephenson is a Franco-British composer and performer based in London. Her music has been commissioned by some of Europe's leading ensembles and played across some of the largest festivals in Europe.
Ed Nesbit
The work of London-based composer Edward Nesbit has been performed by some of the largest orchestras in the UK and internationally. His work has also been broadcast on BBC Radio 3.
Patrick Brennan 
Patrick Brennan is an Irish composer, whose music has attracted national and international attention, with recent commissions and performances from orchestras including the LSO.
Oliver Leith
Oliver is a London based composer making acoustic music, electronic music and video. His work focuses on text, video, theatre and tangible human themes. 

Read more about our composers here.
Previous participants
Writing the Future 2013/14
Gregory Emfietzis, Adam Fergler, Samantha Fernando, Geoff Hannan, Aaron Holloway, Matthew Kaner, Amber Priestley, Andrew Thomas, Tristan Rhys Williams.
 
The above composers were commissioned to write for The New Music Show: the London Sinfonietta's day-long festival featuring live performances, installations, film, and talks. In 2013 The New Music Show included a series of talks curated with the Royal Philharmonic Society as part of their bi-centenary, and marked the culmination of the Southbank Centre's The Rest is Noise festival.
Writing the Future 2011/12 
Mark Bowden, Shiva Feshareki, Edmund Finnis, Tim Hodgkinson, Jordan Hunt, Edward Jessen, Isambard Khroustaliov, Duncan MacLeod, Bushra El Turk.