The London Sinfonietta is committed to providing opportunities for young people to experience the power of new music. We support school students to learn about, and be inspired by contemporary classical music by offering free and discounted tickets to experience the London Sinfonietta live in concert and hearing the ensemble perform in specially devised concerts in schools.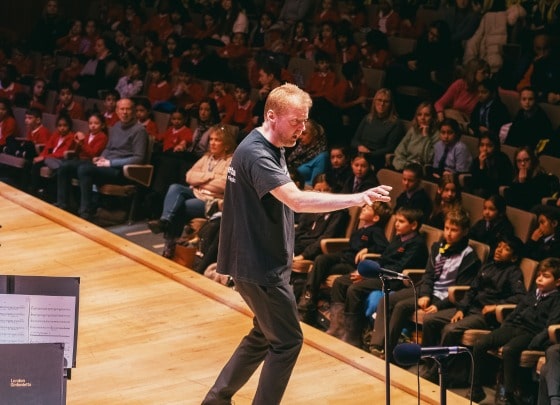 Sound Out Concert 2024
Join us on 27 March at the Southbank Centre's Royal Festival Hall for our inspiring annual concert for schools. You'll be guided by presenter Patrick Bailey, London Sinfonietta musicians and our Sound Out Young Ensemble in an exciting exploration of composition and new music. 
Read more & book
"The Sound Out Schools Concert opened up contemporary music in a way that is exciting and accessible to everyone"
Concert Club
The London Sinfonietta's Concert Club offers free tickets to secondary school groups to attend concerts across the season.
For more information and to book tickets to these events please email: getinvolved@londonsinfonietta.org.uk
In-school Concerts
In collaboration with the music services in our partner boroughs across England, we programme an annual series of presented concerts which take place in school halls and are tailored specifically for the students. Typically, these concerts will feature a small ensemble and focus on specific aspects contemporary music and composition techniques, with music by key figures of the late twentieth and twenty-first century being performed alongside new compositions written by students as part of our Composition Challenges project. 
"The response to the concert was overwhelmingly positive…crucially pupils were exposed to high quality music making and supported to create unique musical pieces." Rachael Adediran, Head of Music, Skinners Academy