On Thursday 9 March, we welcomed over 1600 young people to the Royal Festival Hall at the Southbank Centre from schools across London for our annual school concert. They experienced a whistle-stop tour of contemporary music and we had an absolute ball!
Who's who?
We welcomed two musicians to the stage to present our exciting Sound Out concert. Presenter Patrick Bailey guided our audience through an exploration of contemporary music - how to compose and create new music. Composer Lucy Armstrong led & conducted our brilliant young ensemble, made up of 32 young musicians from Haringey, Waltham Forest and Enfield. 
We also welcomed six wonderful London Sinfonietta players, Sirius Chau (flute), Jordan Black (clarinet), Philippa Mo (violin), Tamaki Sugimoto (cello), Clíodna Shanahan (piano), and Olly Lowe (percussion). 
The school's concert was pitched perfectly, with accessible content, expert leadership from Patrick, the support by your team and the performers on stage. Haringey Music Service
What did we play?
Over two-thirds of the pieces in our programme were composed by people from backgrounds currently under-represented in classical music. It also featured two world-premieres from young composers, and two fantastic commissions for this concert, one by Lucy Armstrong, inspired by the musical creations of students at AIM North London, Walthamstow Academy and Heartlands High School and the second by Zoë Martlew, featuring the audience!
2 UK premieres
David Lang's Tiny Dance Party 
Tiny Dance Party received its UK premiere in this concert. In this piece each instrument plays rhythms independent from each other, repeating them over and over. It's almost like each instrument is having its own tiny dance party, but alongside its friends! 
Daniel Bernard Roumain's Fast BLACK Dance Machine 
The second UK premiere of our concert was by Daniel Bernard Roumain, an energetic, rhythmic piece, with a drumkit driving the pulse of the music throughout. 
2 world premieres from young audience members
The London Sinfonietta runs Composition Challenges in-school and online, encouraging and teaching young students to compose. Schools across the country submitted their own compositions for a chance for them to be performed by London Sinfonietta musicians, and we were proud to perform two of these compositions in our concert.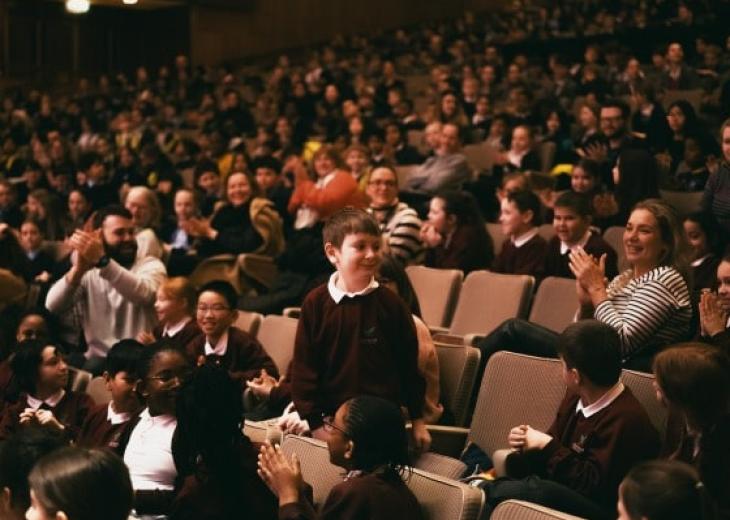 First, we performed a piece by Lenny from Alderwood Primary School who used abstract colour mixed with clear instructions, including some musical notation, hinting at the rhythm he wants the musician to play. 
Here's a picture of Lenny receiving a round of applause from the whole Royal Festival Hall following the performance of his fantastic composition!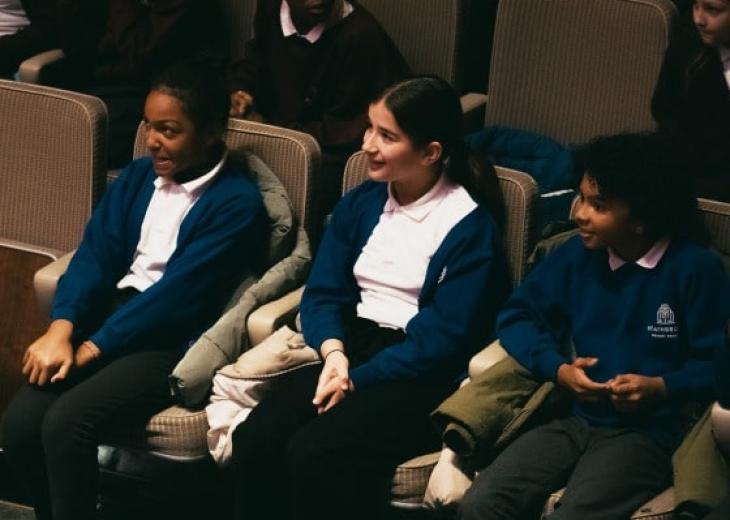 Heathbrook Primary School sent us a video alongside a score for their new commission. They started with a number line to create a melody (the tune) and we've used this number line to create rhythm and harmony (the accompaniment). Patrick took the melody from Heathbrook as well as Holy Trinity's Hurdy-Gurdy class to make this brand new piece of music created using London Sinfonietta's Numbers and Patterns Composition Challenge. 
Here's a photo of some of the brilliant composers! 
All children who took part were enthusiastic about the challenges and then to be chosen was just a wonderful bonus!... the children felt like celebrities and really enjoyed the performance of their piece. Heathbrook Primary School
1 new piece by Lucy Armstrong inspired by young composers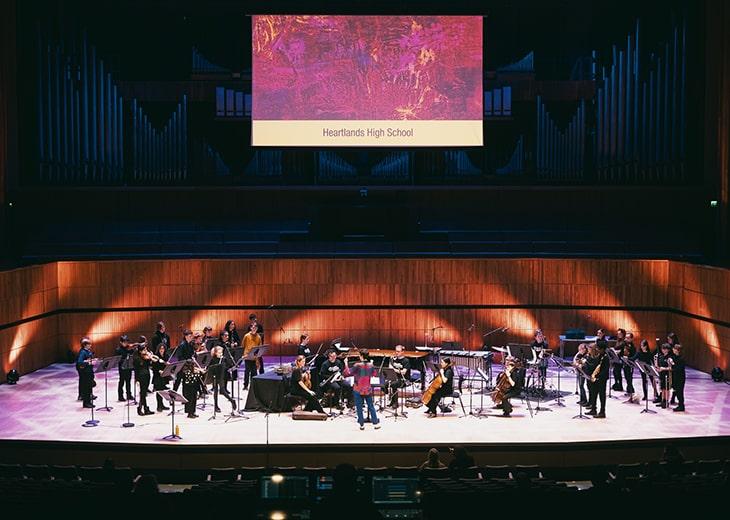 Lucy Armstrong worked with young people from secondary schools in Enfield, Haringey and Waltham Forest to compose a brand-new piece, Patterns and Mirrors for our Sound Out concert! She took their musical ideas, developed through workshops earlier in the year and combined them with her own music. The workshops took inspiration from London Sinfonietta's upcoming concert Reich/Richter, studying ways to develop music in the minimalist style of composer Steve Reich and using paintings as a starting point for their music. 
32 brilliant young musicians from Haringey, Waltham Forest and Enfield joined London Sinfonietta players onstage to perform this piece. 
It was such a joy to hear and see the young musicians play alongside the professionals. And what an amazing atmosphere! Parent of young ensemble member
1 new audience participation piece by Zoë Martlew
The full audience participated in the world premiere of Zoë Martlew's piece in one of the world's leading performance venues, the Southbank Centre's Royal Festival Hall!
Zoë Martlew's new piece Wicca Wacca Ow featured the Sound Out Young Ensemble, London Sinfonietta Players, and the whole audience. The audience sang and clapped with amazing enthusiasm and energy, it was brilliant to hear the whole audience and players performing together!
Watch the full concert!
Unable to join us in person on the day? You can enjoy the concert from the comfort of your home and classroom!
See if you can spot any unusual instruments...