From Ivor Composer Awards nominations to rave reviews of Bluebeard's Castle, we're had plenty to celebrate and enjoy in November. Here's your monthly update on all things London Sinfonietta.
London Third Stream
After months of hard work and creative thinking, we witnessed four world premieres at London Third Stream on Wednesday 17 November 2021, composed by four stars of the London jazz scene - Shabaka Hutchings, Cassie Kinoshi, Elliot Galvin and Laura Jurd.
We recorded these pieces for a future release on our London Sinfonietta Channel, so make sure you keep an eye out for them on the London Sinfonietta Channel.
Four different composers, four great new different works and all played brilliantly by and with the London Sinfonietta. Audience member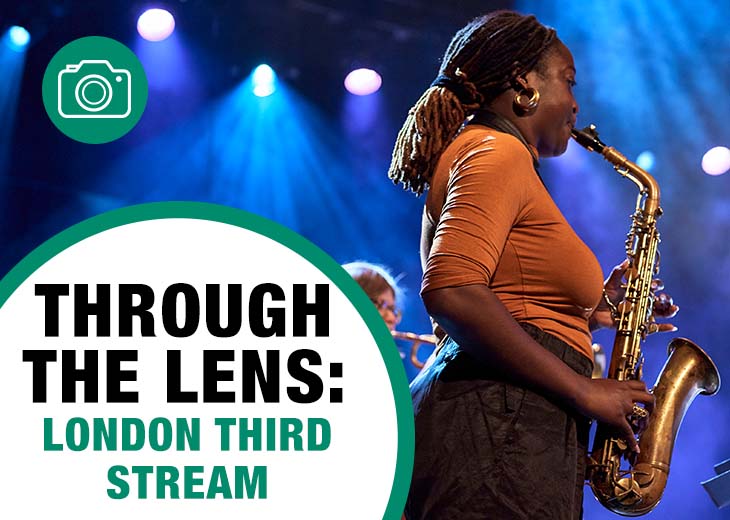 Photos and reaction: Bluebeard's Castle and Judith's Castle
We were privileged to be a part of Theatre of Sound's production of Bluebeard's Castle. Stone Nest in central London was transformed into Bluebeard's Castle for Theatre of Sound's radical retelling of Bartók's great opera. This production reimagined the piece as a love story between a long-married couple coming to terms with living with dementia.
brilliant reimagining

"

Culture Whisper
The most moving thing I've ever seen

"

The I
...an unforgettable production in its own right.

"

The Guardian
The 10-day run also included the world premiere of Judith's Castle, a unique project that saw award-winning composer Electra Perivolaris create new pieces of music drawn from the stories, experiences and memories of families living with dementia.
Read an article on The Strad where London Sinfonietta cellist Adrian Bradbury writes about the joy of witnessing a dementia patient recall melodies from her past while working on the project.
Photos: Ivan Gonzalez
Album review: Ryan Latimer – Antiarkie 
Composer Ryan Latimer's new album Antiarkie was released on NMC Recordings, featuring his work Moby Dick composed for the London Sinfonietta as part of the 'Next Wave' programme established by NMC and Sound and Music. The album is available to buy on NMC Recordings.
Latimer conveys tragedy at sea through a ghostly accordion melody, tied up with baleful-becoming-frenetic percussion.

"

BBC Music Magazine
...a body of work of great originality and unmistakable individuality of approach... Records International Review
🐳 So excited to share my debut album Antiarkie - the coming together of a decade's worth of work & collaboration. It's a massive privilege to have been able to work with so many incredible artists & I am hugely grateful for @nmcrecordings support in making it happen!☺️ Cheers! X pic.twitter.com/xLLw3hjmZW

— Ryan Latimer (@latimer_ryan) September 24, 2021
Ivor Composer Awards nominations 
On 10 November, nominations for the Ivor Composer Awards were announced, and we were proud to see James Dillon's Pharmakeia nominated for Large Scale Composition, as well as Writing The Future composers Alex Paxton and Nwando Ebizie in the mix as well. The winners will be announced on Wednesday 8 December at the British Museum.
Composing in the classroom 
We don't just inspire people at concert halls. Recently, some of our musicians went to Ruardean Primary School, Gloucestershire for a fun and interactive composition workshop, as part of our Sound Out schools programme. Take a look at some photos from the workshop below.
The Queen's Medal for Music 2021
We learnt the news that trumpeter John Wallace is the winner of The Queen's Medal of Music 2021. His relationship with us goes back to 2003 when composer Stuart MacRae wrote his trumpet concerto 'Interact' in a London Sinfonietta commission, with the world premiere performance on 9 May 2003. Congratulations to John!
Delighted for John! I wrote my trumpet concerto 'Interact' for him and @Ldn_Sinfonietta in 2003 and he was a joy to work with - so generous with time and ideas, so encouraging. "Write for the ideal trumpet in your head" he said! https://t.co/JPoTcggGpX

— Stuart MacRae (@stuart_macrae) November 22, 2021
Huddersfield Contemporary Music Festival 2021
It was a night of two reunions at the Huddersfield Contemporary Music Festival. One with the festival itself, and the other with the music of Catalan visionary Roberto Gerhard. Over 50 years have passed since we gave the first European performances of his pieces Libra and Leo. The concert also included music by two of today's Catalan composers Joan Magrané Figuera and Raquel García-Tomás, and Australian composer Lisa Illean.
For music-making at its best, however, nothing could come close to the shortened festival's final concert: a riotous trip to Catalonia with the London Sinfonietta, crowned by the ensemble's return visit to the music of the exiled composer Roberto Gerhard, often featured in their early concerts 50 years ago.

"

The Times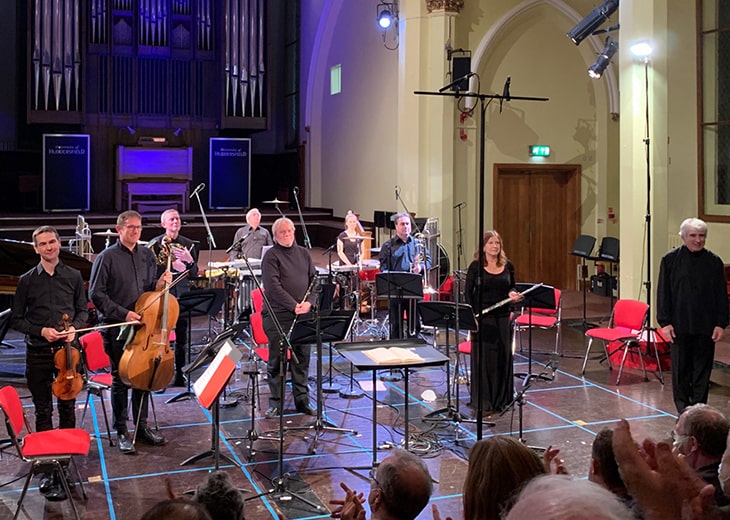 BBC Radio 3's New Music Show
Music from our performance at the festival will be broadcast on BBC Radio 3's New Music Show on Saturday 4 December at 10pm.
Listen