Sound Out is the London Sinfonietta's flagship schools programme, which puts creativity and composition at the heart of our work.
Sound Out 2021
As part of its response to the pandemic, the London Sinfonietta will be taking the whole of Sound Out online, creating a new resource to support composition in the classroom. The concert at Southbank Centre's Royal Festival Hall on 24 March 2021 will be streamed live on the internet for the first time, enabling schools across the country to participate. More details will be announced shortly.
Since its inception in in 2017, the London Sinfonietta's multi-stranded Sound Out programme for schools has enabled thousands of young people to hear, explore and create contemporary classical music. We currently work in partnership with the music hubs of Enfield, Haringey and Waltham Forest and run projects with schools and music hubs across the UK.
Taking a different focus each year, we have worked with primary schools, secondary schools, and music service ensembles to help young people to learn more about composing and creating new music. We give young people and teachers the opportunity to work and perform with London Sinfonietta musicians and composers to empower and inspire them to explore their creativity and make their own music.
Sound Out echoes the London Sinfonietta's professional commissioning process, putting young people centre-stage, valuing them as composers and performers and making their musical voices heard.
The sense of achievement and pride created was palpable. The students gained a great deal from seeing their musical ideas treated with respect and their compositions performed and recorded in a professional manner. John Cooney, music teacher
It was inspiring! It made me realise that anyone can be a composer. Sound Out Participant
Working with the London Sinfonietta has enthused our existing young composers and has inspired more pupils in the borough to explore composition. Mary Mycroft, Joint Head of Waltham Forest Music Service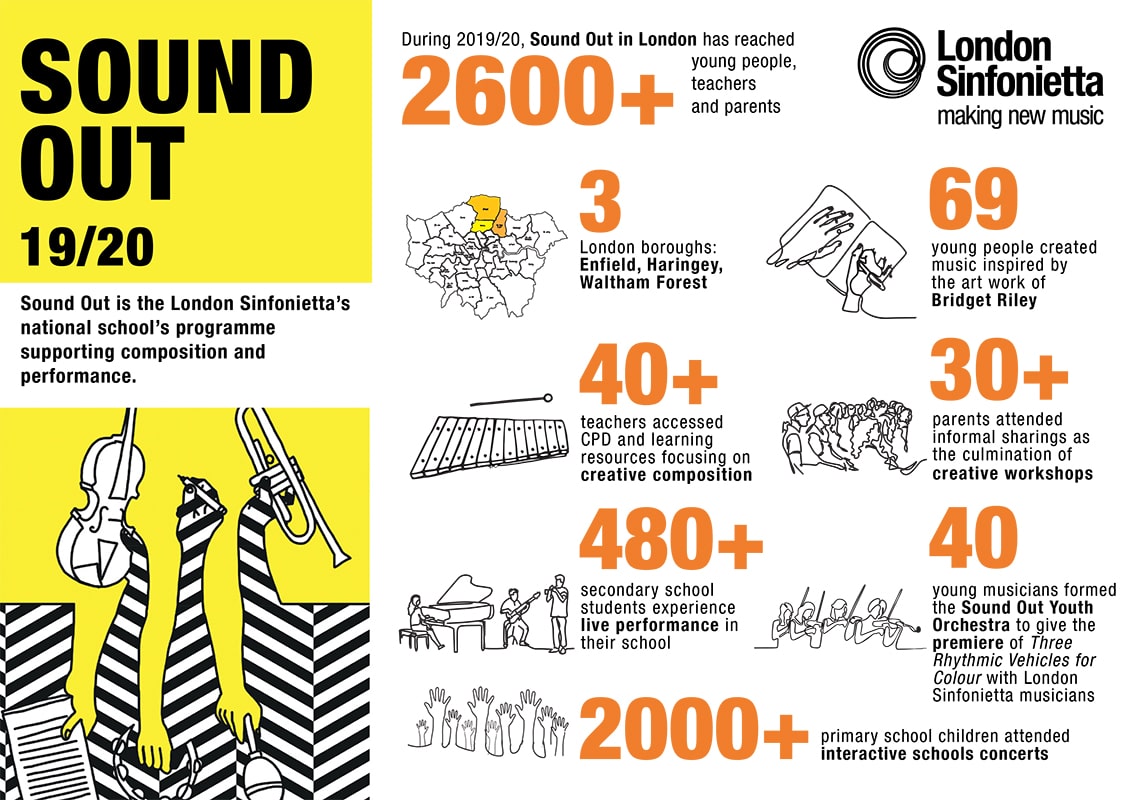 The London Sinfonietta is enormously grateful to the London Music Fund, The Ashley Family Foundation, The Bernarr Rainbow Trust, The Bridget Riley Art Foundation, Francis Taylor Building and The Michael Tippett Musical Foundation for their generous support of Sound Out.
Contact
For more information on our work with schools, and to find out how your school can get involved please email Christine Andrews