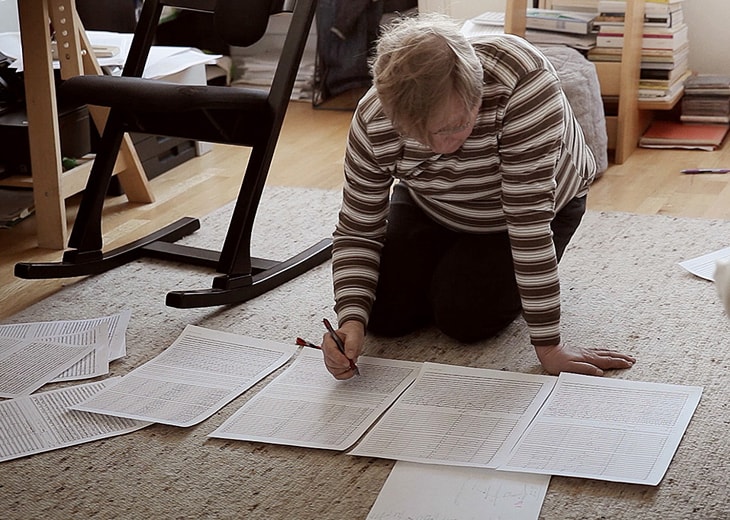 As part of our Cue the New: How to Listen to the 21st Century online resources, we caught up with composer Georg Friedrich Haas ahead of our performance of in vain in April 2016 to discuss his musical influences, creative processes and more.
Q. The element of darkness is particularly significant in in vain, did you always envisage a section of darkness when you first sat down to write this work?
A. No, it happened almost by chance. In Berlin, when I was invited by the DAAD in 1999/2000, I had a discussion with the stage director Bettina Wackernagel. We spoke about my opera Adolf Wölfli, which I had composed in 1981. There were sections in complete darkness, and light flashes which replaced the conductor. She encouraged me to continue. I was not sure whether it is correct to use darkness in a composition about enlightenment. But I felt a strong instinct driving me to do it. I was not consciously aware of my reasoning, however eventually I received the answer via the words of the music critic Marco Frei. On reviewing my opera KOMA, which also has passages of darkness, he said the following: "Indeed, this pitch-black requires a special manner of both playing and conducting […] Through close listening and a heightened awareness of each other, Haas creates a sense of shared humanity in the room that is often lacking in society. Here, Haas has created a solution in sound – a beacon of hope." Marco Frei
Q. As in vain was written in protest to a far-right regime, would you say that it also resonates with today's situation in your adopted home of the United States?
A. No. The message of in vain is my sorrow, my fear, my anger, that the right-wing nationalists are back. The current situation in the US is different. Nobody and nothing came "back" again; the far-right are now merely empowered to show their true face. Furthermore, in the United States there is a strong democratic tradition. Much stronger than Austria. 
Q. What do you regard as your greatest artistic achievement?
A. Maybe to communicate emotions.
Q. Which piece of music has had the biggest effect on you as a composer?
A. Today's answer – Alban Berg, Wozzeck. Tomorrow my answer might be different.
Q. What was the first recording you ever bought?
A. When I travelled through France with my friend Michael Konzett in 1974, I found an old Vinyl by Boulez, conducting his Le marteau sans maître. 
Q. Describe your compositional style in three words.
A. I am free.
A. If you could have any other profession, what would it be?
A. Teacher (but maybe this is the wrong answer,  because today I am also a teacher) -– when I was 16, I planned to become a priest. But later I lost my faith.
Q. Who has been the biggest influence in your life?
A. Two – my first (platonic) love, Elisabeth. When we met at high school, we discovered the energy of love and of humanity. We decided to do 'something' with our lives. I became a composer. She founded a hospital in western Africa. And the love of my life – Mollena Lee Williams-Haas.
Listen to a selection of music chosen by Haas which has inspired his work. From Mozart, to Billie Holiday, to Ligeti – we get a glimpse into the composer's eclectic taste.