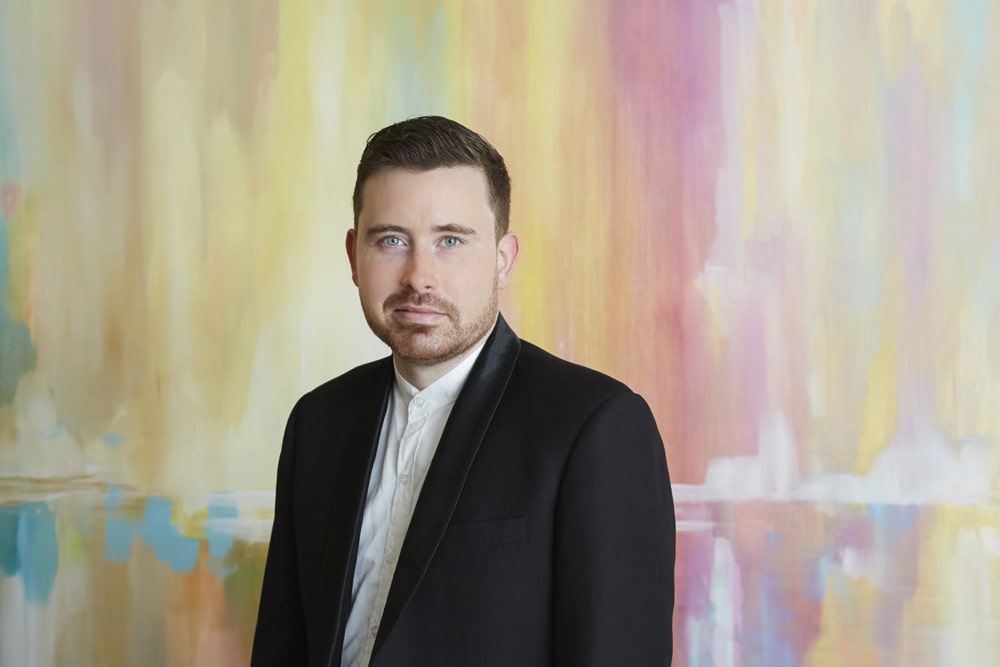 Geoffrey Paterson has worked closely with the London Sinfonietta since his debut as an Academy participant in 2010, and in the last decade has been invited to conduct over 40 performances with the ensemble. He accounts his journey as a conductor, the importance of London Sinfonietta in his career and his love of contemporary music.
They truly are my 'home team', and I hugely value this relationship
that has led me to direct such varied projects
Working with the London Sinfonietta
I first conducted the London Sinfonietta as a participant in the 2010 London Sinfonietta Academy, conducting a masterclass with Elgar Howarth. It was a wonderful, if nerve-wracking, experience to be standing in front of an ensemble that I had followed avidly as an audience member since my school days. Happily, I was invited back, at first as a rehearsal conductor and assistant, and then in 2013 as one of the three conductors for Stockhausen's Gruppen at the Royal Festival Hall, an unforgettable concert! Since then I've conducted over 40 performances of 20 different programmes with the Sinfonietta, as well as making four recordings. They truly are my 'home team', and I hugely value this relationship that has led me to direct such varied projects, ranging from a performance in the ticket hall of King's Cross St Pancras underground station to the world premiere of a Birtwistle opera at the Aldeburgh Festival.
I was hungry to get through as much repertoire, standard and contemporary, as I possibly could, and I never let caution get in the way of my addiction to ambitious programming.
My journey to conducting...
I conducted my school orchestra in a performance of a composition of mine when I was 15, but it was a couple of years later that I started more regularly putting on my own concerts, both at home in Kent and with ensembles and orchestras as an undergraduate in Cambridge. I was hungry to get through as much repertoire, standard and contemporary, as I possibly could, and I never let caution get in the way of my addiction to ambitious programming.
After graduating, I slowed things down a little, studied for a masters at the RSAMD in Glasgow, and ended up taking a rather old-fashioned route into the profession, working in the opera world as a repetiteur and assistant. I'll be forever grateful for the opportunity this gave me to work intensively and close-at-hand with some extraordinary conductors, most memorably Kirill Petrenko, the incoming chief of the Berlin Philharmonic, at the Bayreuth Festival. Those years at the piano, playing Wagner, Verdi, Mozart, Strauss, Berg et al, were really the most valuable and fulfilling musical training I could have had. Over the last few years, work in contemporary music has come to the fore, but my background in opera means I'm always especially excited when the opportunity comes along to conduct a new music theatre work.
Preparing for a performance
My preparation is the same whatever the repertoire, and whatever the performance: detailed analysis and study of the score as well as background reading and research on the composer and the context in which the work was composed. Apart from rehearsing and clarifying detail, which is always especially important with knotty contemporary music, one of the conductor's crucial jobs in any repertoire is giving shape to the work's structure, and so I pay special attention to this – if the performers really know the journey through a piece, it gives the audience the best chance of following music they may be hearing for the first time. Ultimately, however well I might have prepared my scores, music-making takes place in the moment, so nothing beats being fresh and well-slept to make sure my eyes and ears are working on top form!
Conducting new music
I was an obsessive composer when I was younger, and my excitement about any music, new or old, is always closely bound up with the alchemical process of composition: the fusion of a composer's spark of inspiration with their craftsmanship, their pencil marks on paper (or computerised equivalent!), the interpretation of these marks by highly skilled performing artists and the resultant conjuring of poetry and architecture in sound. With brand new music, of course the thrill (and responsibility) is that this particular new conjuring trick has never been attempted before!
Beyond that, I have a special enthusiasm for musical modernism – the wildly varied kinds of richly complex musical language and approaches to sound and structure that composers developed throughout the 20th Century are an endless source of fascination to me.
The repertoire we chose for the 2019 London Sinfonietta Academy gave the young players a real workout in terms of the range of challenges to their technique and musicianship, but just as importantly demanded an insightful approach to the expressive content of these works. I would particularly mention Elliott Carter's ASKO Concerto, which, despite being structured with an uncompromising range of modernist techniques, is essentially a light-hearted piece of musical comedy, a quality which is essential to bring across in performance. It also happens to be a piece of which I vividly remember the London Sinfonietta giving the UK premiere – as was often his way, Oliver Knussen repeated the whole piece as an encore, so in fact I heard the first and second UK performances!
New projects 
One of the strands of my work that has been most fulfilling recently has been an ongoing collaboration with the Norwegian saxophonist Marius Neset. In fact I was introduced to Marius through a recording project with the London Sinfonietta back in 2015, and we will bring this whole team back together at the EFG London Jazz Festival later this year. Marius writes high-octane jazz compositions for his regular band plus Sinfonietta-sized ensemble or, sometimes, full symphony orchestra, and I've been lucky enough to appear with him at a number of European jazz festivals over recent months. This is incredibly exciting, fast-paced music, with rhythmic challenges that push even the most seasoned contemporary-music performers to their limits – sometimes I have to pinch myself that my work in contemporary classical music has given me the chance to moonlight in the jazz world too!