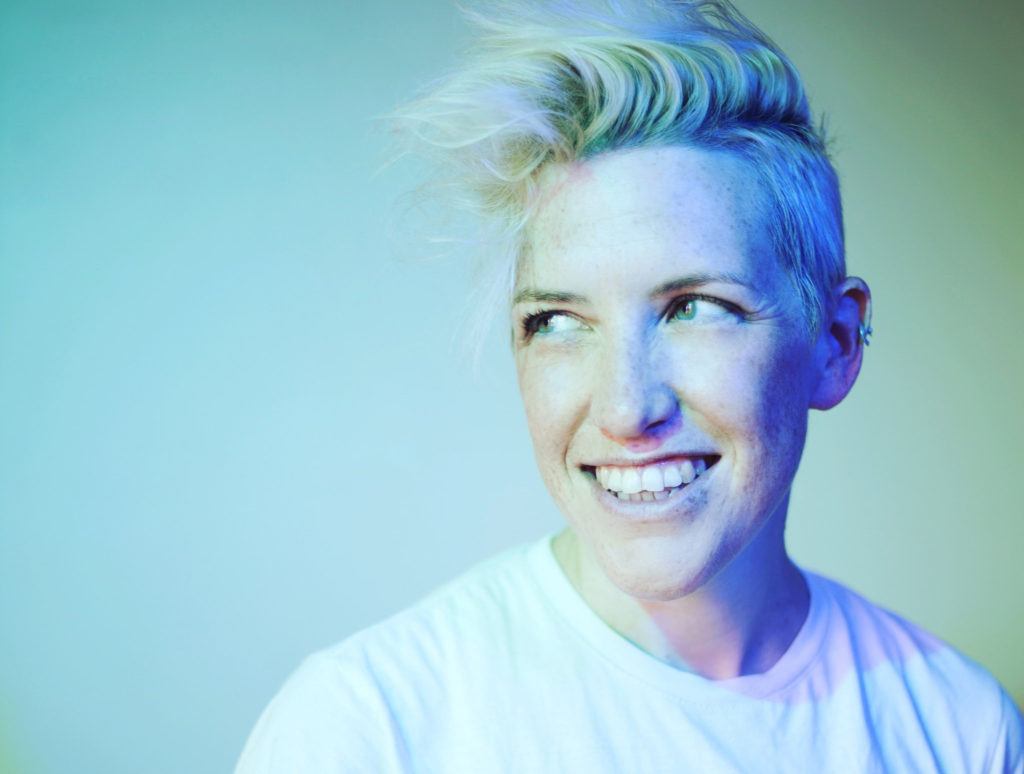 As society emerges from the Covid lockdowns of 2020 and 2021, we are commissioning a set of songs which set poems created in special place-based projects organised by Poet in the City.
Kerry Andrews' song will set a poem by Nazneen Ahmed, which evolved from a project based at the Crick vaccination centre in Kings Cross. Her song, along with others, will be presented on June 23rd in our live and online presentation Notes about Now.
More about Kerry Andrew
Kerry Andrew is a composer, performer and author and the winner of four British Composer Awards. With a PhD in composition from the University of York, Kerry specialises in experimental vocal and choral music, music-theatre and community music, and as a performer, sings with the award-winning Juice Vocal Ensemble and with her alt-folk band You Are Wolf. Swansong, Kerry's debut novel, was published by Jonathan Cape in 2018, and a second novel, SKIN, is published in February 2021. Kerry was shortlisted for the BBC National Short Story Award in 2018.
Kerry has created work for Art on the Underground; BBC Proms Ten Pieces; a work simultaneously performed by 25 community ensembles around the UK for the Landmark Trust; a piece for the London Sinfonietta to fight for the NHS (including the recorded voices of 60 members of the public, and actor/campaigner Michael Sheen); and a work for the national commemoration service one year on from commemorate the 7/7/05 London bombings. Other posts include Handel House Composer In Residence 2010-12 and Visiting Professor at Leeds College of Music. In 2019, Kerry's work 'Under the Same Sky' for large-scale girls' choir and taiko drums was premiered at Sydney Opera House, and vocal music was composed for 'Rutherford and Sons' at London's National Theatre.
In 2010, Kerry won a British Composer Award for the choral work Fall in the Making Music category. In 2014, the wild swimming opera Dart's Love won in the Stage Works category, and the community chamber opera Woodwose, written for Wigmore Hall, won in the Education and Community Category. In 2017, Kerry won a fourth award for the vocal/body percussion work 'who we are', premiered by the 600 singers of the massed National Youth Choirs of Great Britain at the Royal Albert Hall.
Kerry was a British Council / PRS for Music Foundation Musician in Residence in China in 2016, spending five weeks in the Henan Province and making collaborative new rock/traditional-inspired songs based on foxes in folklore.
Kerry performs with the award-winning experimental post-a cappella trio juice vocal ensemble, who have released two albums on the Nonclassical label. Kerry also founded and performs alt-folk with You Are Wolf, exploring traditional songs and lore in unusual, electronica-tinged arrangements. Their second album, Keld, was awarded fRoots magazine's Editor's Choice! Album of the Year 2018 and was in the Guardian's Top Ten Folk Albums 2018. The Lost Words: Spell Songs in 2019, saw Kerry work alongside musicians including Julie Fowlis and Karine Polwart, and have a song 'Bluebell' performed at the BBC Proms. Kerry is also a multi-instrumentalist with the rock/classical/jazz quintet DOLLYman.
Kerry has presented Hear and Now on BBC Radio 3, and was 2018's Chair of the Judges for BBC Young Musician.
Kerry has written for the Guardian, writes libretti and made her short story debut on BBC Radio 4 in 2014. Debut novel Swansong was published by Jonathan Cape in January 2018. Kerry was shortlisted for the BBC National Short Story Award in 2018, alongside authors including Sarah Hall.
Support this commission
Help us to do what we do best. From as little as £100 per year, you can help make new music happen and support the creation of this new work.