Coming to a contemporary classical music concert for the first time can feel like a daunting prospect. Maybe you don't know where to start with the music, or what to listen out for?  
Couch to Concert is a programme for newcomers to our art form: an exercise programme for the ears that will help you work towards attending a concert of contemporary classical music, and arm yourself with the tools to listen to (and even enjoy!) this genre.
Watch our previous three seasons of Couch to Concert below.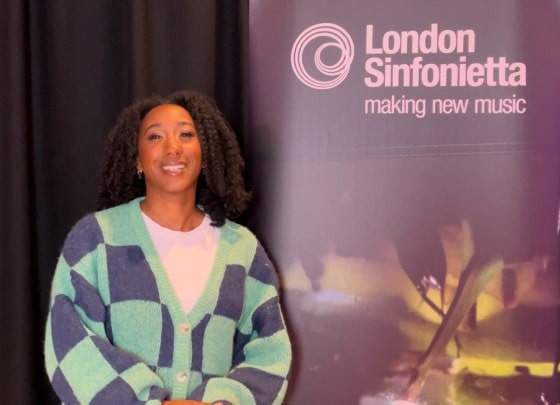 Couch to Concert Series 3
For Series 3 of Couch to Concert we welcomed Jamz Supernova (DJ BBC 6Music,1Xtra) as our new host. Jamz and an exciting line-up of guests tackled all things electronic music & manipulated sound in the run-up to our concert Turning Points: Sound Unwrapped (24 June 2023). 
Watch now for interviews with:
Paul Morley (music journalist and author)
Eduardo Miranda (chamber and electroacoustic music composer, featured in our next concert)
Sally Pendlebury (cellist, London Sinfonietta player)
Jonathan Berman (conductor for Turning Points: Sound Unwrapped)
Watch now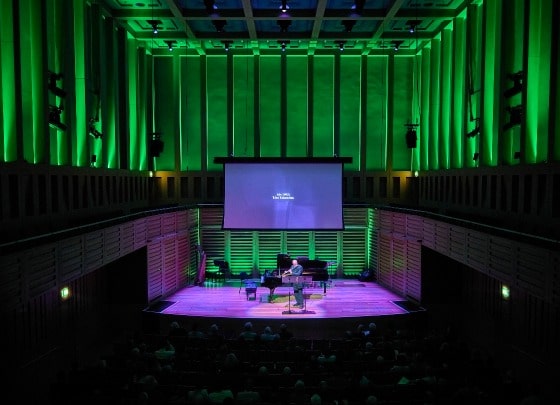 Couch to Concert Series 2
BBC Radio 6 Music's Cerys Matthews joins seasoned music journalist Paul Morley again for Series 2 of Couch to Concert. This series explores the work and influence of Tōru Takemitsu in a colourful programme based on the composer's love for nature, including works by Claude Debussy, Olivier Messiaen, Anton Webern and Pyotr Illich Tchaikovsky. It culminated in our concert, Turning Points: Takemitsu (27 Nov 2022).
Watch now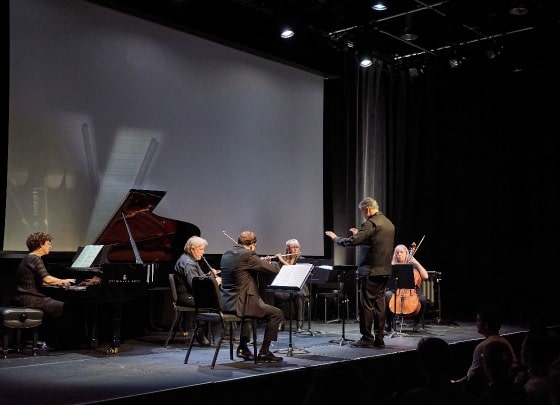 Couch to Concert Series 1
Series 1 of this introductory podcast is hosted by BBC Radio 6 Music's Cerys Matthews, known for her musical curiosity and eclectic tastes, and seasoned music journalist, critic and broadcaster Paul Morley. Taking each piece of the concert programme at a time, Cerys and Paul discuss what to listen out for, as well as illustrating the historical and musical context of the time in which each piece was written. 
Paul and Cerys discuss the programme from our concert, Turning Points: Organised Sound (18 May 2022) which featured music by Edgard Varèse, Pierre Boulez, Morton Feldman, Luciano Berio and Tansy Davies, and was conducted by Gerry Cornelius and presented by Sarah Mohr-Pietsch. 
Watch now
What is Couch to Concert?
A programme for the musically curious who are new to the genre of contemporary classical music. Couch to Concert uses podcasts, playlists and musical route maps to guide first-time listeners towards their first contemporary classical concert, to which they will receive a free ticket.
We aren't running a series of Couch to Concert at the moment, but keep your eyes on this page and our e-news to be the first to hear about the next series!
What happens when you sign up?
We'll send you episodes of our friendly new podcast and accompanying playlists, and then join us at our concert. We'll send you a code so you can book a ticket to the concert, plus our friendly team will be there on the night to welcome you, give you your concert survival kit and chat about the concert.
After that, we'll add you to our mailing list and send you monthly news and updates, opportunities to get involved, plus an exclusive discounted ticket to another concert!
Free and discounted tickets are subject to availability on a first come, first served basis for first-time attendees only. Please let us know if you have any access requirements and we will be happy to accommodate you. 
Couch to Concert is supported by the Royal Philharmonic Society Audience Fund in association with the Rachel Baker Memorial Charity