Coming to a contemporary classical music concert for the first time can feel like a daunting prospect. Maybe you don't know where to start with the music, or what to listen out for?  
Couch to Concert is a programme for newcomers to our art form: an exercise programme for the ears that will help you work towards attending a concert of contemporary classical music, and arm yourself with the tools to listen to (and even enjoy!) this genre.
Hosted by BBC Radio 6 Music's Cerys Matthews and seasoned music journalist Paul Morley, our friendly introductory podcasts will explain the context behind the music and answer some of the questions you may have about the repertoire. They will describe what to listen out for in each piece of the concert programme, and explain what made each of them so ground-breaking in its time.
We'll also send you curated playlists and an illustrated music map to support the podcast, and you'll receive a free ticket to one of our concerts, in which you'll hear this repertoire performed live by the London Sinfonietta.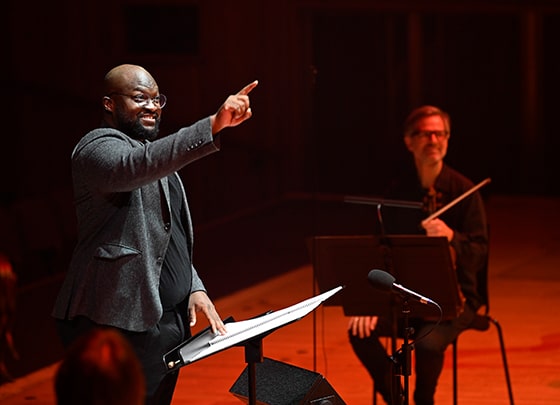 What you're signing up to:
We'll send you episodes of our friendly new podcast and accompanying playlists, and then join us at our concert. We'll send you a code so you can book a ticket to the concert, plus our friendly team will be there on the night to welcome you, give you your concert survival kit and chat about the concert.
After that we'll add you to our mailing list and send you monthly news and updates, opportunities to get involved, plus an exclusive discounted ticket to another concert!
Free and discounted tickets are subject to availability on a first come, first served basis for first-time attendees only. Please let us know if you have any access requirements and we will be happy to accommodate you.
Couch to Concert is supported by the Royal Philharmonic Society Audience Fund in association with the Rachel Baker Memorial Charity
Missed the first Couch to Concert series? You can still listen to the podcasts from the first series below.
Episode 1: First Steps
Episode 2: Picking up the pace