Click here to watch the concert film
Welcome to tonight's concert
We believe - especially now - that music matters to society. As well as championing the power of new music as an art in itself, it is also important to us that we make a point of showcasing new work that engages with the way we live today.  Work with composers and artists can both reflect what is happening and, in some ways, influence change. And, as always, we aim to give world-class performances that can be an inspiration to anyone who hears them.
This event, which has been relayed as a live radio broadcast and now a film, has been brilliantly curated by George Lewis and Elaine Mitchener and I and all at the London Sinfonietta have been privileged to work with them as with Vimbayi Kaziboni and the other composers and arranger involved.    
We are pleased to bring new music not heard in the UK before to new audiences in this concert as part of New Times / New Music - London Sinfonietta's 2020/21 season curated as a response to the times in which we live. We will always be curious about how new music and our organisation can have a positive impact on individuals and communities. 
We hope you enjoy this concert, and we hope you'll join us for future events.
Andrew Burke
Chief Executive and Artistic Director
Did you enjoy this concert? Please let us know by filling in this short survey.
Jason Yarde Rude Awakening! (arr. Yong) 6'
Leila Adu-Gilmore Negative Space and Ghost Lullaby from Freedom Suite 10'
Hannah Kendall Verdala 6'
Tania León Indígena 9'
George Lewis Assemblage 15'
Courtney Bryan Sanctum (arr. Bryan) 12'
Elaine Mitchener vocalist
Vimbayi Kaziboni conductor
London Sinfonietta
Concert co-curated by George Lewis and Elaine Mitchener
Live concert – Wednesday 28 October 2020, Royal Festival Hall, Southbank Centre. Broadcast on BBC Radio 3
Video relay – First broadcast - Wednesday 25 November 2020, YouTube. Online for 1 year.
The London Sinfonietta is grateful for the support of the Arts Council of England which significantly invests in the work of the organisation.   
Produced with the friendly support of the Ernst von Siemens Music Foundation
This excellent London Sinfonietta concert [was] conducted by the young Zimbabwean-born Vimbayi Kaziboni, who clearly knows his way round an avant-garde score

"

Richard Morrison, The Times
Support our work
All our events this autumn are being presented online for free, so that as many people as possible can experience the best new music being written today. But if you are enjoying our live streams, please do consider donating at whatever level you can afford to support the London Sinfonietta's work and musicians both now and in the future – in schools, on the concert platform and in the community. It might be the price of a coffee, or the cost of a ticket to one of our live events.
Text to donate:
Text NEWMUSIC 5 to 70450 to donate £5
Text NEWMUSIC 10 to 70450 to donate £10
Text NEWMUSIC 20 to 70450 to donate £20
Texts cost £5, £10 or £20 plus one standard rate message, and you'll be opting in to hear more about our work and fundraising via telephone and SMS. If you'd like to give but do not wish to receive marketing communications, text NEWMUSICNOINFO 5, 10 or 20 to 70450.
Programme Notes
Jason Yarde / Rude Awakening!
In setting out to write this piece, I knew I wanted to represent something in 'real-time' i.e. running for a bus or boiling an egg perhaps, being two of the more extreme ideas that came to mind. I then thought about ways in which I could incorporate some different moods, wanting to mix it up, and that's basically how I ended up with the following scenario …
You are lying in bed enjoying a calming sleep, that sweet spot just before you know you are supposed to get up … only you don't know! You drift off deeper still, perhaps trying to get back into 'that' dream, the soothing pulse from a harp turns out in fact to be your alarm clock that you've just slept through! There's a fumble to turn it off … A pause … And then, the realisation … 'Ahhhhh IDIOT' … you have minutes to be where you need to be!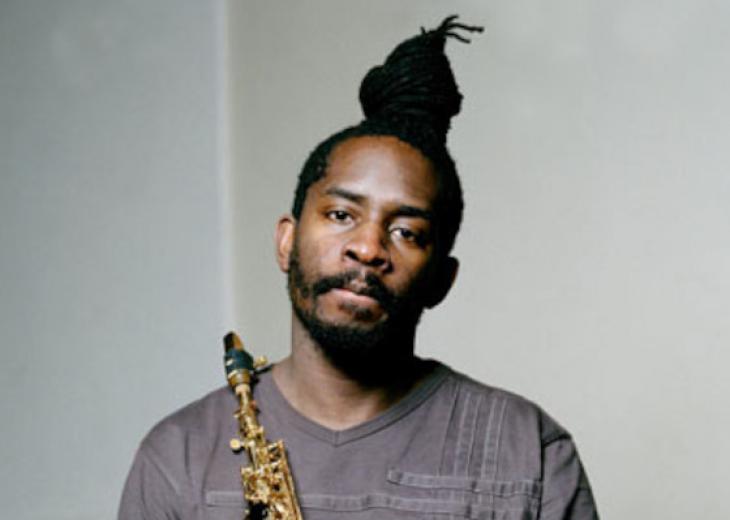 Jason Yarde
Composer, arranger, producer, musical director and saxophonist Jason Yarde creates music that has been described as powerful, spiritual and formidable. He composes across variety of styles (jazz, classical, hip-hop, R&B, reggae, soul) and for a variety of media (orchestras, chamber ensembles, big band, dance, film). His potential and originality has been rewarded with nominations for the Bird Award at the North Sea Jazz Festival, the Jazz on 3 Innovation Award for the BBC Jazz Awards, the inaugural prize for Contemporary Jazz Composition at the British Composer Awards and a prestigious Paul Hamlyn Award for Composers.
Click here to find out more about Jason Yarde
Kerry Yong
Kerry Yong is a performer, composer and arranger based in east London. He trained as a pianist and now also performs on keyboards and electronics. His piano repertoire includes unusual classical repertoire (such as the Alkan's arrangement of Mozart's D minor Concerto K 466 for solo piano), new compositions, and his own project Cover Me Cage: electronic arrangements of various prepared piano works by John Cage.
Leila Adu-Gilmore / Movements from Freedom Suite
I wrote this song cycle from songs I had written over seven years in the United States of America—in 2020, this piece feels more relevant as I continue to live in a country and in a world that seems less united. The subject matter of the two songs selected for today's programme "Negative Space" and "Ghost Lullaby" are about police, environmental brutality through structural colonialism and racism, exacerbated by monolithic western culture and education. As the original (2014) programme note explains: "For over half of my life, I have written, performed and recorded songs and improvisations for piano and voice. At times the accompaniment is very simple. In Freedom Suite, I have arranged three songs in different ways, with a goal of capturing their initial simplicity in different ways for each song... The second, Ghost Lullaby, is a song I wrote when I came to the town of Princeton and realized that only a couple of people mentioned Native Americans and that no one spoke of the tribe of people who inhabited the actual space that we lived on while I was there. The third, Negative Space, is a song that I wrote upon hearing of the murder of Trayvon Martin and speaks to the vacuum created for many black people through continued effects of colonialism, slavery, prison and the justice system." As a Ghanaian British New Zealander, the situation can feel extreme here in the USA, but the roots of these systemic problems of coloniality continue to cause problems for our world and our future. These themes in a classical music setting are powerful, as inclusive and collective voices continue to create, educate and positive change.
Negative Space
I exist in a negative space
I am not white and neither am I a guy
I am not nature, an object or your soul
I'm just a girl waiting to go home
Born on a fluffy cloud never had to think about what it was like to be left out of the history books
Explorers and sugar men, nothing but jumped up crooks
You can play at being strange, but strange ain't stamped on your head
Send your kids to school in a hoodie they won't wind up in a body bag
They can do drugs get arrested next day wind up a college grad
They can do drugs get arrested next day wind up at college
I'm no militant I'm a peaceful kinda girl
I don't aim to stake out my claim
I just wanna do my thing about the place
But I exist in a negative space
Ghost Lullaby
I'm walking on ghosts
I'm walking on ghosts and no-one talks your name
I'm thinking about thought
I'm thinking about thought and no-one has mentioned your name
You don't disappear so easily
They stole your silver they turned it to liquid
The liquid to paper and the paper to earth
And I say why
You don't disappear so easily
It's time to give up all your money and your pride
Do you really need money and another thing
You cannot keep this body when you are dead
You cannot keep this car/house when you are dead
Your kid's education won't matter when you're dead if there's no planet to live on
Take the time to think about what you are doing in each moment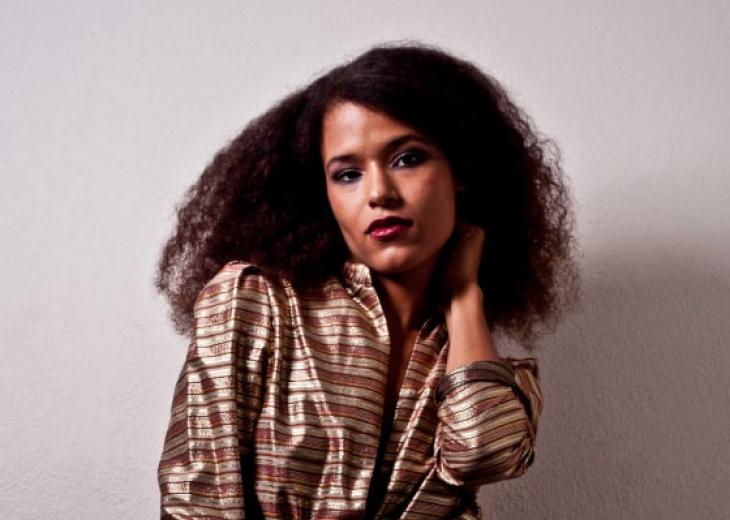 Leila Adu-Gilmore
Leila Adu travels the spaceways of music without limits. From tours of the US, Europe, Australia, New Zealand and the Far East, London's Time Out says, 'Avante-garde pop that recalls Nina Simone and Tim Buckley," and Italy's popular music mag Blow Up describes her last album Ode to the Unknown Factory Worker as "splinters of folk and blues but also hypnotic and ghostly prog." Steve Albini who produced her second album dubbed her "Spooky Adu."
Hannah Kendall / Verdala
The Verdala was one of the ships that brought the British West Indian Regiment from the Caribbean to Europe to fight in World War I. Already knowing that I wanted this piece to highlight the BWIR's involvement in the war, and thinking about titles around the time that the 2018 'Windrush Scandal' surfaced, it seemed fitting to name it so, as a reminder that there have been many ships long-prior to Windrush interweaved throughout British and British-Caribbean history.
I have been particularly drawn to the writings of Caribbean/Guyanese poet and political activist Martin Carter for many years, who expressed his feelings of the British-Caribbean experience, and military presence through powerful and poignant imagery in his texts. Lines from his 'O Human Guide' inspired the musical material for 'Verdala': 'In the burnt earth of these years...So near so near the rampart spiked with pain... The guilty heaven promising a star...Each day I ride a wild black horse of terror...'
Intricate interweaving woodwind lines feature throughout, often punctuated by strong raw chords in the strings, recurring chimes in the harp, and initial beating from the claves. Highly direct and rhythmic activity dominates following the opening section, which foreshadows this, except when biting 'jabs' give way to a softer, quieter 'chorale' in the low woodwinds and brass, before building-up again, becoming more unsettled, and culminating wildly and piercingly.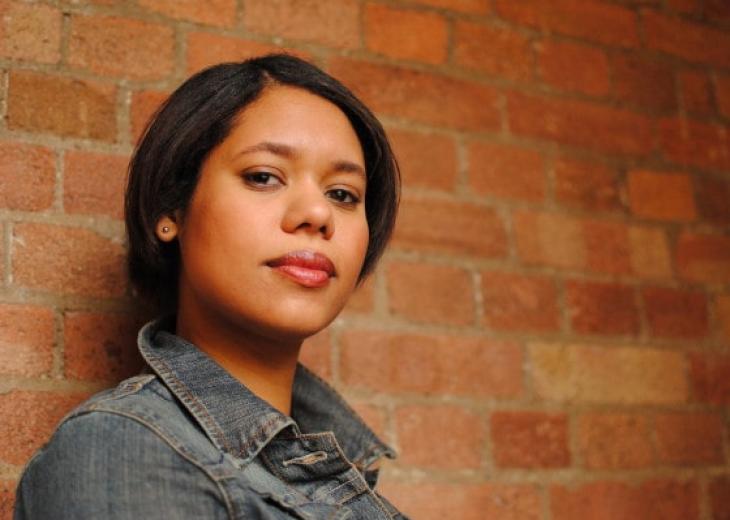 Hannah Kendall
Described as '…intricately and skillfully wrought' by The Sunday Times, Hannah's music has attracted the attentions of some of the UK's finest groups including London Philharmonic Orchestra, Bournemouth Symphony Orchestra, BBC Singers, and Philharmonia Orchestra, with performances at the Royal Festival Hall, Queen Elizabeth Hall, Purcell Room, The Royal Opera House's Linbury Studio Theatre, The Place, Westminster, Canterbury, Gloucester and St Paul's Cathedrals, Westminster Abbey and Cheltenham Music Festival. Hannah's works have also been broadcast on BBC Radio, including 'Composer of the Week' in March 2015, and 'Hear and Now' in October 2016. In 2015, Hannah won the Women of the Future Award for Arts and Culture.
Listen to our podcast The Music That Made Me with Hannah Kendall:
Tania León / Indígena
Tania León's heritage returns to the fore in Indígena (1991), commissioned by Town Hall for the Solisti Chamber Orchestra of New York. It opens with a series of rhapsodic, candenza-like woodwind flourishes (each answered by a burst of percussion) that lead into a motoric, interlocking, polyrhythmic groove. In this dissonant context, a sudden turn to a static G-major triad is breathtaking, and it announces what is essentially Indígena's Carnival scene.
Now León conjures up a comparsa, the group of masked revelers that roams the streets during Carnival season. In the comparsas, there's always a winner, and the king of the comparsas is the trumpeter. You might hear that a comparsa is approaching, because you hear the trumpet from a great distance, and then you hear the polyrhythms getting closer and closer.
In Indígena, the trumpet stands and delivers several bold and brilliant solos, each of which prompts a response from the rest of the instruments, the comparsa's "chorus." Only once does the trumpet quote an authentic comparsa melody, "La Jardinera," which is echoed by the ensemble. A frenzied outburst of revelry ensues.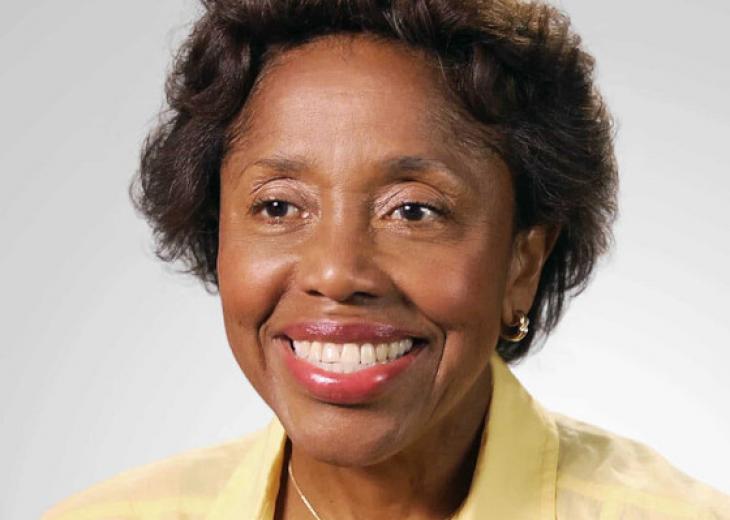 Tania León
Born in Havana, Cuba, composer/conductor Tania León is recognized for her accomplishments as an educator and advisor to arts organizations. A longtime New York resident, she has played important roles at New York institutions, including Dance Theater of Harlem, Brooklyn Philharmonic, American Composers Orchestra, and the New York Philharmonic, where she served as New Music Advisor. Ms. León is the founder and artistic director of Composers Now. She is Distinguished Professor Emeritus of CUNY.
George Lewis / Assemblage
Both the title and the musical content of Assemblage refer to a practice of visual artmaking that recombines and recontextualizes collections of natural and human-made objects. Assemblage-like processes were deployed in the work of Marcel Duchamp, Pablo Picasso, Louise Nevelson, and Joseph Cornell; Jean Dubuffet called some of his creations "assemblages d'empreintes," a name adopted by later generations of artists and curators. Artists such as Noah Purifoy, Betye Saar, John Outterbridge, and David Hammons extended the practice, recycling and reframing the quotidian urban detritus of modern civilization's African American imaginary.  Sociologists of science and technology studies associated with actor-network theory, such as Bruno Latour, adopted the image of the assemblage to describe social/material formations that exhibit contingency, heterogeneity, nonlinearity, and emergence, as well as fundamental processes of mediation, remediation, and bricolage that the anthropologist Georgina Born applies to music.  These are the spirits I've tried to evoke in this piece.
[Lewis's] music proved to be a microscopically detailed collage of intriguing textures and timbres, superbly woven together

"

Richard Morrison, The Times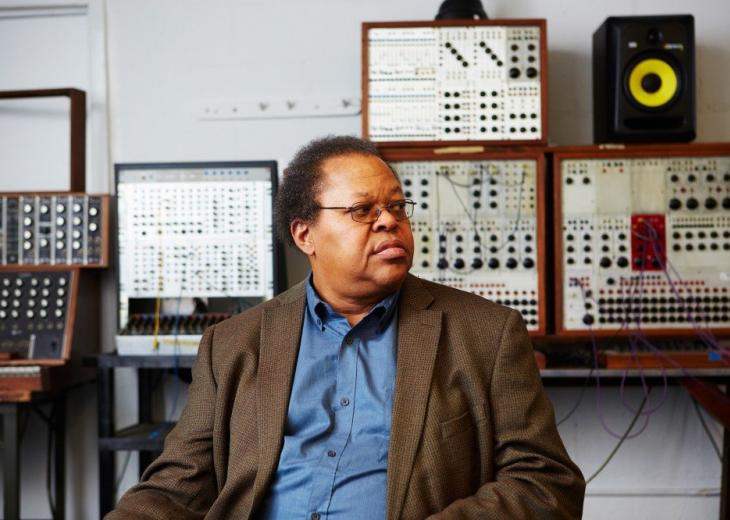 George Lewis
George E. Lewis is the Edwin H. Case Professor of American Music at Columbia University. A Fellow of the American Academy of Arts and Sciences and a Corresponding Fellow of the British Academy, Lewis's other honors include a MacArthur Genius Award (2002), a Guggenheim Fellowship (2015), a United States Artists Walker Fellowship (2011), an Alpert Award in the Arts (1999), and fellowships from the National Endowment for the Arts. Most recently Prof. Lewis received an honorary doctorate from Harvard University and became a member of the American Academy of Arts and Letters (2018).
Courtney Bryan / Sanctum
Sanctum explores the sound of improvisation in Holiness-preaching traditions. I draw inspiration from recorded sermons, The Praying Slave Lady by Pastor Shirley Caesar and The Eagle Stirs His Nest by Reverend C. L. Franklin, and Reverend Charles Albert Tindley's hymn, Stand By Me. Included are the voices of the Marlene Pinnock and of activists in Ferguson, Missouri from 2014. By employing techniques of layered repetition, rhythmic intensity, sounds of moaning and whooping, Sanctum invokes solace found in the midst of persecution and tribulation.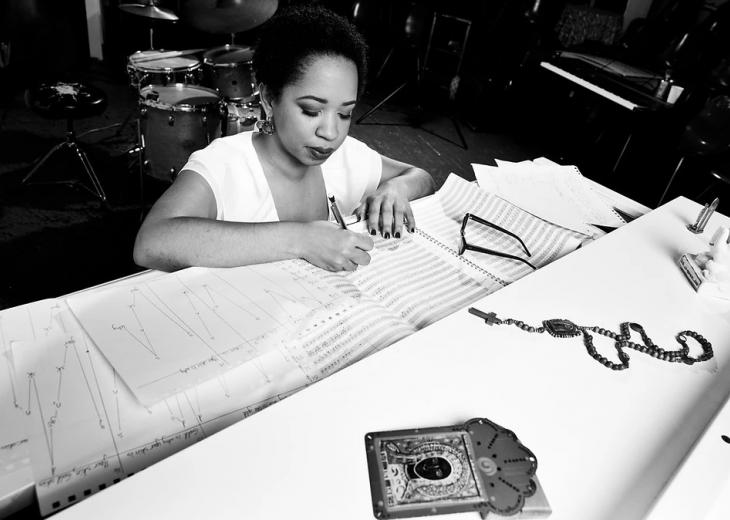 Courtney Bryan
Courtney Bryan, a native of New Orleans, La, is "a pianist and composer of panoramic interests" (New York Times). Her music is in conversation with various musical genres, including jazz and other types of experimental music, as well as traditional gospel, spirituals, and hymns. Focusing on bridging the sacred and the secular, Bryan's compositions explore human emotions through sound, confronting the challenge of notating the feeling of improvisation. Bryan has academic degrees from Oberlin Conservatory (BM), Rutgers University (MM), and Columbia University (DMA) with advisor George Lewis, and completed an appointment as Postdoctoral Research Associate in the Department of African American Studies at Princeton University. Bryan is currently an Assistant Professor of Music in the Newcomb Department of Music at Tulane University, and the Mary Carr Patton Composer-in-Residence with the Jacksonville Symphony. She was the 2018 music recipient of the Herb Alpert Award in the Arts, a 2019 Bard College Freehand Fellow, and is currently a 2019-20 recipient of the Samuel Barber Rome Prize in Music Composition and a 2020 United States Artists Fellow.
Biographies
Elaine Mitchener vocalist
Elaine Mitchener is an experimental vocalist, movement artist and composer, whose work encompasses improvisation, contemporary music theatre and performance art.
Born in East London to Jamaican parents, Elaine studied voice at Trinity College of Music, London and currently studies with Jacqueline Bremar.
She has performed at numerous UK and European festivals, venues and galleries including Aldeburgh Music, London Contemporary Music Festival (LCMF), 56th Venice Biennale, Wysing Arts, Café Oto (London), Bluecoat (Liverpool), SAVVY Contemporary (Berlin), Purcell Room (Southbank Centre, London), Huddersfield Contemporary Music Festival, ULTIMA Festival (Oslo), OCCUPY (St John's Smith Square), SPILL Festival (Ipswich), La Monnaie (Brussels), Block Universe (London), White Cube (London), Whitechapel Gallery (London), Weserburg MOMA (Bremen), Wellcome Collection (London), and the Institute of Contemporary Arts (London).
She has worked and performed in a wide variety of contexts with an array of leading musicians, composers, directors and visual artists including Moor Mother (Camae Ayewa), Mark Padmore, The Otolith Group, Deborah Warner, Christian Marclay, Apartment House, Steve Beresford, Pat Thomas, Irvine Arditti, Sonia Boyce, London Sinfonietta, John Butcher,Tansy Davies, George. E. Lewis, Attila Csihar, Rolf Hind, Dam Van Huynh, Lore Lixenberg, George Lewis, Alexander Hawkins, Sam Belinfante, Phil Minton, Evan Parker, Alasdair Roberts, Lucy Bailey, David Toop, Netia Jones, Matt Wright, and Jason Yarde.
Elaine is co-founder of the experimental jazz quartet the Hawkins/Mitchener Quartet and a regular vocalist with the ensemble Apartment House.  She created the role of Hannah/Voice singing with tenor Mark Padmore, in the opera CAVE, by composer Tansy Davies with libretto by Nick Drake, co-commissioned by the London Sinfonietta / Royal Opera House and directed by Lucy Bailey which premiered in June 2018.
Click here to go to Elaine Mitchener's website
Vimbayi Kaziboni conductor
Zimbabwean-born conductor and curator, Vimbayi Kaziboni (b. 1988), has led many critically lauded performances with orchestras across the globe, in Australia, Austria, Brazil, France, Germany, Kyrgyzstan, the Netherlands, New Zealand, the Philippines, South Africa, Spain, Switzerland the United Kingdom, the United States, and Uzbekistan, performing at some of the most prestigious concert halls in the world, including Carnegie Hall, Walt Disney Hall, Lincoln Center, South Bank Centre (Queen Elizabeth Hall), Philharmonie de Paris, Elbphilharmonie, Deutschlandfunk, Hessischer Rundfunk, Oper Frankfurt, Sala Sao Paulo, among others. 
Hailed among the foremost interpreters of modern and contemporary classical music of his generation, Mr. Kaziboni has worked directly with many of the leading composers of the day that include Helmut Lachenmann, Steve Reich, George Benjamin, Heiner Goebbels, Augusta Read Thomas, John Adams, George Lewis, Liza Lim, Morten Lauridsen, Dai Fujikura, Rebecca Saunders, Matthias Pintscher, Olga Neuwirth, Bruno Mantovani, Nicolaus A. Huber, and Jacob TV among many others. He has led premieres of new works at festivals across the globe that include Gaudeamus Muziekweek (Utrecht), Mostly Mozart Festival (New York), Maerzmusik (Berlin), SoundState (London), Cresc…Biennale (Frankfurt), Festival Manifeste (Paris), Klangspuren Festival (Schwaz), Peak Performances (Montclair), Young Euro Classic (Berlin), VIVO Music Festival (Columbus), Freispiel (Frankfurt), Los Angeles Composers Project (Los Angeles), Turbulences Numériques (Paris), Forum für Neue Musik (Cologne), Taschenopernfestival (Salzburg), Happy New Ears (Frankfurt), the Felix Mendelssohn-Bartholdy Hochschulwettbewerb (Berlin), Acht Brücken (Cologne), Ruhrtrienalle (Essen), Musik-Festival Quantensprünge (Karlsruhe), Voix Nouvelles (Royamont), and Festival de Inverno de Campos do Jordão (Sao Paulo), among many others.  
London Sinfonietta Players
Karen Jones flute/piccolo
Melinda Maxwell oboe/cor anglais
Timothy Lines clarinet/bass
Jonathan Davies bassoon
Amy Green saxophone
Timothy Ellis horn
Richard Blake trumpet
Byron Fulcher* trombone
Sasha Koushk-Jalali tuba
Jonathan Morton* violin 1
Miranda Fulleylove violin 2
Paul Silverthorne* viola
Tim Gill* cello
Sally Pendlebury cello
Enno Senft* double bass
Joe Richards percussion
Karen Hutt percussion
Siwan Rhys piano/sampler
Hugh Webb harp
*London Sinfonietta Principal Players

Ian Dearden sound design
Natalie Marchant event production
Therese White event assistant
Hal Hutchinson stage manager
Lesley Wynne orchestral manager
Ian Russel camera direction
Tony Simpson lighting design
Anna Charlton script supervisor
Adam Flynn film editing
Helen Macleod BBC Radio 3 manager
Anthony Sellors BBC Radio 3 producer
James Alexander sound engineer
Andrew Burke executive producer