SLEEPING PATTERNS
Followed by our annual CSM collaboration
Southbank Centre's Queen Elizabeth Hall, London | Huddersfield
Book
Juste Janulyte's music moves over the listener like a wave, bathing you in warm sonorities and rich harmonies. Taking a lot of her inspiration from visual aspects of the natural world such as shifting clouds and falling snow, Janulyte's monochromatic compositions seem to play with temperature and density of sound.
Sleeping Patterns is woven from seven hypnotically repetitive patterns of slightly different tempos, which intertwine throughout the ensemble. The piece echoes a sleeping human body and all the regular but not synchronised sounds of our heartbeat, blood flow, and breathing create in sleep.
Jack Sheen  Phant Heap Render (world premiere) 
Lisa Streich  Älv, Alv, Alva
Tyshawn Sorey  For Olly Woodrow Wilson Jr
Salvatore Sciarrino  da un Divertimento
Juste Janulyte  Sleeping Patterns (London Sinfonietta co-commission) 
Jack Sheen  conductor
London Sinfonietta
This concert has £5 tickets available for under-30s. Sign up to our Curious? scheme here, or read more about discounted tickets.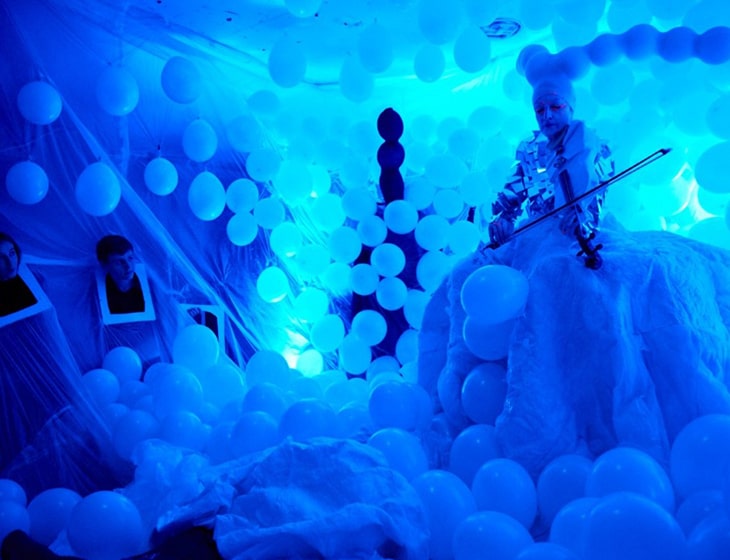 Post-concert Film Screening 
For over ten years, second year students from Central Saint Martins' course BA Performance: Design and Practice have been commissioned by London Sinfonietta to create moving image responses to contemporary classical music. This long standing collaboration has experimentation and exploration at its core, with students bringing a performative visual language to pieces of boundary-pushing contemporary music. 
 
This year, students have responded to three works by Juste Janulyte: Aquarelle, Apnea and Harp is a Chord. Each piece has been split into three short films accompanying the music, and created by groups of students bringing together their skills in filmmaking, set design, costume design, performance, lighting design, movement and beyond. 
Your Sleeping Patterns ticket will allow you entry into both parts of the evening.
Juste Janulyte's catalogue, balancing between the aesthetics of minimalism, spectralism and acoustic electronica, has become one of the most fascinating focal points in the contemporary musical world. Universal Music Publishing Classical
Janulyte has been hailed one of Europe's most prodigious young composers. Her award-winning music typically features only one type of instrument, producing long, slow, gradual transformations in texture and register. This unique approach sucks time into itself, making it feel both flitting and eternal. Hellen Wright (The Skinny)
This event is produced by the London Sinfonietta, and supported by the Southbank Centre
Sleeping Patterns is co-commissioned by and written for Ensemble Modern, London Sinfonietta and Remix Ensemble, and supported by Nicholas Hodgson
The work of the London Sinfonietta is supported by Arts Council England and the John Ellerman Foundation
Support our work
If you are enjoying our events, please do consider donating at whatever level you can afford to support the London Sinfonietta's work and musicians both now and in the future – in schools, on the concert platform and in the community. It might be the price of a coffee, or the cost of a ticket to one of our live events.
Text to donate:
Text NEWMUSIC 5 to 70450 to donate £5
Text NEWMUSIC 10 to 70450 to donate £10
Text NEWMUSIC 20 to 70450 to donate £20
Texts cost £5, £10 or £20 plus one standard rate message, and you'll be opting in to hear more about our work and fundraising via telephone and SMS. If you'd like to give but do not wish to receive marketing communications, text NEWMUSICNOINFO 5, 10 or 20 to 70450.
Book
Please note that booking takes place on external sites.
The link will open in a new window.
Venue:

Huddersfield Contemporary Music Festival

£27 - £22