The London Sinfonietta's aim is to create exceptional new music, working with greatest living composers and artists, to inspire and provoke a worldwide audience. We seek to champion creative music-making in schools, and to develop the best performing and composing talent for tomorrow through our renowned participation and learning programmes.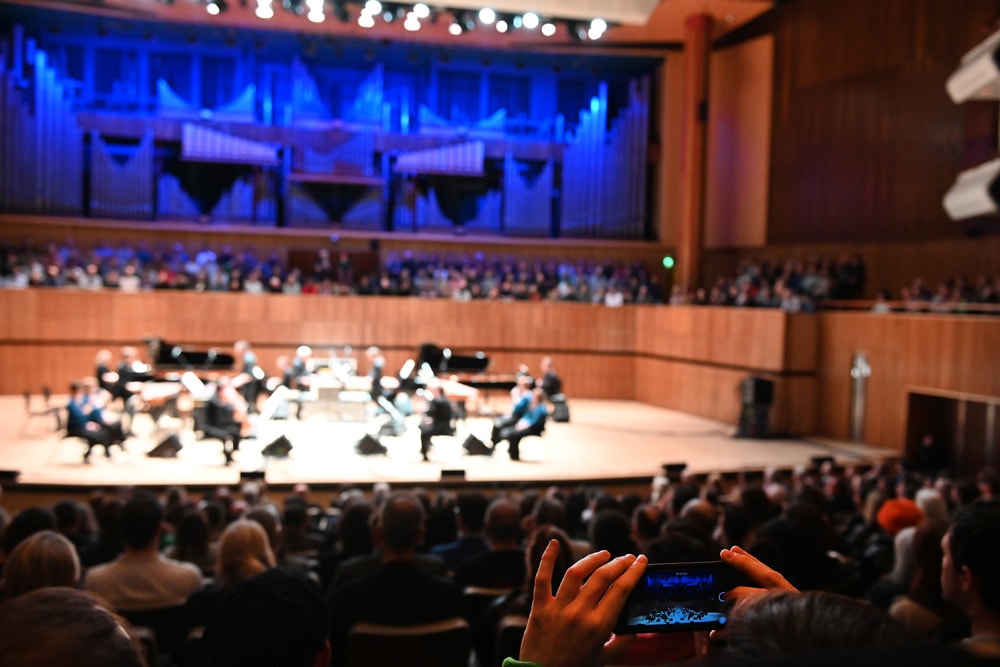 With a donation of just £50, you can help make our vision a reality and join a passionate group of supporters as a London Sinfonietta Pioneer. 
London Sinfonietta Pioneers provide a bedrock of support for all of the work that we do – in schools, on the concert platform and in the community. By joining as a Pioneer, your donation will support all areas of the London Sinfonietta's new music-making, enabling us to reach an ever-wider audience with the music of today. And you can gain a closer insight into our work. 
As a London Sinfonietta Pioneer, you will receive exclusive opportunities to see our world-class players up-close and personal in open rehearsals, you'll be kept up-to-date about what is going on behind-the-scenes and receive news of our upcoming projects via our bimonthly Pioneer newsletter.
We also gratefully acknowledge all of our Pioneers for their generosity on our website, while Creative Pioneers and above (£250+) also receive a special named mention in our concert programmes and annual season brochure.
 
Why we need your support
Fundraising accounts for 30% of our annual income. Without the generous support of individuals, sponsors and charitable trusts, we simply would not be able to achieve the scale of work that we can deliver with your help – inspiring a wide audience around the UK and internationally with the best music of today.
The donations we receive from our Pioneers make up an essential part of this picture. In the last year, our Pioneers contributed over £25,000, enabling us to champion creative music-making in schools, develop the best performing and composing talent for tomorrow, and create exceptional new music with the greatest living composers and artists.
In the coming year, we are hoping to increase this total to £30,000. But we cannot achieve this ambitious goal without your support.     
'My music!' That's how I feel when it's something I have made possible. London Sinfonietta Pioneer
How your support helps
Every donation we receive takes us one step closer to achieving our goals. 
Your donations help us to:
Showcase the best new music to new audiences around the UK and internationally – in a little over 50 years, the London Sinfonietta has commissioned over 400 new works and premiered many hundreds more. We continue to place new music at the heart of work, engaging and challenging the public through inspiring performances, reaching an annual audience of 1.4 million through live performances and radio broadcasts.
Inspire young people with the music of today – our schools projects provide a range of opportunities for primary and secondary pupils to learn about composition and new music in the classroom. In the last year, our Sound Out programme has involved 480 school pupils in composition workshops, while as many as 5,000 young people attended our schools concerts at Southbank Centre.
Train the musicians and composers of tomorrow – our annual London Sinfonietta Academy provides world-class instrumental training to up to 25 talented young musicians each July. In the ten editions of the London Sinfonietta Academy since 2009, over 250 young musicians and 23 young conductors have received this specialist training, while our Writing the Future programme has provided mentoring, training and commission opportunities to 24 young and emerging composers.
Join the Pioneers
Help us to do what we do best.  From as little as £50 per year,* you can help make new music happen and support our work as a London Sinfonietta Pioneer.
*The minimum payment to receive the benefits of London Sinfonietta Pioneer membership at all levels is £20 (inc VAT), with the remainder representing an additional voluntary donation. The donation portion is a suggested donation to which Gift Aid provisions apply, but you may purchase the benefits package separately (without acknowledgement of your support) for the minimum payment without making any further donation.