Love new music? Share your passion as a London Sinfonietta Pioneer.
We believe that new music is an indispensable part of contemporary culture. We seek to inspire and provoke audiences with the best new music being written today, to champion the best young talent and to unlock the creative imaginations of individuals and communities.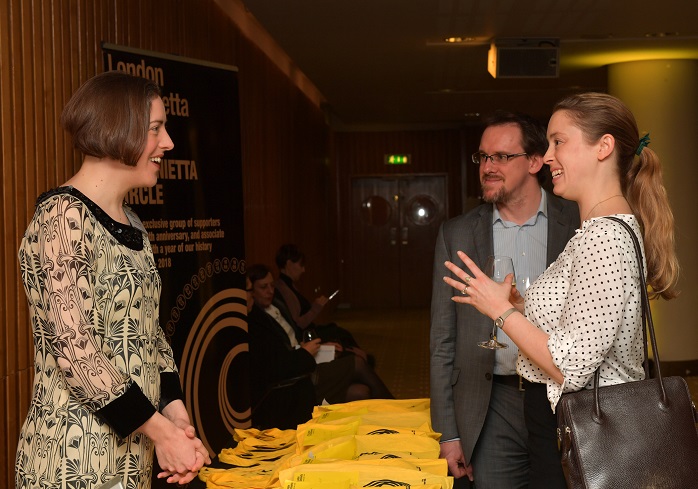 But we could not achieve these ambitious goals without your help. As a London Sinfonietta Pioneer, your donation will support all areas of the London Sinfonietta's new music-making, providing an essential bedrock of support for our original and boundary-stretching work on the concert platform, our much-needed creative participation and learning programmes, our pioneering work within schools, and our unique professional training schemes for early-career composers, conductors and performers.
And you can get a closer insight into our work. As a Pioneer, you will receive exclusive opportunities to see our world-class players up-close and personal in open rehearsals, we will keep you up-to-date about what is going on behind-the-scenes and send you news of upcoming projects via our bimonthly Pioneer newsletter.*
London Sinfonietta Pioneer membership starts from just £50*, meaning you can support our work at whatever level suits you. All of our Pioneers are acknowledged for their generosity on our website, while Creative Pioneers and above also receive a special named mention in our concert programmes and annual season brochure.
PIONEER £50
PIONEER £100
CREATIVE PIONEER £250
ARTISTIC PIONEER £500
Join the Pioneers
Help us to do what we do best.  From as little as £50 per year,* you can help make new music happen and support our work as a London Sinfonietta Pioneer.
*The minimum payment to receive the benefits of London Sinfonietta Pioneer membership at all levels is £20 (inc VAT), with the remainder representing an additional voluntary donation. The donation portion is a suggested donation to which Gift Aid provisions apply, but you may purchase the benefits package separately (without acknowledgement of your support) for the minimum payment without making any further donation.