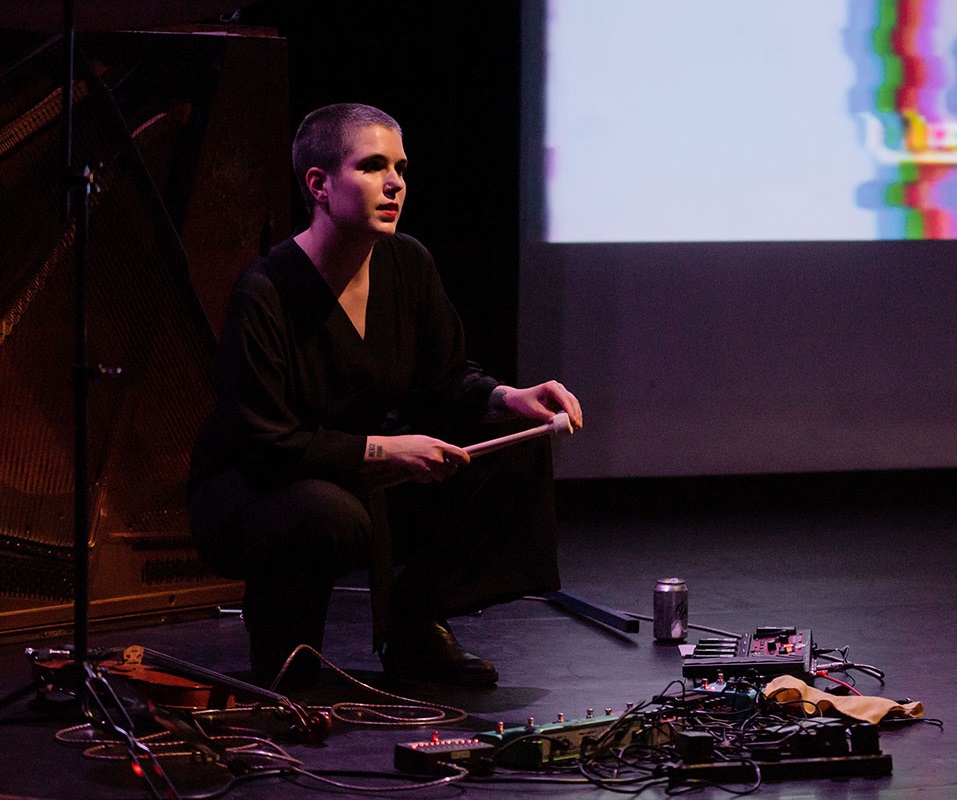 Alicia Jane Turner is a current participant in our Writing the Future programme, which provides world-class training and mentoring to early-career composers and music creators, supporting them through the process of making new work with the ensemble.
Alicia Jane Turner's new work "Tell Me When you Get Home" is a theatrical and sensory piece for solo soprano and ensemble that explores gendered experiences of walking alone at night. Utilising immersive staging and lighting design, and incorporating research into patriarchal representations of femininity in mythology and horror, this project will take a subversive journey into our fear of the dark.
Find out more
More about Alicia Jane Turner
Alicia Jane Turner is a composer, sound designer and performance artist whose work spans contemporary theatre, live art and new classical music.
Their practice focuses on the raw, visceral affectivity of sound in interdisciplinary performance, specialising in live scoring contemporary and experimental theatre productions. They create and collaborate on provocative, political and fiercely vulnerable projects through an intersectional feminist, queer lens. Both guttural and ethereal, their compositions fuse the textures of noise and ambient music through classical instrumentation and electronics to create intricately layered, multi-sensory pieces. In their research they interrogate the relationship between sound, affect and gender, and how sound and light works to generate atmospheres in sensorial encounters with contemporary theatre.
Their composition and experimental music work includes commissions from the London Philharmonia Orchestra, the London Sinfonietta, Spitalfields Music and National Sawdust (New York), solo performances and sound installations commissioned by The Yard Theatre, Creative Research into Sound Arts Practice and Radar (Denmark), their collaboration with NYX: Electronic Drone Choir, and composing the soundtrack for choreographer Natasha Sturgis' The Land of Her performed at The Place for the Resolution 2020 Festival of New Choreography. They were a Bang on a Can Composer Fellow in 2018, and are currently a London Sinfonietta Writing The Future composer, with their upcoming opera project "Tell Me When You Get Home." premiering in 2022 at the Southbank Centre.
Support this commission
Help us to do what we do best. From as little as £100 per year, you can help make new music happen and support the creation of this new work.