The CONNECT programme aims to commission new music which reaches new audiences and deepens engagement with existing audiences. The notion of involving audiences as artistic participants who take an active role on-stage alongside professional musicians is at the heart of the project.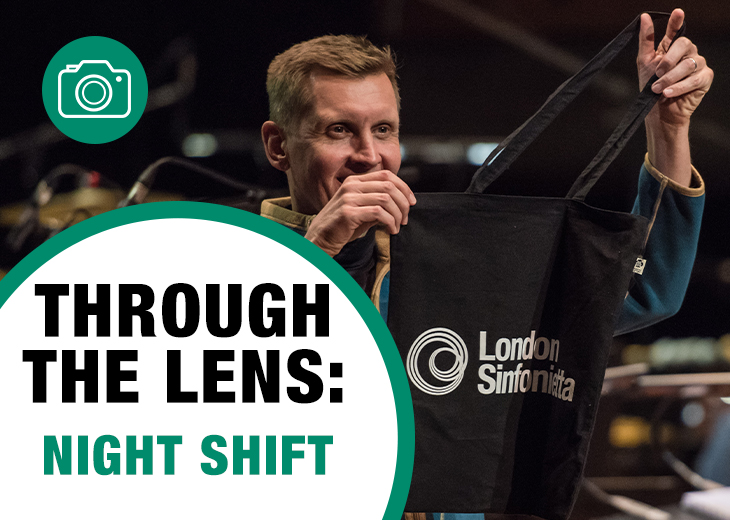 Night Shift by Cathy Milliken
On 10 March 2022, we gave the extended version world premiere of Night Shift by Cathy Milliken. Inspired by themes and parts from A Midsummer Night's Dream, the piece begins with a relaxed rehearsal led by the conductor. The audience has sound-making objects and together with the musicians, soloists and choirs, finetunes the piece before the actual performance. Check out some photos and reactions from the night.
Photos and reactions
Past Projects
ORANGO by Oscar Bianchi
In March 2019, we performed the UK premiere of a new work, ORANGO, for ensemble and audience, by Italian/Swiss composer Oscar Bianchi. The work invited a trained group of audience members to create and explore unusual sound worlds and encourage involvement in the fun piece by the audience at large.
The Gender Agenda by Philip Venables
In April 2018 The Gender Agenda, a concert piece like no other, turned Queen Elizabeth Hall into a gameshow and the audience into contestants. Complete with challenges and commercials, The Gender Agenda had all the features of a gameshow, but turned on its head - think The Generation Game meets Southpark. Hosted by the brilliantly charismatic David Hoyle, audiences could choose to play the game onstage in this irreverent and funny exploration of gender (in)equality.
Capturing the spirit of change that accompanied the London Sinfonietta's first-ever concert in 1968, this event marked the ensemble's return to Queen Elizabeth Hall in its re-opening festival.
In the Midst of the Sonorous Islands by Christian Mason
The Sonic Great Wall by Huang Ruo
Two ground-breaking commissions by Christian Mason and Huang Ruo gave audiences at our CONNECT concert in Autumn 2016 the chance to perform world premieres alongside the London Sinfonietta, with no musical experience needed: glass bottles, baoding balls, tin foil, harmonicas and whispers were their instruments.
Supported by ART MENTOR FOUNDATION LUCERNE in collaboration with London Sinfonietta, Ensemble Modern, Asko|Schönberg and Remix Ensemble Casa da Música