Between 22 - 25 May, the London Sinfonietta was resident in St Ignatius College, Enfield for a week of creative workshops, collaborative projects and open rehearsals, leading up to our Southbank Centre concert, Fireworks. We engaged students with world-class contemporary music, with opportunities to compose, film and learn the inner workings of a professional ensemble. 
Here are some highlights from our week in Enfield!
Over a series of composition workshops, 27 students from St Ignatius College (Year 9 and Year 10 GCSE music) worked with professional composers and workshop leaders to explore different approaches to composition. The students first explored how to co-create music as an ensemble, followed by how to take those ideas, notate them and develop into a full piece. By the end of the residency, the students wrote a series of extracts based on protest songs, featuring themes such as racial inequality, discrimination and lack of representation. They then worked collectively to rehearse and perform their final composition.
Photos of Composition Workshop by Orlando Gili
Composition wasn't one of my strong suits because I thought you had to be really confident to do it, you know. But from this project, I've learnt that you can really start from nothing and build from what you know to create so much more. St Ignatius GCSE music student
Our marketing team delivered three marketing workshops to various Media Studies classes across the week. These workshops were designed to help the students link what they'd been learning in the classroom to what a marketing job might entail after school, with a focus on arts and charity organisations. Students were guided to plan a campaign ahead of a concert and asked to consider timing and budget. The St Ignatius students then made a flyer for our Fireworks concert, making a wonderful range of posters which showed real attention to branding, detail, information and accessibility. 
As part of our In Town Residency week, all of our rehearsals for our concert Fireworks (25 May, Southbank Centre) took place in the school. The whole orchestra moved into the school for a week of rehearsals, a fantastic chance to engage with the school on a deeper level and show them the inner workings of a professional ensemble.
We welcomed three of our London Sinfonietta 2023 Academy participants for pop-up performances at lunchtime and after school. These performances were a chance to reach students who might not be studying music but who love to listen to it and groups of students on their lunch break gathered to listen to our fantastic Academy players perform.
Fireworks open rehearsals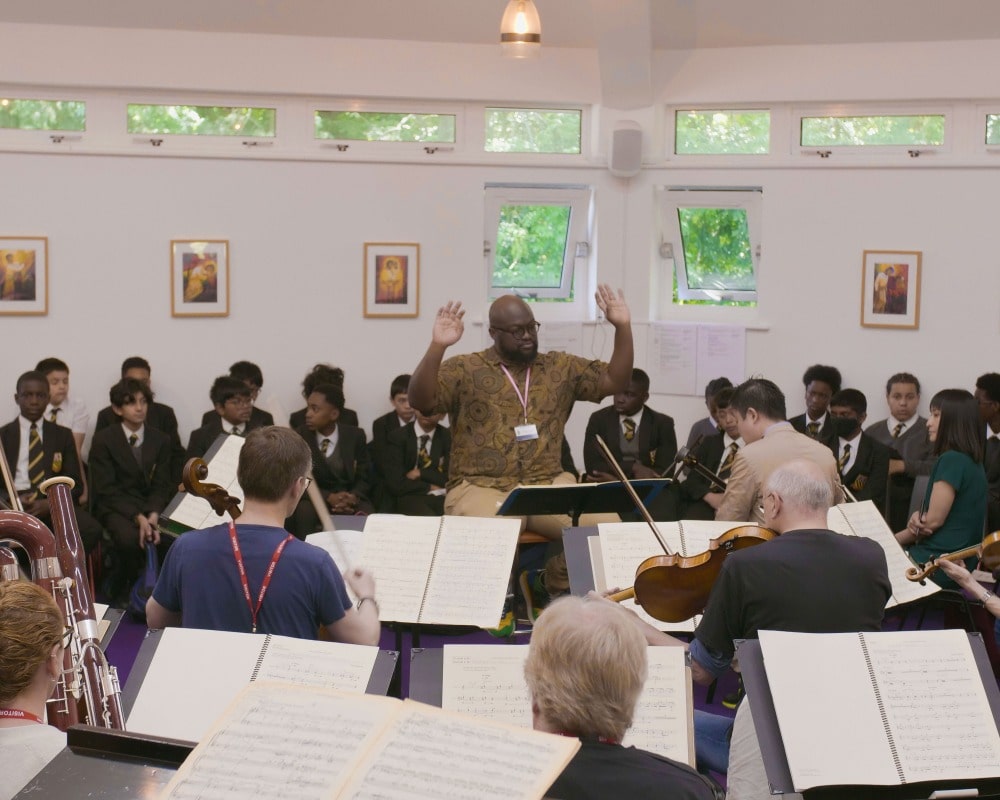 We held two open rehearsals during our residency. The first was on Wednesday morning when we invited St Ignatius College students to watch the orchestra prepare Dai Fujikura's Shamisen Concerto for our concert at the Southbank Centre. It was a fantastic opportunity to hear how an orchestra prepares, shapes and perfects a complex piece of music ahead of a concert, particularly as the composer, Dai, was present. Presenter Yshani Perinpanayagam expertly compered the rehearsal, allowing the conductor Vimbayi Kaziboni, soloist Hidejiro Honjoh and the London Sinfonietta ensemble to rehearse as they would normally, whilst questioning them on certain decisions they were making about the music and demystifying musical language and techniques for the students. Many of the students who came to the open rehearsal attended our Southbank Centre concert the following day and loved hearing the Shamisen Concerto in both the informal rehearsal setting and then again in the formal concert space. 
This experience has brought me into a new love of music. I used to think it was just something to calm me down, but it's also bringing me a variety of new feelings that I haven't even felt before. St Ignatius GCSE music student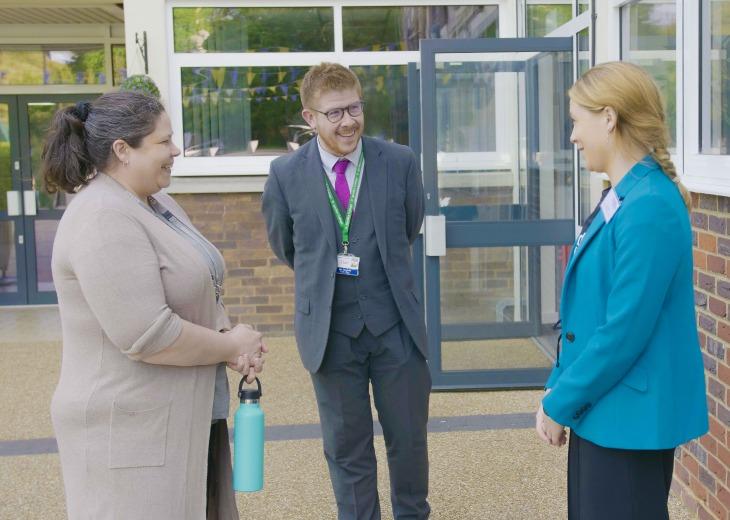 Our second open rehearsal was Wednesday evening for the Enfield community, preceded by a conversation with shamisen player, Hidejiro Honjoh, and our Head of Participation and Learning, Lily Caunt. This was a great evening and a chance for the community to learn more about our relationship with Enfield over the next three years, working closely the community to achieve our mission of engaging new audiences with contemporary classical music.
A few snaps from the first day of our In Town residency in @St_Ignatius! We've been delivering marketing and composition workshops for students, and will be welcoming the whole ensemble for rehearsals this week 🎻🏫 pic.twitter.com/FlPbhGAoHl

— London Sinfonietta (@Ldn_Sinfonietta) May 22, 2023
It has been a huge pleasure and privilege to host the London Sinfonietta Mary O'Keeffe, St Ignatius College Headteacher
On Thursday 25 May, we headed to the Southbank Centre for Fireworks, a night of virtuosic fireworks from different musical and cultural traditions. During the concert, we were proud to perform the UK premiere of Dai Fujikura's Shamisen Concerto with soloist Hidejiro Honjoh, "a cadenza-like solo of dizzying rapidity that evokes prog-rock guitar as much as Paganini" (New York Times).
Photos of Fireworks by Sisi Burn
In Town is supported by the Daiwa Anglo-Japanese Foundation and the Chapman Charitable Trust. 
The work of the London Sinfonietta is supported by Arts Council England and the John Ellerman Foundation, and with the friendly support of the Ernst von Siemens Music Foundation