Hundreds of bags and audience members, 18 musicians, two choirs and one extraordinary night. On Thursday 10 March 2022, we gave the extended version world premiere of Cathy Milliken's Night Shift, a boundary-breaking commission that brought the musicians and audience together for one unforgettable performance.
Night Shift was the latest commission as part of CONNECT, a project designed to create new music that involves the public in its performance. The night started with a 'rehearsal' where conductor Jonathan Stockhammer and soloists Michael Schiefel and Helena Rasker guided the audience through specific parts of the piece where the audience can participate with their 'wonderbag' full of various objects. After a quick interval, the musicians and audience performed the work in full. Finally, if that wasn't enough, Sing Tower Hamlets and City Lit Inclusive Choir treated us to a joyous rendition of an ecology-themed song.
Check out some photos and reactions from the night below!
Such an inspirational joyful performance! All of the performers were brilliant but the skills and talents of Michael Schiefel have to be heard/seen to be believed! He is phenomenal! Audience member
Fantastic concert of recently composed music in which the audience actively participates with rattles, aluminium foil, bells and torchlights. Everyone seemed to utterly enjoy it. Audience member
I'm not usually a fan of modern classical music, but this piece was both interesting and spirited, and the audience participation was unique. Audience member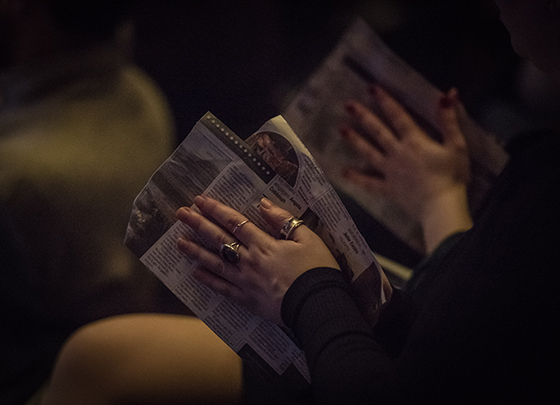 Interview with Cathy Milliken
A few days before the performance, Cathy Milliken spoke to The Guardian about Night Shift and the importance of creating curiosity among audiences and music continuing to have as active, participatory approach as possible.
Read more
What a brilliant evening. We were honoured to be a part of it, and have learnt so much from sharing the workshops, rehearsals and concert stage with the London Sinfonietta. Sam Poppleton, City Lit Inclusive Choir
We had a brilliant time on Thursday night, it really was a unique experience for us, and so great to have had that focus as a choir - I think projects like this really do something special for groups. Leanne Sedin, Sing Tower Hamlets
Support our work
If you are enjoying our events, please do consider donating at whatever level you can afford to support the London Sinfonietta's work and musicians both now and in the future – in schools, on the concert platform and in the community. It might be the price of a coffee, or the cost of a ticket to one of our live events.
Text to donate:
Text NEWMUSIC 5 to 70450 to donate £5
Text NEWMUSIC 10 to 70450 to donate £10
Text NEWMUSIC 20 to 70450 to donate £20
Texts cost £5, £10 or £20 plus one standard rate message, and you'll be opting in to hear more about our work and fundraising via telephone and SMS. If you'd like to give but do not wish to receive marketing communications, text NEWMUSICNOINFO 5, 10 or 20 to 70450.