Between the 16-20 July 2023 we ran the culmination of our Academy programme - a week-long course focusing on the expert playing of contemporary classical music which offers a unique opportunity for emerging professional musicians to refine their skills and experience under the guidance of our principal players.
Since March 2023, musicians on the Academy course have been welcomed to get involved with London Sinfonietta activity. They have attended rehearsals, concerts, Participation and Learning training and composition workshops as part of our Composition Challenges and In Town projects.
A week-long intense course marked the end of our Academy with 18 musicians participating in rehearsals, sectionals, coaching and side-by-side playing with principal players, offering opportunities for valuable feedback on their playing from world-class musicians. Led and conducted by "inspirational" (Bachtrack) London Sinfonietta Academy alumnus Geoffrey Paterson, the emerging musicians also had the chance to premiere a new work by Samantha Fernando. Samantha attended rehearsals and gave an evening talk exploring approaches to positive composer-musician relationships.
'I have so many new tools for understanding and interpreting new music...mainly it has increased my confidence in approaching new music.' Academy Participant 2023
Wednesday 19 July was our Musicians of Tomorrow concert at the Purcell Room. Playing side-by-side with mentors from the London Sinfonietta ensemble, the young musicians showcased their prodigious talents in a programme of British repertoire from the 20th and 21st centuries. The concert featured two world premieres, Samantha Fernando's Sound Inhabitants and the Royal Overseas League's composition prize-winning new piece, Kai Kubota-Enright's Night, the automaton dreams, played by the London Sinfonietta ensemble.
'Performing in the two concerts was the highlight, as it made it very clear that there are appreciative audiences for contemporary music.' Academy Participant 2023
The following day our Academy players headed to the Church of St Mary & St Eanswythe in Folkestone to perform a similar programme, this time featuring two works by John Woolrich, Fragment and The Iron Cockerel Sings.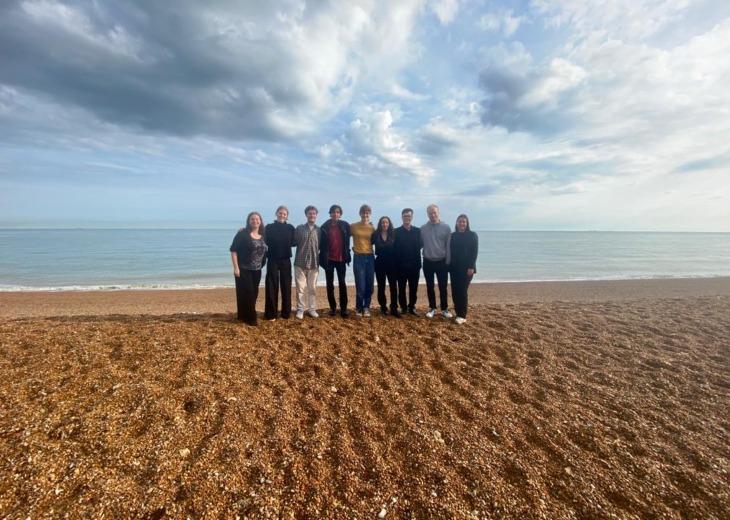 2023 London Sinfonietta participants 
Cara Houghton  flute
Alex Franklin  oboe
Rowan Jones  clarinet
Amy Thompson  bassoon
Sophia Elger  saxophone
Alice Knight  horn
Ruby Orlowska  trumpet
Pau Hernández Santamaria trombone
Connor Gingell  tuba
Sydney Grace Mariano  violin
Emily Trubshaw  violin
Laura Cooper  viola
Joseph Dawson  cello
Cara Dawson  harp
Toril Azzalini-Machecler  percussion
Julian Chan  piano
Declan Hickey  guitar
The London Sinfonietta Academy 2023 was generously supported by the John S Cohen Foundation, Radcliffe Trust, Steven R. Gerber Trust, Thriplow Trust, Harold Hyam Wingate Foundation, The Fidelio Charitable Trust, The D'Oyly Carte Charitable Trust and with the friendly support of the Ernst von Siemens Music Foundation.