We're thrilled to be working with Music Theatre Wales for Pascal Dusapin's Passion, which tours across England and Wales in October and November 2018. This project is the start of an exciting new association between our two companies...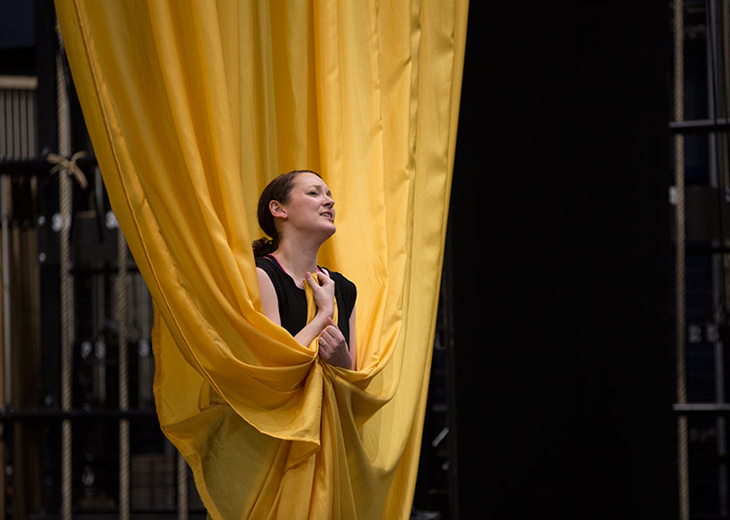 This new association will build on the outstanding reputations of Music Theatre Wales and the London Sinfonietta, aiming to establish a powerhouse for music theatre and new opera which involves an increasingly diverse range of composers, writers, conductors, directors, and performers in work made for ever wider audiences.

The London Sinfonietta will perform in all Music Theatre Wales productions as key artistic partners, and will contribute to the selection of repertoire and conductors. The two companies will also together create New Directions, a development and performance scheme to reach out to more artists and new audiences. The aim of this scheme is to develop the art-form and re-imagine the kind of work both companies make and the way in which it is developed, challenging perceptions about who makes it and who it is made for. The scheme will launch in 2019.
Image: soprano Jennifer France as 'Her' in Dusapin's Passion
I am delighted that we will be working closely with Music Theatre Wales. Together we are committing to the New Directions programme to develop innovative small scale music theatre created by the most exciting artists from across society. For both MTW and LS this will bring relevant stories of contemporary life to new audiences around the country. Andrew Burke, Chief Executive & Artistic Director of the London Sinfonietta
Working with the London Sinfonietta is a huge privilege and represents a moment of significant change for MTW, and I look forward to hearing this exceptional group of musicians bring our future productions to life. Equally, we look forward together to introducing inspiring new work to ever wider audiences... Michael McCarthy, Artistic Director of Music Theatre Wales
The repertoire for the first 3-year period of the collaboration between Music Theatre Wales and London Sinfonietta includes:
- The UK Premiere of Passion by Pascal Dusapin, a co-production with National Dance Company Wales, directed by Michael McCarthy and Caroline Finn and conducted by Geoffrey Paterson. Passion will tour the UK this autumn, opening in Basingstoke on October 11 before touring to London, Cardiff, Suffolk, Salford and Mold. Performed with internationally renowned vocal ensemble, EXAUDI.
- The Intelligence Park by Gerald Barry which will tour in autumn 2019. This is a co-production with the Royal Opera House with Conductor Jessica Cottis.
- Denis and Katya by Philip Venables and Ted Huffman touring in Spring 2020. This new small scale work will be performed as part of the New Directions programme and is a co-production with Opera Philadelphia and will be directed by Ted Huffman.
- A new opera by Tom Coult and Alice Birch, a co-production with Aldeburgh Festival which will open in Summer 2020 and tour in autumn 2020.
- A new small scale work by Naomi Pinnock and Nic Green as part of the New Directions programme.