We experienced firsts and lasts in May, from our first ever Couch to Concert series to our last Southbank Centre concert of the 2021-22 season. Take a look back at our highlights from May.
Photos and reactions: Long Song of Solitude
We concluded our 2021-22 season at the Southbank Centre with a concert dedicated to the music and life of Canadian composer Claude Vivier. The concert featured two of his pieces - Zipangu and his masterwork Lonely Child, as well as a London Sinfonietta commission by fellow Canadian composer Nicole Lizée The Seeds of Solitude, which mixed film, recorded sounds and live music to concoct a visually and musically immersive world inspired by Vivier's work.
[Claude Vivier's] unmistakable aural imagination was apparent from the first bars of this London Sinfonietta concert, launching the weekend under Ilan Volkov's expert direction. The Times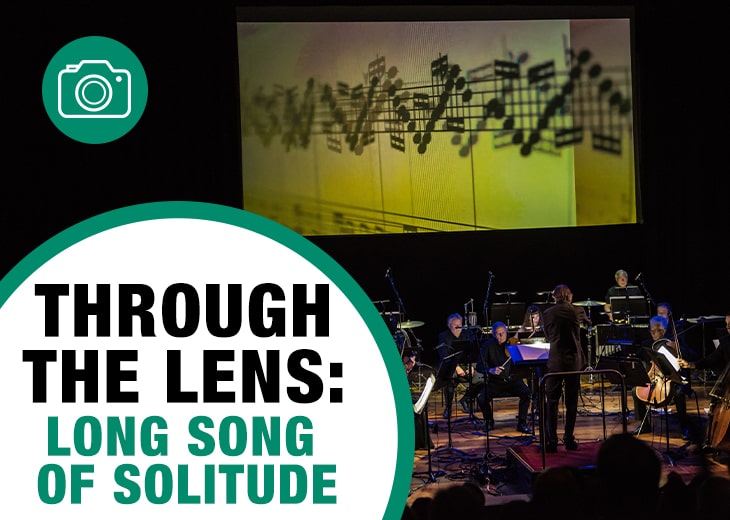 Through the Lens: Long Song of Solitude
Check out some photos and reactions from Long Song of Solitude below.
Photos and reactions
New digital release: Dérive I
We released our brand new performance film of Pierre Boulez's Dérive I. The piece is derived from two of Boulez's other compositions, Répons (1981) and Messagesquisse (1976/77), and showcases his typical compositional method of reworking ideas presented in his other larger works.
Watch the full film below, and subscribe to our YouTube channel to be notified of future releases.
Photos and reaction: Turning Points - Organised Sound
On Wednesday 18 May, we returned to Kings Place with the latest concert in our Turning Points series, presenting ideas so distinctive that they influenced the course of musical history. The concert focused on the 20th century with solo and chamber works by Edgard Varèse, Pierre Boulez, Morton Feldman and Luciano Berio, and ended with Tansy Davies' grind show (unplugged).
...a neatly packaged and presented collection of gems. The Guardian
Through the Lens: Turning Points - Organised Sound
Check out some photos and reactions from Turning Points - Organised Sound below.
Photos and reactions
Calling all newcomers: Couch to Concert
We launched our brand new exercise programme for the ears, Couch to Concert. The programme is a way to encourage newcomers to attend (and enjoy) a contemporary music concert with the help of podcasts presented by BBC Radio 6 Music's Cerys Matthews and music journalist Paul Morley, themed playlists and a concert survival kit on the day. You can listen to the podcasts and playlists from this first series below.
New to contemporary music? We're planning more editions of Couch to Concert in the near future, so sign up to our mailing list to be the first to hear about the next Couch to Concert journey!
2022 ROSL Composition Award: Entries now open
Calling all young, emerging composers - Entries for the Royal Over-Seas League Composition Award are now open! Advanced emerging composers and music creators aged 18-35 are invited to apply for one of six places to workshop a short original work with the London Sinfonietta.
The prize is a £3,000 commission to compose a 12-15 minute chamber work for six players and conductor, to be premiered by our musicians!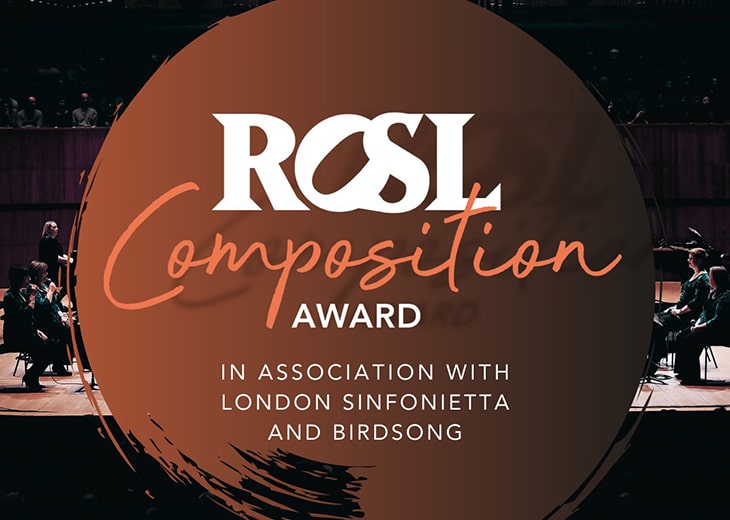 Apply now: 2022 ROSL Composition Award
Submissions are open for the 2022 ROSL Composition Award. The deadline for first round applications is 5pm on Tuesday 21 June 2022.
Apply now
Other posts from the month
Tom Coult joined Thoroughly Good Classical Music Podcast to give a preview of his new opera Violet:
Ryan Latimer was the latest guest on Future Classical, where he talked about his recent release Antiarkie, featuring a performance by the London Sinfonietta: