We did it! For one week only, we took part in the Big Give Christmas Challenge 2021 with an aim to raise £10,000 for our Sound Out schools programme.
Guess what? We went through the roof and raised a massive £11,245. Every penny will be spent on inspiring the next generation of young musicians and composers, as well as over 300 children can now receive composition workshops from London Sinfonietta musicians and many more can engage online with our Composition Challenges. The funding also supports our live Sound Out schools concert in March 2022 at Southbank Centre's Royal Festival Hall performed to 2,000 young people and live-streamed online, reaching another 12,000 children across the UK.
We want to say a huge thank you to everyone who donated during the week. No matter how large or small, your support will help us enable thousands of young people to hear, explore and create contemporary music.
To illustrate the impact the money raised will have, this is what we managed to achieve in the past in photos, videos and statistics: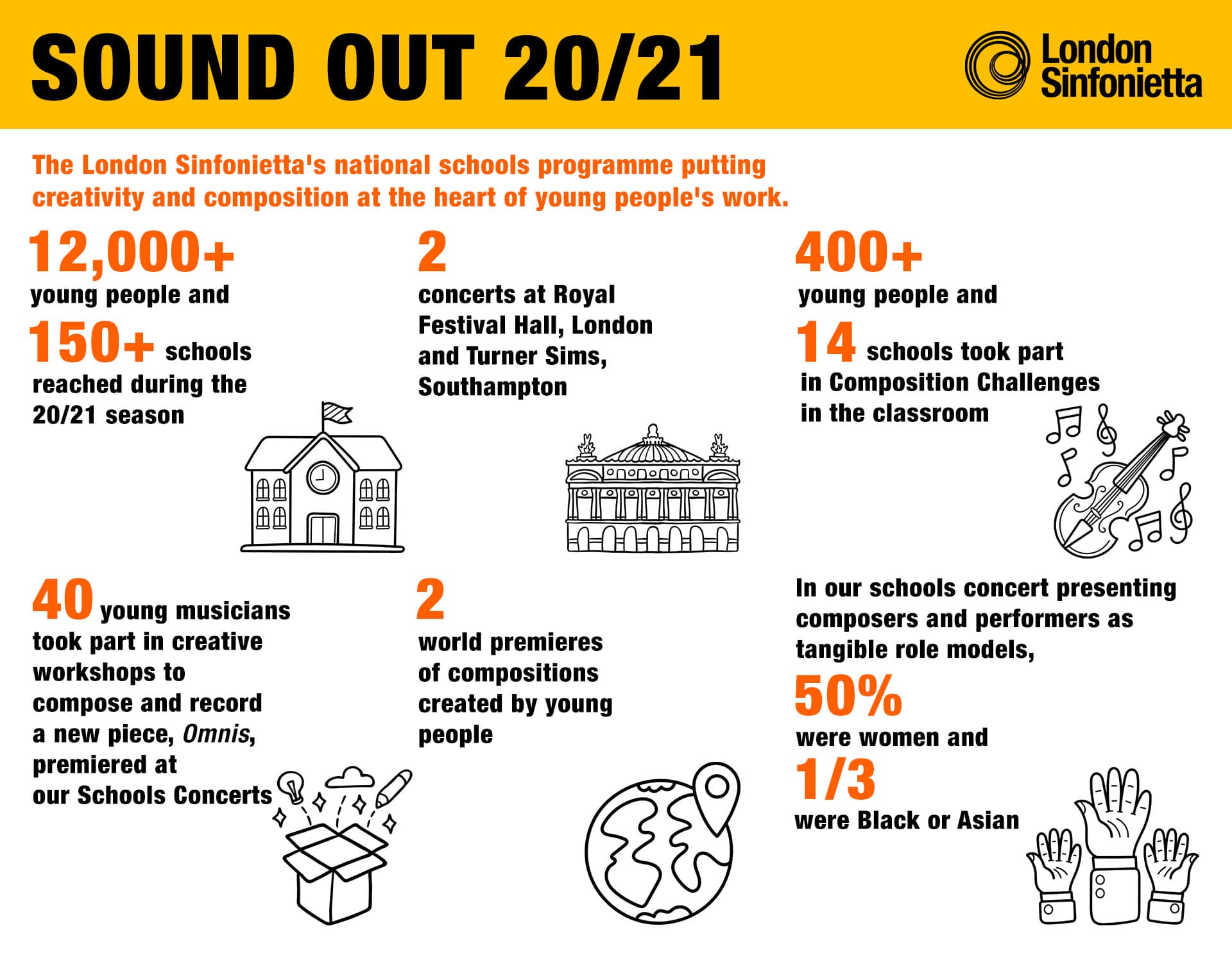 Why your support is important
Music education has taken a significant blow in recent years, especially since the pandemic hit. According to the report 'The Heard of the School of Missing' published by the Incorporated Society of Musicians in 2020:
Extra-curricular music activities are no longer taking place in 72% of primary schools and 66% of secondary schools
The number of pupils studying Music at GCSE has declined by 35% and at A Level by 50%. At this rate, A Level Music will have completely disappeared from the curriculum by 2033.
Almost 10% of primary and secondary schools are not teaching class music at all as a result of the pandemic.
We're responding to these threats to music education through our Composition Challenges. We aim to engage over 12,000 young people in primary and secondary schools through in-school and online composition workshops and coaching in London, and with original music creation and live and online performances made available to young people throughout the UK, including those in areas of disadvantaged and lower socio-economic groups.
Continue to support our work
By making a donation to the London Sinfonietta, you can help create world-class new music projects both onstage and online for audiences to enjoy all around the world. You can help us reach thousands of young people each year through our composition programmes in schools, and you can enable us to provide world-class training to the next generation of performers, composers and conductors.