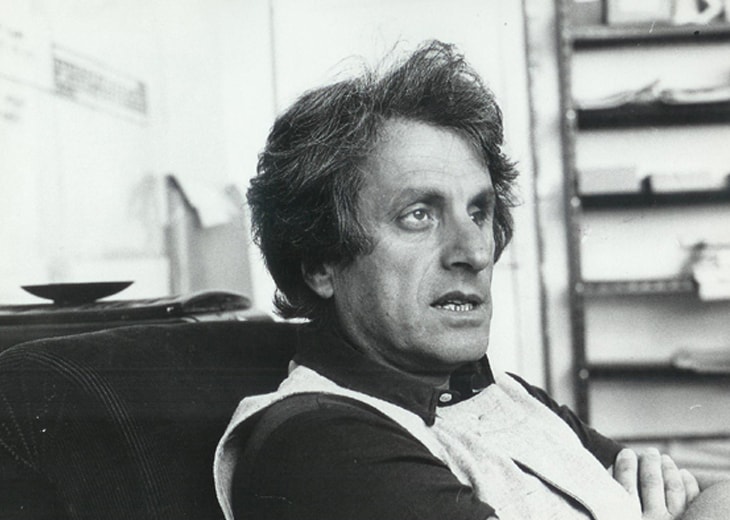 Iannis Xenakis' Thalleïn is a 1984 work commissioned by the London Sinfonietta. Find out more about this richly structured piece with our in-depth audio guide by Philip Cashian, composer and Head of Composition at the Royal Academy of Music.
Introduction
Xenakis' fascination with mathematical models (i.e. stochastic process and game theory) along with his early training in Greece, cut short by Second World War, as an engineer and architect are central to his music. They influence and inform his thinking at all stages of the creative process and have resulted in some of the most strikingly individual and influential music of the second half of the twentieth century. To some his music is uncompromisingly modernist and difficult but I've always found it refreshingly direct, playful and captivating from first note to last.
His training as an architect is apparent in the completely convincing way in which Thalleïn (to sprout, from the Greek) is put together. It's construction of different dovetailed or juxtaposed sections that are meticulously constructed out of small, clearly audible, musical ideas (i.e. trills, glissandos, repeated notes, long sustained notes, repeating rhythms) that overlay one another, transform into one another or establish themselves through repetition is a joy to listen to. Out of these small units he can create one or two minute sections within the piece.
Audio Guide
12:08 – 14:54 Listen here for the woodwind, brass, piano and percussion as they all discreetly co-exist with their own highly individual material in different registers but all seem to compliment one another in different formations.
4:55 – 12:13 Suddenly, this substantial section is brilliantly cut-off with a contrasting repetitive figure in winds and piano.

Other things to listen out for along the way
03:51 – 05:02 Here's a good example of how Xenakis slowly transforms a section through a series of overlapping entries dovetailing around the ensemble
03:51 Section of glissandi for the strings.
04:08 Strings glissandi passed to the horn.
04:12 High piano figure joins the horn
04:19 Wood blocks join the piano
04:31 Solo flute joins the percussion
04:42 The rest of the woodwind join one by one then the horn and trumpet.
16:03 – 16:06 A brilliantly virtuosic percussion solo lands on a trill which is passed to the strings.
05:36 – 06:46 Xenakis makes great use of placing different music/instruments in different registers to differentiate them. In this section he pits high wind against low piano, percussion and brass creating a section within the piece that seems like a slowly rotating sculpture.
09:13 – 09:38 In Xenakis' music everything is material, here it's glissandi. First descending, then ascending.
09:48 – 11:06 Ornamental lines in the winds are constantly interrupted by two alternating chords in piano and strings.
Further Listening



Xenakis gained much inspiration from composers such as Edgard Verese and Olivier Messiaen, and in turn influenced several composers of today such as British composer Simon Holt and Frenchman Pascal Dusapin.
Edgard Varese Olivier Messiaen Simon Holt Pascal Dusapin