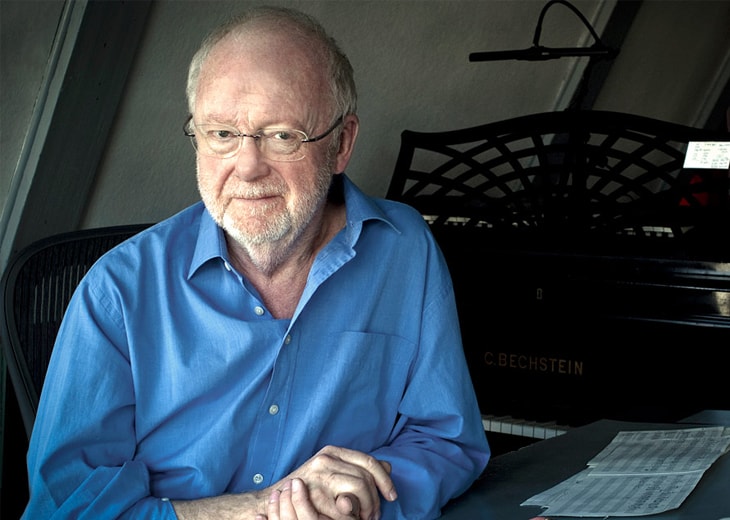 We asked Philip Cashian (composer and Head of Composition at the Royal Academy of Music) to discuss Workers Union,  a work written by Dutch composer Louis Andriessen.
INTRODUCTION
Hugely influential Dutch composer Louis Andriessen was 36 when he wrote Workers Union in 1975 for the Orchestra de Volharding (of which he was a founding member and, at that time, the pianist). Andriessen's music is heavily influenced by Stravinsky, jazz (particularly boogie-woogie) and American minimalism.
This twenty minute piece is scored for any loud sounding group of instruments and is one of his most performed pieces. It is a political work in which everybody plays in unison throughout: one voice united in delivering the same emphatic message and unified in their intent. After a while this strength in numbers makes the music become almost hypnotic in character even though it's delivered in an uncompromising and at times ferocious manner. The skill and concentration required for each musician to remain exactly in unison with the rest of the ensemble throughout as Andriessen constantly varies and changes the rhythmic patterns makes a performance exhilarating to watch as it, on one level, becomes an act of physical agility.
Andriessen says of the work: "This piece is a combination of individual freedom and severe discipline: its rhythm is exactly fixed; the pitch, on the other hand, is indicated only approximately, on a single-lined stave. It is difficult to play in an ensemble and to remain in step, sort of thing like organising and carrying on political action".
And in his performance note in the score he says: "Only in the case of every player playing with such an intention that their part is an essential one, the work will succeed; just as in the political work."
The piece is all about rhythm and Andriessen manages to create a single span of music that is uncompromising, obsessive, relentless and constantly surprising. A real tour de force of musical invention. He achieves this by using a very simple rhythmic cell as the basis for the entire work which you can hear in the opening moments of the piece.
The rest of the piece is made out of repetitions, juxtapositions and simple variations of this three note figure in which Andriessen lengthens or shortens part of it to create new rhythmic patterns. So you hear new ideas being introduced in the music but they always sound related. This helps give the piece a feeling of fusion.
AUDIO-ILLUSTRATED GUIDE
Here's your guide for what to listen out for:
Opening-06" Three note rhythmic figure out of which he builds the entire piece.
56" Here is the first very noticeable change in the music.
2'53" Another introduction of a new 7 note rhythmic figure.
05'28" A new rhythmic figure very clearly related to the opening of the piece.
11'05"-11'15" A relentless motor rhythm
11'20"-11'45" A gradual diminuendo in the music.
14'35"-15'08" An obsessive, repetitive section where the music gets stuck in a groove.
15'04" A brief return to the opening of the piece.
(OPTIONAL) HOMEWORK
Here is some further listening that I would recommend, to give context to Andriessen's music:
Terry Riley In C

Stravinsky Sacrificial Dance from The Rite of Spring

Count Basie The Kid from the Red Bank


Steve Reich Music for large ensemble


Julia Wolfe Dig Deep – Ethel


© Philip Cashian