We fundamentally believe that every young person – no matter what their background or experience – should have the opportunity to access affordable high-quality musical opportunities, explore their creativity and compose their own music.
We're supporting the next generation of composers and music-makers through our Sound Out schools programme, but we need your help! Donate to us during the Big Give Christmas Challenge and your donation will be doubled through match funding, and have twice the impact.
A huge thank you to everyone who has donated. We smashed our target and raised £11,245, and very penny will be spent on inspiring the next generation of young composers through in-school and online workshops and live and online performances for everyone throughout the UK to access.
Why do we need your support?
Music education has taken a significant blow in recent years, especially since the pandemic hit. According to the report 'The Heard of the School of Missing' published by the Incorporated Society of Musicians in 2020:
Extra-curricular music activities are no longer taking place in 72% of primary schools and 66% of secondary schools
The number of pupils studying Music at GCSE has declined by 35% and at A Level by 50%. At this rate, A Level Music will have completely disappeared from the curriculum by 2033.
Almost 10% of primary and secondary schools are not teaching class music at all as a result of the pandemic.
We're responding to these threats to music education through our Composition Challenges. We aim to engage over 12,000 young people in primary and secondary schools through in-school and online composition workshops and coaching in London, and with original music creation and live and online performances made available to young people throughout the UK, including those in areas of disadvantaged and lower socio-economic groups.
What is Sound Out?
Sound Out is the London Sinfonietta's flagship schools programme. Delivered in partnership with the music services of Haringey, Enfield and Waltham Forest, we support and inspire young people in three London boroughs to compose their own music and perform it alongside our professional musicians. We offer this programme for free to our partner music hubs and their schools.
Sound Out echoes our professional commissioning process, putting young people centre-stage as composers and performers of new music in their own right. Musical composition and performance are powerful ways to provide young people with a creative education and confidence, both skills that serve their future education and employability. In 2022, we aim to reach more than 300 young people through creative composition and performance workshops in London, and showcase their work to over 12,000 young people through live and online concerts.
They felt so special to be included, seeing and listening to things that they otherwise simply wouldn't be exposed to. Music teacher
What do we want to achieve?
To unlock the creative imaginations of young people in partner boroughs and throughout the UK through Composition Challenges, our free, interactive composition programme for schools.
To develop teachers' confidence in delivering composition in the classroom, both within the lifetime of the project and beyond. Throughout the project, teachers will be given supporting digital resources alongside face-to-face mentoring by the professional musicians of the London Sinfonietta.
To inspire young people to continue their musical learning through performing their compositions in public concerts and providing workshop, coaching and performance opportunities alongside professional musicians. Our programme this year will give young musicians a chance to perform their works alongside professional musicians on a major London stage.
To broaden the musical horizons and experience of over 12,000 young people across the UK by introducing them to the world of contemporary classical music and the work of composers living and working today, including new pieces composed by young people.
The sense of achievement and pride created was palpable. The students gained a great deal from seeing their musical ideas treated with respect and their compositions performed and recorded in a professional manner. John Cooney, Music Teacher
It was inspiring! It made me realise that anyone can be a composer. Sound Out participant, 2019-20
Where is the money going?
Every penny raised through this campaign will go towards supporting our innovative creative learning projects with schools and young people in our partner London boroughs and beyond. Any amount raised beyond our campaign target will only broaden our reach around the UK through live-streaming and enhance the production value of our final culmination concert for primary schools at Southbank Centre in March 2022.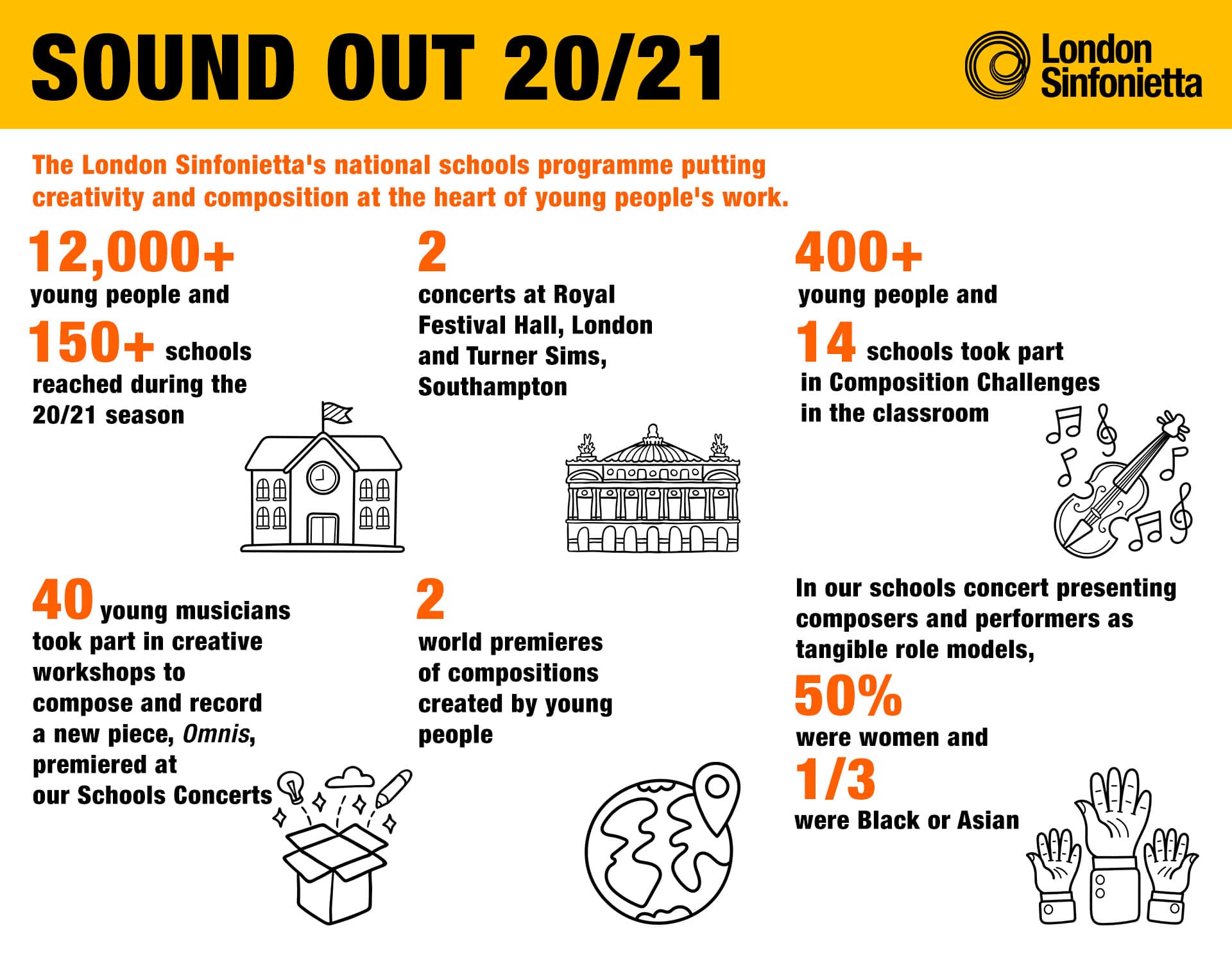 Book
Please note that booking takes place on external sites.
The link will open in a new window.
30 November - 7 December 2021