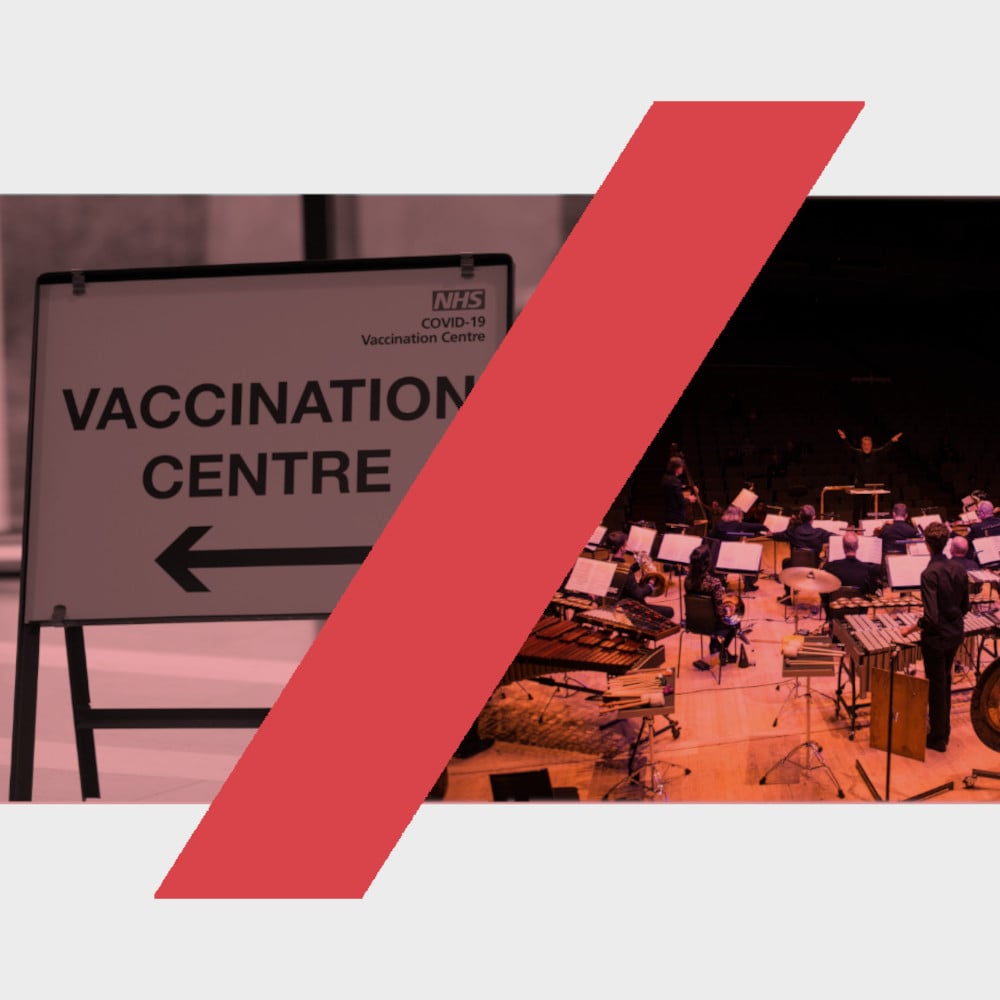 Welcome to tonight's event.  
I am grateful to have worked in association with Poet in the City on this project, who kindly responded to the request to use some of the poems which have been created on their projects by inspiring artists in collaboration with communities around the country.  
We believe -  especially now - that music matters to society, and the work of the London Sinfonietta with new music can act as a powerful catalyst for positive development in individuals and communities. Work with composers and artists can both reflect what is happening and, in some ways, influence change. As well as championing the power of new music as an art in itself, it is also important to us that we make a point of showcasing new work that engages with the way we live today. And, as always, we aim to give world-class performances that can be an inspiration to anyone who hears them.
Andrew Burke, London Sinfonietta Chief Executive and Artistic Director
Did you enjoy this concert? Let us know by filling in this short survey
Click here to watch the live stream
Gavin Higgins Kin (words by Joe Kriss)
Robert Mitchell Purgatory/Song Of The Rejuvenate (words by Fathima Zahra)
Kerry Andrew dhonnobad (words by Nazneen Ahmed)
Larry Goves Gennel/Ginnel/Guinnel and Love (words by Kayo Chingonyi)
Followed by a short Q&A with the composers and poets (not live-streamed)
Camille Maalawy  mezzo soprano
Gerry Cornelius  conductor
Zoë Martlew  presenter
London Sinfonietta
A London Sinfonietta promotion
In association with Poet in the City
Wednesday 23 June 2021, 8pm | Kings Place
This event will be live-streamed on YouTube
Poet in the City is a leading producer of poetry shows, commissions and talent development. They listen to the stories that matter to communities and transform these into theatrical and adventurous poetry productions in arts venues and everyday spaces.
Click here to go to their website or scroll down to find out more about the programmes that produced the poems read as part of this event
Kin
Words by Joe Kriss, music by Gavin Higgins
'The past is a foreign country.
They do things differently there' - L.P. Hartley
England,
falls between the gaps in our sentences.
This green and pleasant land curls your vowels.
A few miles in any direction
is enough for a new accent
to stiffen your upper lip.
Yet it is not just sound but
the shape of our thoughts
that are inherited.
By day
we are a nation of shopkeepers,
who no longer keep shop for the world.
The factories have closed down and
now cathedrals of glass and steel trade
our future in algorithms too removed
from us to understand.
At night,
We dress for our appearances.
A man in a short sleeved shirt
and a borrowed World War
pushes past you at the bar.
The industrial revolution
held tight in a coiled bicep.
A taut spine as if his country
sits proudly in the middle of a map.
CCTV on chipped white columns
looks out for trouble
across streets dimly lit
by a faded empire haunted
by the possibility of violence.
We're forty-fifth generation Roman.
Angles, Saxons and Normans,
German and Franks.
Mother of both parliament
and dark satanic mills.
Our identity is fractured, nostalgic,
shaped by history and chance.
The past is unwritten,
A place where we look
to find the thread for
our own beginnings.
Yet this land we call kin,
does not recognise our tongue.
It has belonged to other names
before us,
and will be written
by those that come.
Written by Joe Kriss. Originally commissioned by Collections in Verse, a partnership project between the British Library and Poet in the City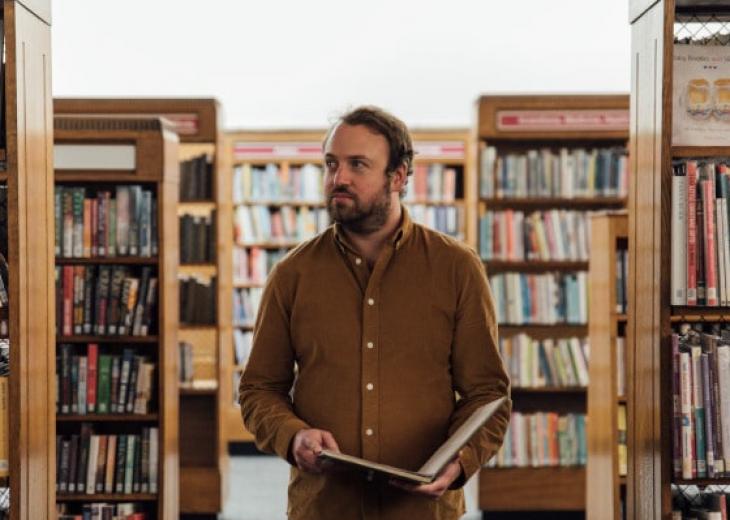 Joe Kriss
Joe Kriss is a poet and the director of literature organisation 'Wordlife' in Sheffield who has performed and been published across the UK. Joe is widely known to gather the biggest crowds for poetry in the region. At a crucial moment in our history as UK people, Joe's commission explores how the formation of kingdoms in the early medieval period prompts us to consider the notion of national identity today.
Gavin Higgins
Described as 'boldly imaginative' [The Times] and 'a talent to watch' [New York Times], Gavin Higgins is one of the most exciting and gifted compositional talents of his generation.
Higgins was born in Gloucestershire (1983) and grew up in the Forest of Dean. He studied french horn and composition at Chetham's School of Music, The Royal Northern College of Music, and the Royal College of Music.
Significant commissions include Der Aufstand for the 2012 BBC Proms, Rough Voices for the 2020 BBC Proms, and the 'fast, exciting and brilliantly scored' [The Telegraph] Velocity for the Last Night of the 2014 BBC Proms; the Ivor Novello Award winning trombone concerto, The Book of Miracles (2019) – premiered by the BBC Symphony Orchestra and soloist Helen Vollam; and the premiere of his first opera The Monstrous Child, (2019) at the Royal Opera House which opened to critical acclaim, described as 'a triumph' [the Guardian ★★★★] and 'a spectacular new opera' [Culture Whisper ★★★★].
Purgatory
Words by Fathima Zahra, music by Robert Mitchell
It's like I'm back in the flat again - 
its walls, sun-licked and sand-swept 
the smell of baby powder and wet wipes.
Mum asks us to wash our hands 
and shed the outside before we cross
the threshold of her bedroom
to hold my baby sister. Days
pour into nights, the din of traffic
and azaan is all I know of the outside.
It swirls and skates without me.
On the afternoons that time stills 
into my parents' snores, I slide into
their cupboard, close the door on myself.
Before the fear of small spaces,
before this ache for others' hands and bodies,
I imagined ballrooms into the cramped cupboard,
wrapped myself in my mum's shawls and abayas,
called myself a queen where no one can contest it.
I've outgrown that first flat,
my bed, the wide mouth of my room and 
the allotted spaces in supermarkets
and tube carriages.
I linger now at the choice of cereals, palm 
each mango that I take home. Pretend
this too is an intimacy.
I haven't hugged a friend in fourteen months
so God sends me dreams where I do.
When the world opens up, I'll be at the gates,
feet twitching, palms clenched, 
like it's the first day of school and I'm ready 
to use all the words and ways of being 
I have only seen on TV.
Written by Fathima Zahra. Originally commissioned by Poet in the City and Francis Crick Institute for A Drop of Hope: Poetry from a Vaccination Centre
Artist Statement
I was struck by the range of human emotions people confessed to in their reflections. There seemed to be a before, all the things we are eager to shed and say goodbye to as well as an after - this possible, hopeful future the vaccine promises. It reminded me of previous periods of isolation and loneliness in my own life, where the outside world was a myth my favourite cartoon characters enjoyed, and I observed. 
Fathima Zahra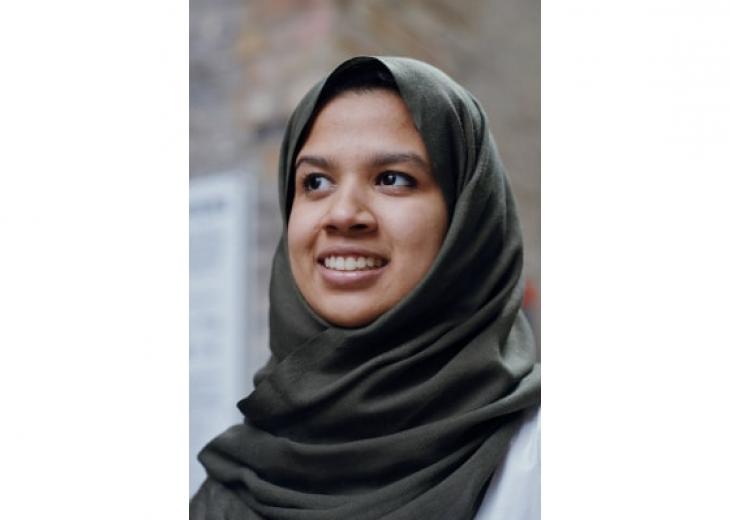 Fathima Zahra
Fathima Zahra is an Indian poet based in Essex. She is a Barbican Young Poet and a Roundhouse Poetry Collective alum. Her work has won the Bridport Prize, Wells Fest Young Poets Prize and the Asia House Poetry Slam. Her debut pamphlet is forthcoming with Ignition Press (August, 2021).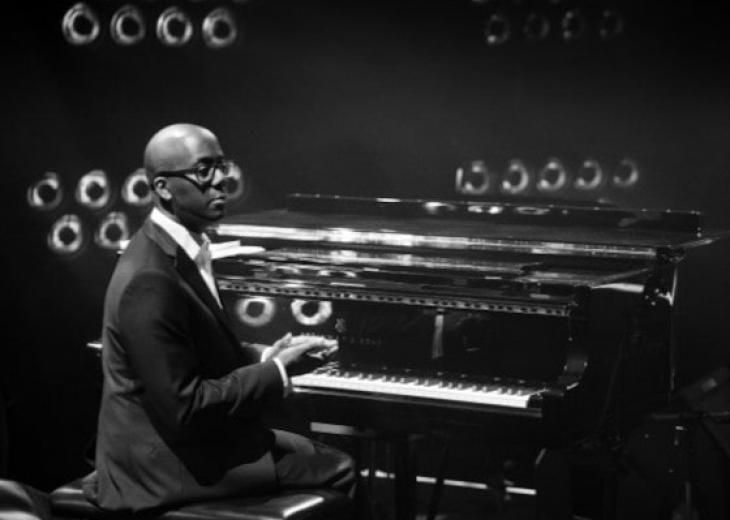 Robert Mitchell
Composer/pianist Robert Mitchell is a throwback to that powerful tradition of artistic mastery in pursuit of transcendence. Whether performing in the solo context or with his ensemble Panacea or any of his other formats, Robert's focus is upon the highest ideals of the essence of Jazz.
Like many artists who grew up in the post-60s environment, Robert was exposed to a full gamut of musical disciplines from hardcore Western Classicism through World music traditions. Growing up in a musical family – his father was a vocalist who organized variety shows and participated in the great production of Carmen Jones at London's Young Vic Theatre – Robert began serious piano studies at the age of 6 in the established UK conservatory system. Blending this with a listening love of Soul, R&B and popular music of the 70s/80s, Robert began to develop his own sense of musical expression.
Over his nearly 20 years entrenched in the art of music, Robert has recorded nine albums of his own projects, participated in over 100 as a sideman and has performed in 40 countries.
ধন্যবাদ dhonnobad
Words by Nazneen Ahmed, music by Kerry Andrew
The word "dhonnobad" in Bangla  
Is near-to untranslateable 
The closest to a meaning in English might be  
"I acknowledge your goodness 
and speak my blessings upon you." 
As I sit with the life fluttering within me 
Afraid for us both and helpless 
I am calm too in this knowing 
That each of you will keep us safe. 
That means more than I have English words to say. 
So 
To each of you standing in the queue, 
Waiting for the shot in your arm, 
From me and my unborn child: 
ধন্যবাদ 
To each of you who have walked past here 
On your precious hour of calm, 
From me and my unborn child: 
ধন্যবাদ 
To each of you within these walls 
Gentling the afraid, your kindness a balm 
From me and my unborn child: 
ধন্যবাদ 
To each of you within the labs 
Searching for ways to keep us from harm 
From me and my unborn child: 
ধন্যবাদ 
To each of you who made the hardest choices 
Setting aside your qualms 
From me and my unborn child: 
ধন্যবাদ 
To each of you  
Placing a drop of hope 
Into this bitter ocean of fear and pain 
It is your  
                single  
                            drop  
That will turn it sweetly salt again 
And me and my unborn child 
Reach out from our hearts with this refrain:  
ধন্যবাদ. 
It means the world. 
Written by Nazneen Ahmed. Originally commissioned by Poet in the City and Francis Crick Institute for A Drop of Hope: Poetry from a Vaccination Centre
Artist Statement
When I read through all the postcard contributions from volunteers and visitors to the vaccination centre, I was moved by the ways in which people were aware of how having the vaccine wasn't just about protecting themselves but also about protecting others: others they wouldn't ever even meet.
When I started to think through what that meant, one line from one of the postcards stayed with me: "It means the world." Inspired by the scientific processes of dilution and dissolution, I reflected that while one vaccine in a global pandemic might be thought of as "a drop in the ocean", each single drop of a substance changes the entire ocean's chemical structure too.
I am also currently pregnant, and as covid-19 vaccines are not yet being routinely offered to pregnant women, I am also aware on a personal level of how my wellness and my baby's is dependent on everyone else having the vaccine for us. I wanted to express gratitude for this, but it was hard to find the words.
That struggle for meaning led me back to Bangla, my mother tongue, and a word that Bengalis use to express thanks, but which is also much more than that: it means the world.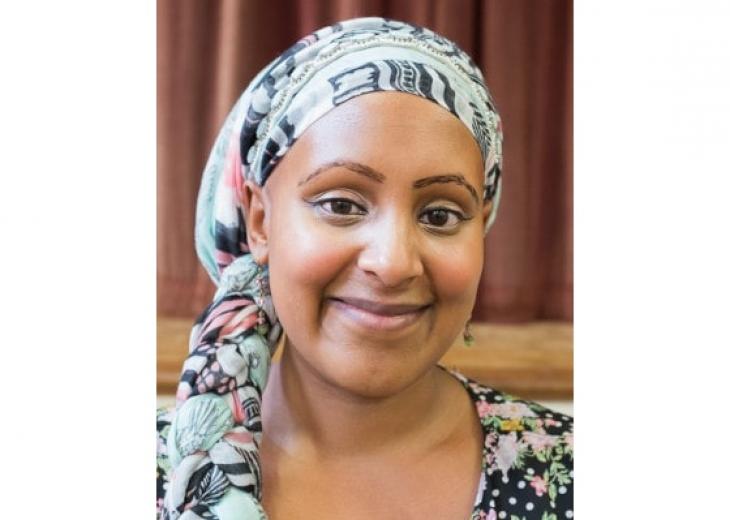 Nazneen Ahmed
Nazneen Ahmed is a writer, historian and creative writing facilitator who lives in Southampton.
She writes fiction for children, creative non-fiction and poetry for adults, all of which are often inspired by the theme of migration, which was the topic of her work as an academic researcher and historian at University College London and the University of Oxford.
She is currently Writer in Residence with the Southampton Stories project at Southampton City Museums and has held residences at John Hansard Gallery and Southampton City Libraries in the past.
She runs writing workshops in schools, libraries and community settings. She was selected for the 2016/17 round of Penguin Random House's Write Now mentorship scheme for underrepresented writers for her historical fantasy novel in progress which is aimed at readers aged 11 upwards. She is represented by Louise Lamont at LBA Books.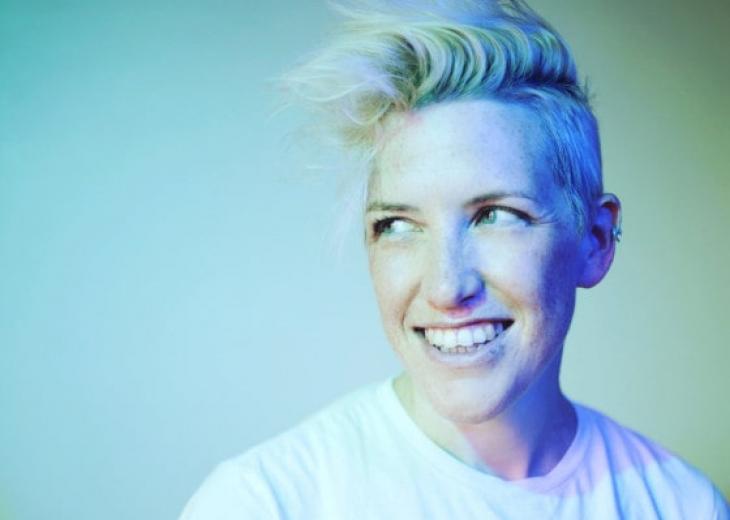 Kerry Andrew
Kerry Andrew is a composer, performer and author and the winner of four British Composer Awards. With a PhD in composition from the University of York, Kerry specialises in experimental vocal and choral music, music-theatre and community music, and as a performer, sings with the award-winning Juice Vocal Ensemble and with her alt-folk band You Are Wolf. Swansong, Kerry's debut novel, was published by Jonathan Cape in 2018, and a second novel, SKIN, is published in February 2021. Kerry was shortlisted for the BBC National Short Story Award in 2018.
Kerry has created work for Art on the Underground; BBC Proms Ten Pieces; a work simultaneously performed by 25 community ensembles around the UK for the Landmark Trust; a piece for the London Sinfonietta to fight for the NHS (including the recorded voices of 60 members of the public, and actor/campaigner Michael Sheen); and a work for the national commemoration service one year on from the 7/7/05 London bombings. Other posts include Handel House Composer In Residence 2010-12 and Visiting Professor at Leeds College of Music. In 2019, Kerry's work 'Under the Same Sky' for large-scale girls' choir and taiko drums was premiered at Sydney Opera House, and vocal music was composed for 'Rutherford and Sons' at London's National Theatre.
Gennel/Ginnel/Guinnel and Love
Words by Kayo Chingonyi, music by Larry Goves
Gennel/Ginnel/Guinnel
Noun
1. an interstice
a quarter tone
last known
whereabouts
of missing persons
the world over
2. From the Old English:
the coast's open maw
pointing the way
to the whale road
3. gap in the teeth
of a terraced street
Love
1.
hang around
this town
will mind you
of how little
you need
2.
to speak
and find an echo
breathe
good air
amid
mid-afternoon's
demands
3.
as a water droplet
falls from spring leaves
indiscriminate endearment
fleck of grace
it lands
I see you
Written by Kayo Chingonyi. Originally commissioned by Collections in Verse, a partnership project between the British Library and Poet in the City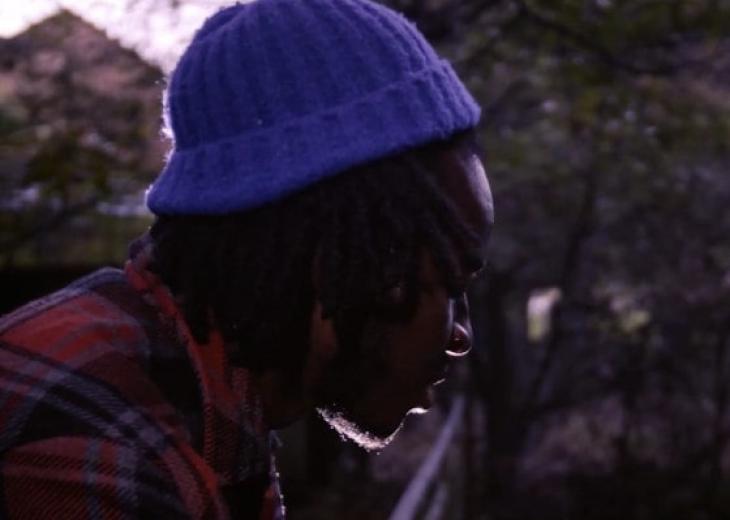 Kayo Chingonyi
Kayo Chingonyi is an incredible poet and former Sheffield resident, whose work spans coming of age, grime, roots and origins of language, and identity in all of its forms. His debut collection was Kumukanda, and he's an educator, prize-winner, emcee, DJ, and regularly collaborates across art forms to find new sounds for his work. It is this approach which has informed his astounding new commissions in Sheffield, which investigate local dialect with the people of Firth Park and its historic connections.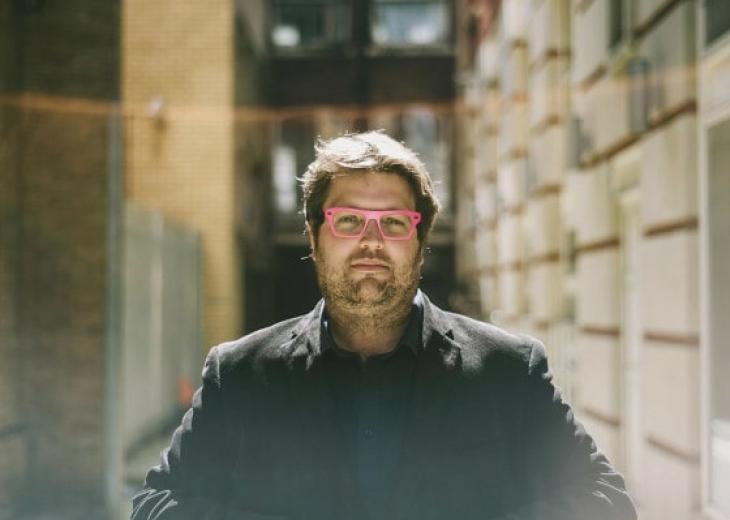 Larry Goves
Larry Goves is a British composer and artist based in Manchester (UK). His work has been presented, performed, and broadcast around the world by numerous groups and musicians including the London Sinfonietta, Nash Ensemble, London Symphony Orchestra, BBC Philharmonic, National Youth Orchestra of Great Britain, Britten Sinfonia, Psappha, Solem String Quartet, Argonaut Ensemble (Australia), Hallé, BIT20 (Norway), 175 East (New Zealand), L'Instant Donné (France), Divertimento Ensemble (Italy), Oliver Coates, Kathryn Williams, Tom McKinney, Carl Raven, and many others all over the UK and abroad.
His music has been released on NMC, Dutton, Prima Facie, Slip, Nonclassical, Prah, LSO Live, and on the London Sinfonietta's Label. As an installation artist he has presented work at the Aldeburgh Festival, the Tatton Park Biennial, The Science Museum (London), and the Wellcome Institute.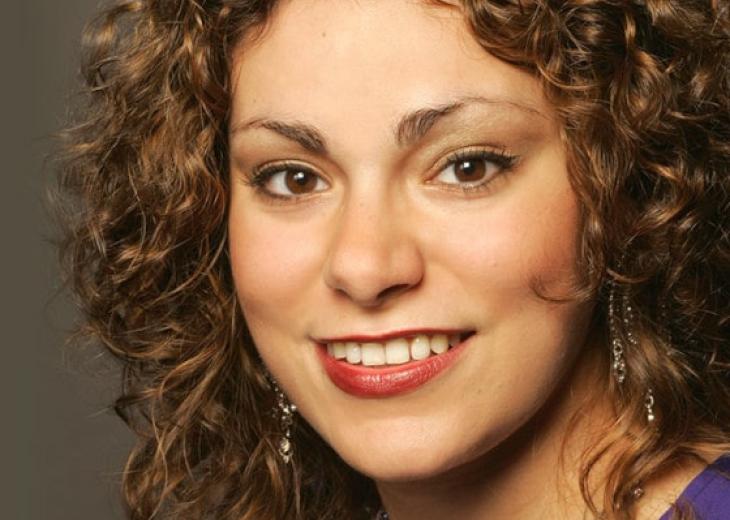 Camille Maalawy
Camille Maalawy has achieved notable acclaim for bridging both musical and cultural divides. As the only Arabic singer to reach the final of the first International Competition of Israeli Music outside Israel in July 2008, she broke new ground as she has done consistently throughout her professional career.
Notable engagements have included Camille's debuts at Grimeborn in 2019, in the role of Mother in Bushra El-Turk's Silk Moth and also at the Wigmore Hall with the Liverpool Philharmonic Chamber Orchestra, singing the UK premiere of two pieces by the Palestinian composer, Patrick Lama. Camille champions the work of contemporary composers, premiering a number of vocal works by Julian Dawes and Benjamin Wolf, including performing on Julian's album of Jewish song, Echoes of the Soul. Other highlights have seen Camille singing the role of Anna in Tobias and the Angel; Reciter in Walton's Facade, Murder in the Cathedral (Iris Theatre); the world premiere of Song of Songs (Ken Burton); chamber recitals with the Amos Ensemble, and a series of concerts with the London Vintage Jazz Orchestra.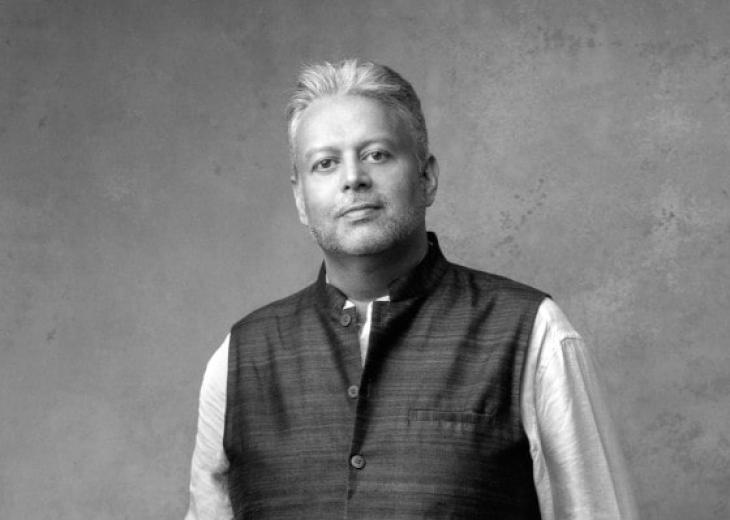 Gerry Cornelius
Gerry Cornelius was born in London and studied music and conducting at Durham University, the Royal Academy of Music and the State Conservatory of St Petersbury where he was in the class of Ilya Musin. In 2018/9 season he was appointed Principal Guest Conductor of English National Ballet with whom he has conducted Rite of Spring, Ahram Kham's Giselle, The Nutcracker, Swan Lake and Romeo and Juliet at the London Coliseum, Sadler's Wells Theatre and the Royal Albert Hall and on various tours. 
Since making UK debut at the Almeida Opera Festival, he has conducted many of the country's leading orchestras, opera and ballet companies including English National Opera, Welsh National Opera, Opera Group, English Touring Opera, English National Ballet, the New York City Ballet, Hong Kong Ballet, Halle Orchestra, BBC Concert Orchestra, London Philharmonic Orchestra, London Sinfonietta, Hong Kong Sinfonietta, RuhrTriennale Opera Festival, Klavierfestival Ruhr, musikFabrik Cologne, Festival d'Automne Paris and Spitalfields Festival.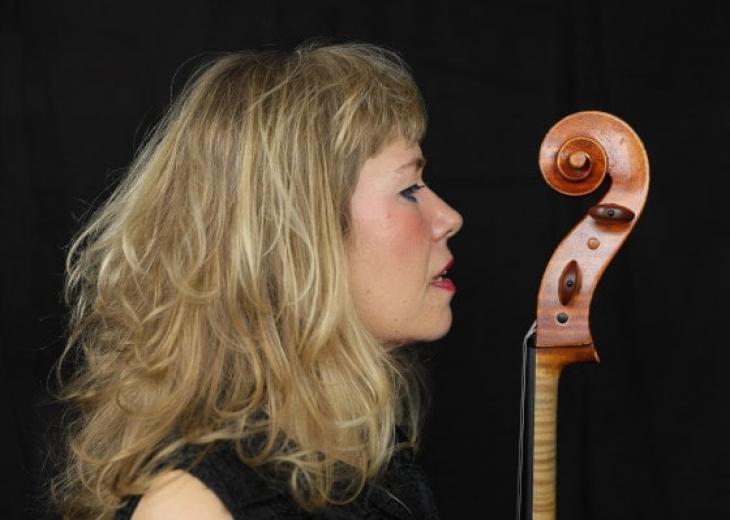 Zoë Martlew
Cellist, composer, performer, cabaret artist, educator, mentor, media commentator and concert narrator, the increasingly un-categorisable Zoë Martlew travelled the globe - pre-Covid - in an ever-expanding combination of all these roles; as solo performer and with some of the world's most renowned contemporary music ensembles, chamber groups, improvisation, film, electronica, multi-media, pop, rock, dance and theatre companies.
During the pandemic Zoë has turned her attention to concert presenting, hosting live streamed concert series for Wigmore Hall, Barbican Centre and London Sinfonietta for whom she also hosts podcast series "The Music that Made Me". Post-lockdown composition commissions include works for Mark Simpson/Kings Place (cl and tape), Riot Ensemble/Wigmore Hall, solo cello/Spitalfields Festival, song cycle/Holland Park Opera, Timothy Gill and David Gomper (cello/piano) Iowa University/Atlanta records and a heavy metal band number for David Bruce's enormously popular YouTube channel. Published by Schott, she launches some of her solo works on the new digital label October House later this year.
Poet in the City
A Drop of Hope: Poetry from a Vaccination Centre
A collaboration between Poet in the City and the Francis Crick Institute
Poet in the City and the Francis Crick Institute collaborated in March 2021 to commission 12 virtual poets-in-residence to write poems reflecting on the impact of the vaccination programme, and the shifts and changes of the past year. 
The poems are inspired by the words of those who have been vaccinated within the Crick, the reflections of the volunteers working at the vaccination centre, and the experiences of local communities. Over 8,000 reflections have been collected, and the poetry has been written in English, Bengali and Somali to reflect the main languages spoken by those visiting the Crick. 
The poems are currently being exhibited outside the Crick as a large, colourful display to engage and inspire those coming to get vaccinated. More than 27,000 people have visited the vaccine centre since the first display was installed and we expect many thousands more to see it before it is de-installed later this year.  
Collections in Verse: Sheffield
A collaboration between Poet in the City, the British Library and Sheffield Libraries 
In 2019/20 Poet in the City worked with Sheffield based poets, Rachel Bower, Kayo Chingonyi and Joe Kriss. They commissioned these poets to create new poetry inspired by the British Library exhibition Anglo-Saxon Kingdoms: Art, Word, War. Using the exhibition as a starting point, each poet was paired with a branch library in Woodseats, Firth Park and Highfields to explore their research with the local community. Interacting with library visitors and local people through poetic journalism, listening workshops and pop-up interventions, local voices and stories have been integral to the creation of new poetry.
In March 2021, Poet in the City produced 'Digesting History', a digital event to celebrate the culmination of the work across Sheffield. The event was originally curated as an evening of poetry and performance at the Central Library in Sheffield. The impact of Covid-19 led to a reimagination of the ethos and themes of the event into an exciting new digital format and commissioned film: 'Where Two Rivers Meet'. 
London Sinfonietta
This concert is part of London Sinfonietta's 2020/21 Season New Times / New Music.
The London Sinfonietta is one of the world's leading contemporary music ensembles. Formed in 1968, our commitment to making new music has seen us commission over 400 works and premiere many hundreds more.  
 
Our ethos today is to constantly experiment with the art form, working with the best composers and performers and collaborating with artists from alternative genres and disciplines. We are committed to challenging perceptions, provoking new possibilities and stretching our audiences' imaginations, often working closely with them as creators, performers and curators of the events we stage.  
Explore our Channel | What's On
Click here to find out what's on
Credits
Camille Maalawy  mezzo soprano
Gerry Cornelius  conductor
Zoë Martlew  presenter
London Sinfonietta
Philippa Davies  flute
Mark van de Wiel*  clarinet
Jonathan Morton*  violin
Sally Pendlebury  cello
Elizabeth Burley  piano
David Hockings*  percussion
Kate Ashford  Stage manager
Dan Pye  FOH sound engineer
Piotr Czarnecki  Recording engineer
Rory Adamson  AV tech
Andy Watson  Lighting tech
Celyn Thomas  Production manager
Therese White  Event producer
Holly Cassidy  Camera operator
Andy Denyer  Camera operator
Adam Flynn  Live stream director
*London Sinfonietta Principal Players
We are grateful to Poet in the City for providing film footage used in the concert. Written & Directed by Eelyn Lee, Produced by Eelyn Lee & Ruby Baker, Film Commissioned by Poet in the City in partnership with the British Library and Sheffield Libraries, as part of Collections in Verse.  We are also grateful to Sonia Hyams & Pegasus Opera Company and also David Sulkin for their advice.
With the friendly support of the Ernst von Siemens Music Foundation
Support our work
If you are enjoying our events and live streams, please do consider donating at whatever level you can afford to support the London Sinfonietta's work and musicians both now and in the future – in schools, on the concert platform and in the community. It might be the price of a coffee, or the cost of a ticket to one of our live events.
Text to donate:
Text NEWMUSIC 5 to 70450 to donate £5
Text NEWMUSIC 10 to 70450 to donate £10
Text NEWMUSIC 20 to 70450 to donate £20
Texts cost £5, £10 or £20 plus one standard rate message, and you'll be opting in to hear more about our work and fundraising via telephone and SMS. If you'd like to give but do not wish to receive marketing communications, text NEWMUSICNOINFO 5, 10 or 20 to 70450.