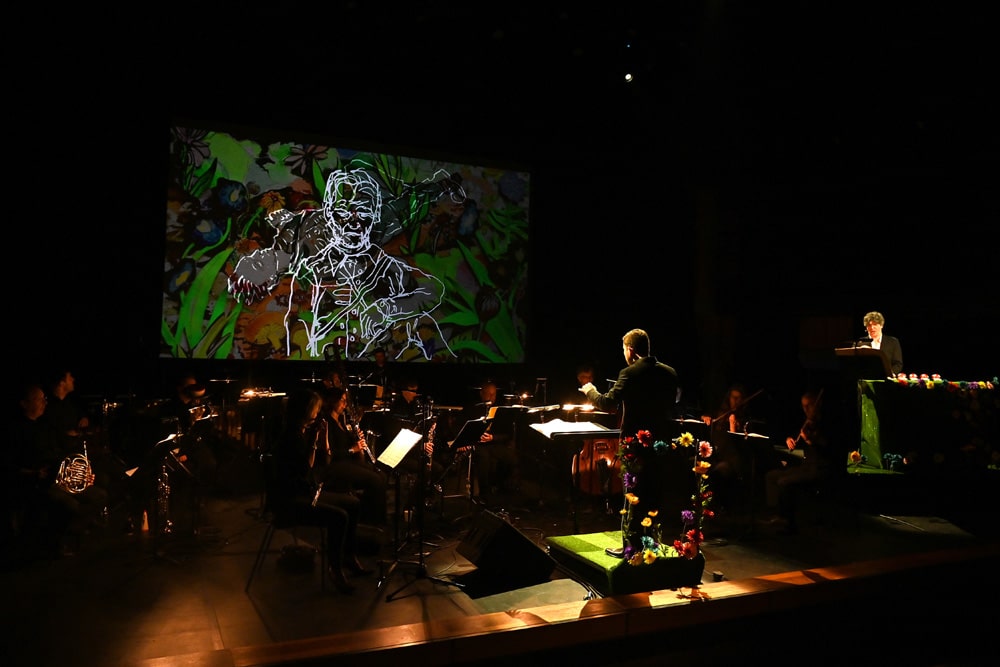 In 2019, we brought the UK premiere of Richard Ayres' new semi-staged music theatre piece No.50 (The Garden) to Southbank Centre's Queen Elizabeth Hall. Take a look at some photos from the evening, as well as reviews and audience reactions. 
Watch the full performance
A London Sinfonietta and Asko|Schönberg co-commission with initial funding from the Royal Opera House, the piece was created to mark the London Sinonfietta's 50th birthday. Following one man's search for meaning, in the midst of a mid-life crisis, the piece sees him dig from his garden, to hell, heaven and back again. The piece featured both acoustic and electronic sounds, with wide influences from Ayres fascination with early electronic music. Conducted by Geoffrey Paterson, with bass singer Joshua Bloom, the piece also featured beautiful animations from artist Martha Colburn.
Pungent, blaring, cartoonish and often sliding into vaudeville-style refrains, the piece uses the virtuosic London Sinfonietta (ably directed by Geoffrey Paterson) in short sharp bursts that perfectly match the sardonic thrusts of his libretto.

"

The Times
It was superbly performed, with the solo bass Joshua Bloom playing all the roles with virtuoso flair (and sometimes using a vocoder to change the timbre of his voice) and the Sinfonietta expertly teasing out the densest tangles under conductor Geoffrey Paterson.

"

The Guardian
Yesterday's performance of Richard Ayres' The Garden was one of the most bizarre, thought provoking and downright entertaining things I've ever seen. Incredible artistry from the London Sinfonietta and the wonderfully versatile Joshua Bloom - what a fantastic evening! Audience Member
Real poignancy achieved through a lack of pretension, and a true blend of charming music and absurd storytelling. Memorable and special! Audience Member