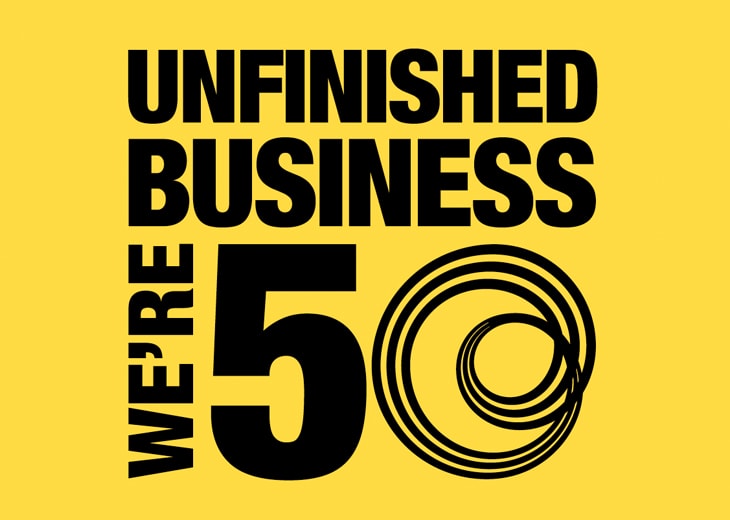 We announce Unfinished Business: our 50th Anniversary Season in full, exploring the history and  cultural legacy of the London Sinfonietta with iconic music from Henze, Stockhausen, Berio and Birtwistle. In the spring and summer, new commissions, premieres, cross-art collaborations and site-specific projects in exciting spaces point to our future...
We are delighted to announce the London Sinfonietta's full 50th anniversary season: Unfinished Business.

This season, rediscover some of our most iconic commissions with a rare performance of Hans Werne Henze's politically charged Voices conducted by co-founder David Atherton, and works by Iannis Xenakis, Harrison Birtwistle and Wolfgang Rihm in Landmarks. Experience Karlheinz Stockhausen's weird and wonderful Trans conducted by Oliver Knussen and join us for our birthday party on the same day as our first ever concert in January 1968, where we'll plot the journey of the London Sinfonietta with music from across five decades. Conductors David Atherton, George Benjamin and Vladimir Jurowski, and pianist Tamara Stefanovich all join us for the occasion - we hope you can too.

From spring 2018, we look to the future of new music with exciting projects from the likes of TansyDavies, Tom Jenkinson (aka Squarepusher), and Philip Venables. We're back in the Queen Elizabeth Hall for the world premiere of The Gender Agenda; a thrilling concert-turned-gameshow which flips traditional gender roles on their head. We celebrate leading female composers of new music in Beacons featuring premieres from Charlotte Bray and Unsuk Chin. In March 2018, we'll be working with innovative music creators to produce new music inspired by the photography of Andreas Gursky, on Wednesday evenings in the Hayward Gallery. We collaborate with Tom Jenkinson for an evening of experimental music, and, in June 2018, we present the world premiere performances of Cave, a new opera by Tansy Davies and librettist Nick Drake in association with the Royal Opera.

For more details, explore the season online, or browse the season brochure below.