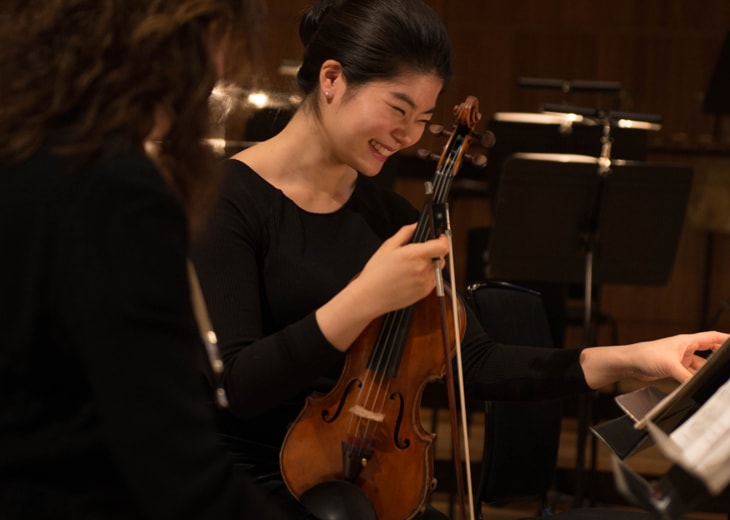 2017 has been a big year for us here at the London Sinfonietta, from launching our 50th Anniversary Season: Unfinished Business and exploring iconic music from our early years, to touring the UK with Mica Levi's score to Under the Skin, and performing at Aldeburgh Festival and the New Music Biennial with works by Olga Neuwirth and Philip Venables. We also ran our ninth London Sinfonietta Academy in July, and in November said goodbye to our longest-standing member, John Constable, who officially retired from his role as Principal Piano after 50 years of dedicated music-making. See below for some highlights from the year in images, film and more.
Watch our metronome-ticking trailer for Turning Points: Ligeti, March 2017
As familiar pitches veered into their micro-tonal penumbra, the sound remained ultra-blended, instruments morphing imperceptibly into each other, the orchestral fabric constantly in flux. An enthralling performance.

"

The Guardian (Under the Skin, 4 April 2017)
Philip Venables on Illusions, part of the New Music Biennial 2017
Philip Venables' collaboration with performance artist David Hoyle is astonishingly powerful, with Hoyle's garishly made-up face delivering a rant about everything from elections and gender to sodomy and revolution, precisely edited to Venables' score with its echoes of expressionist music theatre and Weimar cabaret. Scabrous, fierce, and sometimes very funny, it's a perfect fusion of music and image. The Guardian (Illusions, New Music Biennial July 2017)
We launched our 50th Anniversary Season in summer – watch the trailer
The performance under Atherton was outstanding, with the Sinfonietta players meeting all the unusual demands of the score – including forming a male-voice chorus for one number – with total aplomb.

"

The Guardian (Henze's Voices, 11 October 2017)
As the curtain opened on a dimly lit stage, a startling sight greeted us: 40 string players, seated in two rows facing the audience, started playing a cluster-chord that seemed to contain every microtone within a span of about six octaves.

"

The Times (Stockhausen's Trans, 6 December 2017)
What you had to say...
Still thinking about @Ldn_Sinfonietta playing Stockhausen's Trans last night – the crack of a weaving loom, a wall of sound behind violet fog & then the most intense silence – @operalastnight has a great profile of the orchestra at 50 here https://t.co/oKlUjuxt9L pic.twitter.com/ZMFzuA3m92

— En Liang Khong (@en_khong) December 7, 2017
Thanks @Ldn_Sinfonietta for an intimate concert tonight of some excitingly bombastic music, even in the epic acoustics of @StJohnsSmithSq

— Ewan Campbell (@ewan_a_campbell) November 25, 2017
Wow! Xenakis and Birtwistle sounding utterly amazing and brand new by the London Sinfonietta - incredible performances @HCMFUK #HCMF2017 @Ldn_Sinfonietta

— 5:4 (@5against4) November 22, 2017
Big ideas,politics & humour from @philipvenables @Ldn_Sinfonietta @rchrdbkrmuso in bold,brilliant witty collaboration withDavid Hoyle #nmb17 pic.twitter.com/67YxWaugWO

— Vanessa Reed (@vanessa_prsf) July 2, 2017
Georg Friedrich Haas : In Vain by @Ldn_Sinfonietta at the Royal Festival Hall was simply the most amazing thing I have ever heard. Stunning.

— Pete Campbell (@2wheelsnot4) April 27, 2017
Great eve at @southbankcentre seeing #UnderTheSkin live score played amazingly by @Ldn_Sinfonietta w. intro from #MicaLevi & @JonathanGlazer

— Harriet Findlay (@harrietlf27) April 5, 2017