In response to ACE's decision last November to cut the London Sinfonietta's funding by 41%, Chief Executive and Artistic Director Andrew Burke outlines plans for a future now, inevitably, more at risk.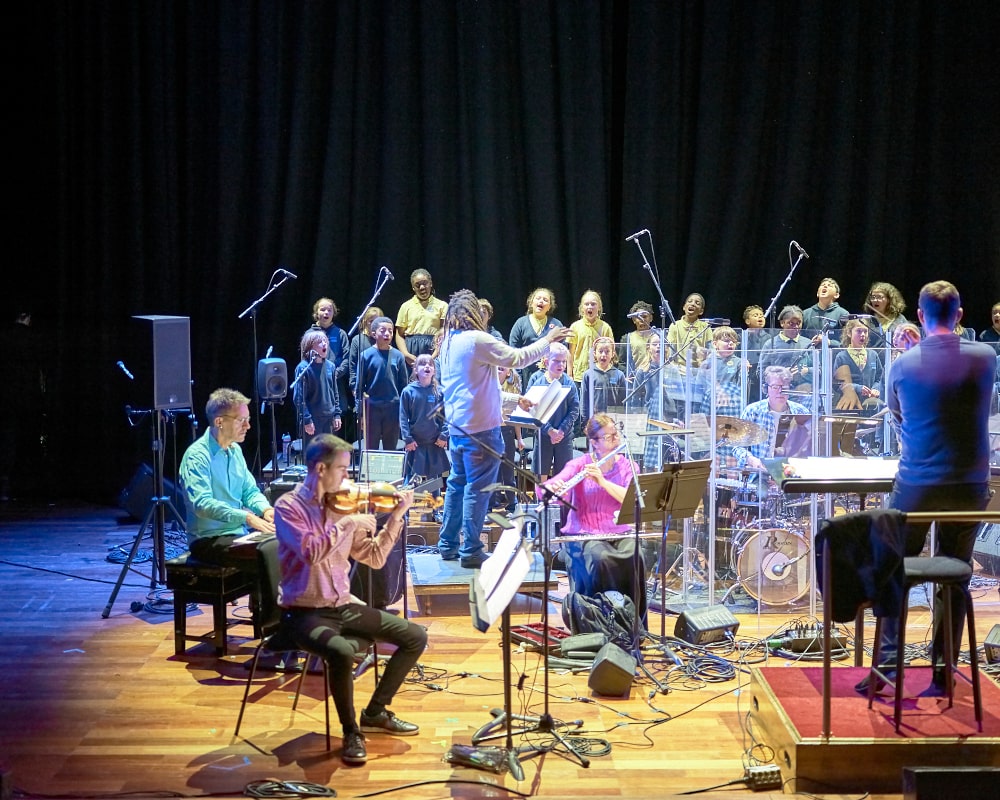 London Sinfonietta and Children's Chorus from the Belham Primary School, Southwark performing a world premiere by Alex Paxton
 
Amid the high-profile debate about funding cuts to Arts Council England's (ACE) National Portfolio Organisations (NPOs), we at the London Sinfonietta have spent the past few months reckoning our own funding reduction and its impact on our work. We can now share that the London Sinfonietta has successfully applied to ACE's Transform programme, which seeks to help organisations whose funding was reduced to make changes to their business model.
We will receive an additional £468,681 over three years: c.75% of the grant we lost. Some of this will be spent on underwriting existing short and mid-term commitments, but most of it must be used to evolve new sources of income. By 2026, our ACE funding will shrink to the £300,000 per year offered in November (a 41% cut to our previous £508,757 per annum).
What does this mean for London Sinfonietta?  
We are grateful still to be an NPO with the funding we have been allocated. We will probably always disagree with the scale of the cut we received in the last funding round. It has significantly undermined our business model and suggests a lack of understanding about the time and costs required to commission and produce large-scale contemporary music projects and programmes of public engagement; as well as for training early-career composers, musicians and conductors.
This Transform funding will help a great deal in the short-term and we are relieved and thankful. Yet our smaller staff team will now need to replace ACE's lost funding. That will require extra hard work in addition to producing our programme, leaving aside the potential lost future opportunities for the composers, freelance musicians and artists we work with. Our long-term financial resilience, evolved over many years, is inevitably now more at risk.  
ACE's decisions have also severely affected other contemporary classical music organisations. Our sector took a disproportionate hit, given not many champion this genre. The recent disappointing news of the closure of the excellent Psappha ensemble in Manchester, following their 100% funding cut in November, removes a huge advocate for new music and a champion of composers from the arts landscape of the UK.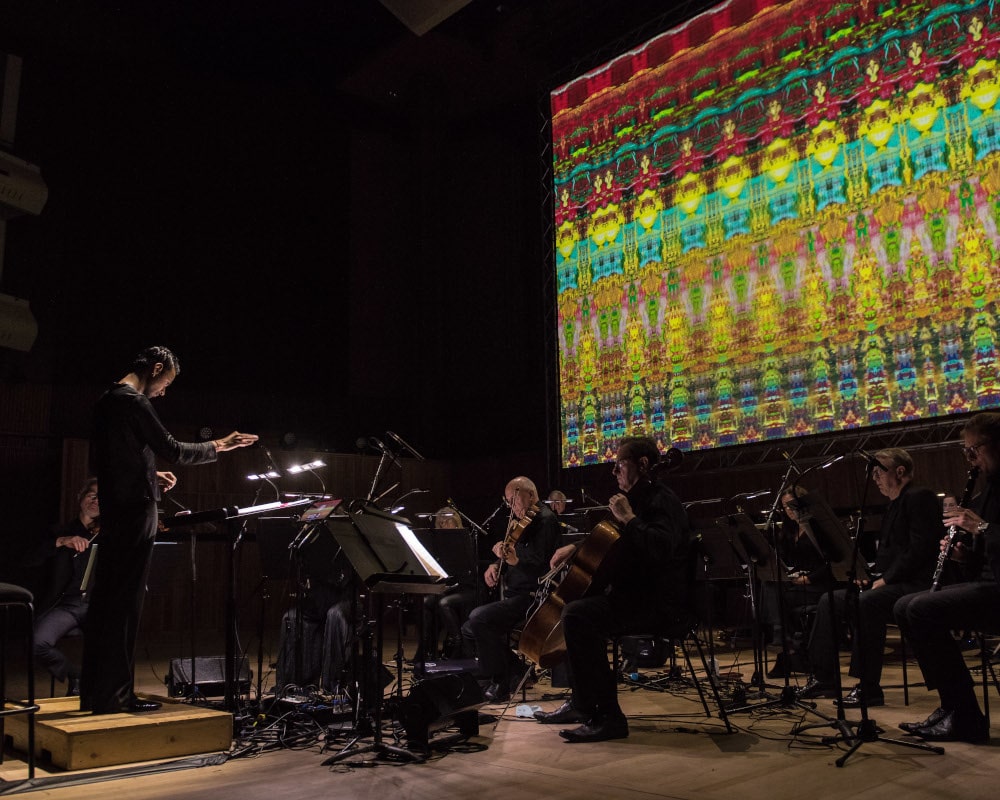 London Sinfonietta performing Reich/Richter at the Royal Festival Hall
 
Significant increase in administrative burden 
ACE's explanation for our funding reduction focused on the government's Levelling Up agenda and its directive to move money out of London, alongside ACE's own plan to move money away from classical music and opera to other genres of music.
Combined with the Let's Create strategy that heavily prioritises participatory activities and place-making projects, it now appears ACE's decision-making process suffers from what appears to be a lack of any art-form strategies. We will seek to work with them (and any others interested) to ensure there is a strategy for contemporary classical music to inform future funding rounds.
We also urge ACE policymakers to keep listening to the experience of people who run arts organisations in these difficult times. The administrative burden for both staff and volunteer boards of NPO organisations, in return for public funding, has gone up hugely and disproportionately over time - not down - despite ACE having 'heard' this problem expressed by organisations in the past.
De-prioritisation of music in the national curriculum
Arts organisations believe passionately in opportunities for as many people as possible. The inclusion of more diverse-led and geographically spread organisations in the National Portfolio has to be a good thing, as is the inclusion of new organisations. But the Let's Create strategy may be a response to reductions in opportunities in other areas of society. 
The de-prioritisation of music and arts in the national curriculum, the flat-line funding for music in schools (further eroded by inflation) and the missing delivery of the Arts Premium – a Conservative manifesto commitment - all contribute to the widespread reduction in numbers of young people learning instruments and taking music as a subject through to GCSE, let alone A-level. 
The responsibility for a music education, accessible to all, cannot slowly be passed onto music organisations who are increasingly applying to a limited number of private trusts and foundations to deliver what projects they can.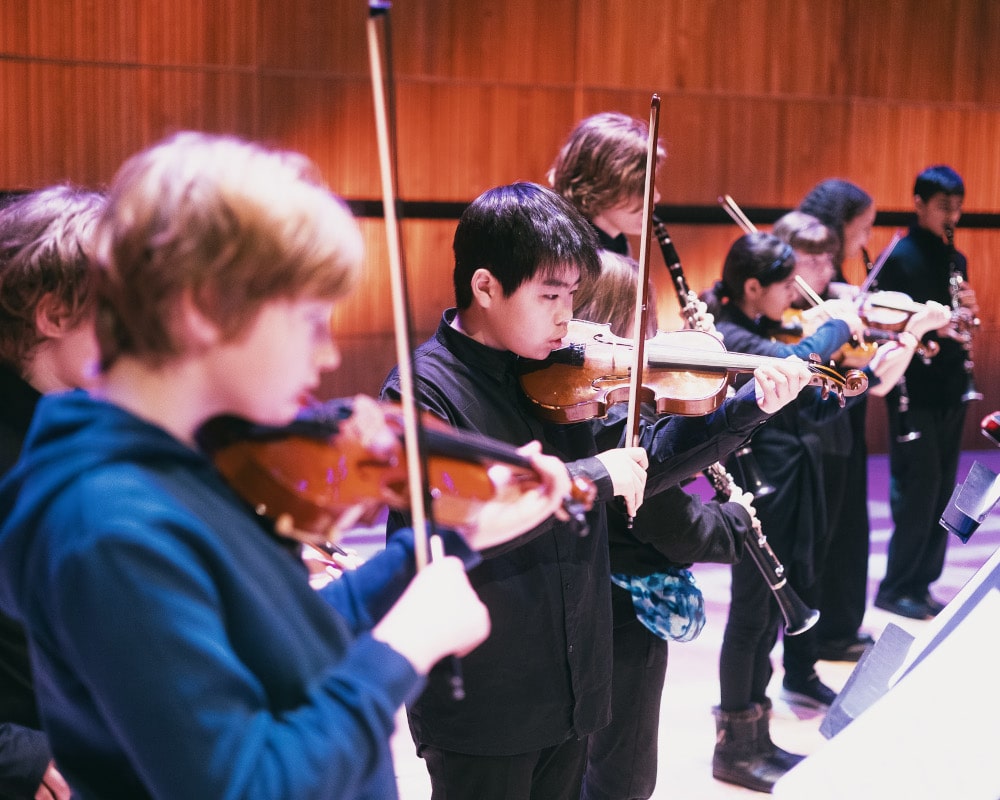 Young people performing in our Sound Out concert at the Royal Festival Hall
 
A decline in collaborative relationship
We need the continuation of vigorous, co-ordinated advocacy to any government for increases in funding to the arts as a key driver of Britain's success, and for changes in education policy to support the arts and creativity that will be essential to the UK in responding to a rapidly-changing world.
Yet, perhaps despite ACE's intentions (and no doubt some excellent people), its ideologies and administrative demands are creating distance between it and those who make the art happen - the very people who can help ACE make the case to government. There is potential weakening in what could be a powerful, collaborative relationship between ACE and the sector it funds.
With all that said, we now have to focus on our future, in the spirit of innovation and commitment that has brought the London Sinfonietta this far. We will commission and curate projects that can tour more often and reach wider audiences online, and we are developing new income streams from partners, businesses, trusts and individuals.
Liberating powerful expressions of personal creativity
We will not step back from our commitment to education, participation and talent development: these programmes remain central to our strategy, passion and purpose. We are committed to playing our part in Let's Create.
Composers of contemporary classical music have been so influential over the past 70 years, surprising audiences and creating inventions in sound that have inspired artists from The Beatles and Bowie to Radiohead. The London Sinfonietta has been at the forefront of that -in the UK and internationally for over 50 years - and we will continue producing great new music in concert and online.
As the first ensemble to launch a music education programme in the 1980s, we will also continue to use our projects to liberate powerful expressions of personal creativity for individuals and communities. We will do everything we can to sustain our tradition, bringing new supporters with us on the journey. We hope this involves some of you reading this message, and thanks so much to those of you who support us now.