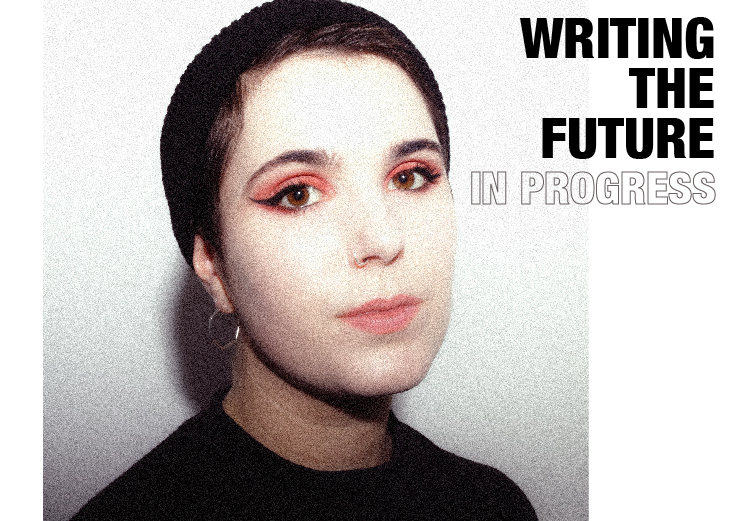 Writing the Future is a scheme that provides a bursary to four composers at the beginning of their careers, allowing them to work with the ensemble over a two-year period to create a new piece of music that expands the chamber music format, using techniques such as infrasonic sound, immersive staging, speech transcription, and tapestry as compositional inspiration. In this blog we hear from one of four Writing The Future Composers Alicia Jane Turner on her experiences of the programme.
It was wonderful to find out last year that I'd been selected as a Writing the Future composer by the London Sinfonietta, particularly during such a difficult time in the arts. After losing so much of my upcoming work in 2020, it reinvigorated me and gave me such much-needed energy.
My background is in composition and sound design for contemporary theatre and performance art, and over the past few years I've been looking at transferring that part of my practice into new classical music contexts as it's an art form I love dearly. It's been rewarding, and I've been supported by some brilliant organisations and artists (shout out to the glorious Bang on a Can over in New York!), but it's been challenging too - having never trained as a composer and having very basic knowledge of theory I always felt too intimidated to try composing orchestral music previously. For me, a large part of developing my practice as a composer is pushing through that dreaded foe - imposter syndrome, to create the projects you know you want to make. I feel very grateful that the London Sinfonietta is supporting me and has created a scheme like this that allows sound artists from different backgrounds to be able to work in new ways, and the project I'm creating for Writing the Future means a great deal to me.

The project I'm making was informed by my research about lighting design and sound design in contemporary theatre and how they operate on a sensory level to create meaning. Part of my research was about blackouts, darkness and dim lighting states in performance, and there was a quote by Lynne Kendrick in the book "Theatre in the Dark" that's always stuck with me - "there is a political imperative to theatre in the dark, which takes issue with visuality because the ways in which we are allowed to gaze upon the world around us remain problematic."
"I kept thinking about this idea of a political imperative behind darkness in performance, what the dark means to me, and how I experience it each day."
This project takes darkness into the nighttime, and explores the fear of walking home alone at night; those times where I think I see a shadow or hear a noise, and put my keys between my fingers. It's titled "Tell Me When You Get Home", the text I receive from different friends after I leave their houses in the later hours. On a broader scale, it's looking at the threat of patriarchal violence, and so it feels important to me to create something that subverts that threat, that can be defiant and empowering. I started to think about figures that symbolise that defiance, who turn the tables and make the patriarchy afraid, and started researching into monstrous femme figures; witches, sirens, banshees - I was particularly enamoured with witches, who make an appearance in the text.
Its going to be a very theatrical project, performed by a soprano and small ensemble scattered around the hall, with shifting levels of visibility and large parts performed in the dark - so lighting design is going to be a key part. So far, I've written the text after my period of research and I'm developing the vocal score (which is close now!), and I'm being mentored by the wonderful Tansy Davies who's been an incredible support and has provoked so much new thought for me. Director Lucy Bailey has also recently come on board, who's allowed me to start thinking about the performance as a narrative journey and a piece of theatre. I'm excited to see how it continues!