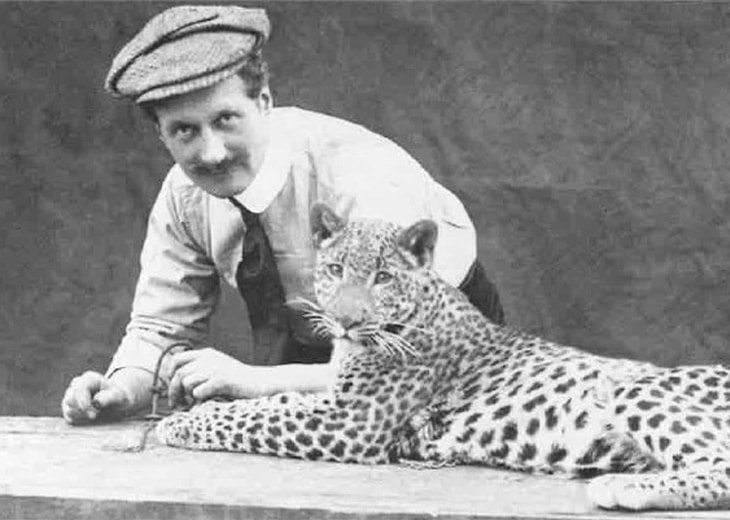 Alfred Machin (1877-1929)
Alfred Machin was a French photographer, producer and film director who worked in France, Belgium and the Netherlands in the early 20th century. He is known as one of the few French film directors to have expressed progressive, pacifist views in his work pre-World War I, he was a pioneer of aerial filming and was involved in the earliest coloured pictures – all evident in his masterpiece Maudite soit la guerre, which we present alongside a new score by Olga Neuwirth to mark this year's Armistice commemorations. 
In 1907 Alfred Machin made his first films for Charles Pathé, the founder of French film studio Pathé Freres – to this day one of the most prominent film companies in Europe and beyond. A year later, he travelled to the Netherlands to shoot a number of short films inlcuding La fille de Delft (1914), and was later sent to Belgium by the Pathé brothers to set up Belge-Cinéma-Film. He became its general manager and directed the country's first ever feature film Le Diamant noir, as well as Maudite soit la guerre. Machin was also known for his work in Central Africa where he filmed wild animals and local indigenous communities, an experience which would significantly influence his later life – often pictured with the favourite leopard he brought back to France from his travels. 
During World War I, Machin returned to France to serve in the army, taking part in the foundation of the Photographic Service of the French Army and continuing to produce films for Pathé on the frontlines.
After the war, he created a studio in Nice, onto which added a small zoo with exotic animals. He died in 1929 as a result of an injury inflicted by a panther during the shooting of a film.
La fille de Delft (1914) Opening scene
A significant feature of Machin's Maudite soit la guerre is the innovations of colour in 20th century cinema. The film company Pathé Frères dominated such innovations by developing cinematic skills which Alfred Machin applied to many of his films. Below are some colouring techniques that can be found in the pacifist film...
Stenciling
Using a template, a portion of the film frame could be coloured quite quickly, and by using different templates, multiple colours could be added within a single frame.
Tinting: dye-bath
Tinting was achieved by immersing the film in dye which would give the entire film strip a uniform colour
Toning: chemical reaction
In toning, silver particles in the film emulsion were chemically converted to give a different colour to the black and grey areas within a film frame 
Chasse à la panthère (1909)