Welcome to our Sound Out Schools Concert!  
This special concert will bring together young people from across the UK to explore how to compose and create music, hear our musicians perform pieces by living composers and be the first audience to hear new works by young people who have taken part in our Composition Challenges.
Find out more about our composers and their music below, and if you haven't already taken up one of our Composition Challenges, please do have a go – anyone can become a composer!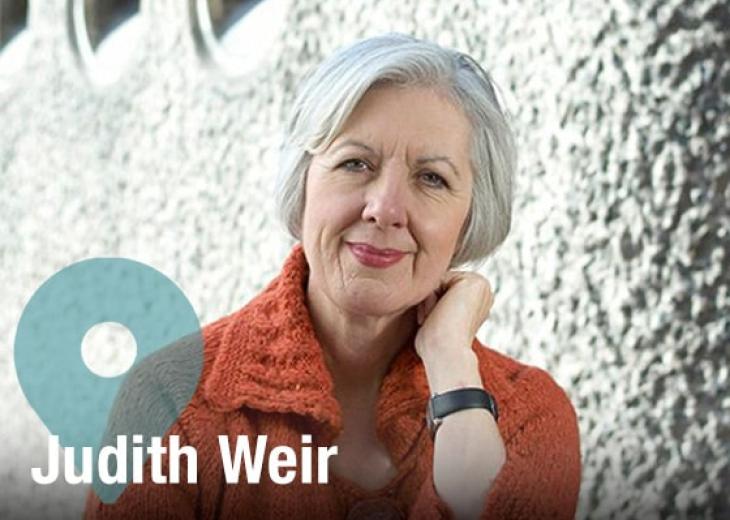 Judith Weir (born 1954) 
Sinfonia Comatica 
Judith Weir is a British composer. She was born into a Scottish family, but grew up near London. She played the oboe, performing with the National Youth Orchestra of Great Britain, and studied composition with John Tavener whilst she was still at school. In July 2014 Judith Weir became the first woman to be appointed to the 395-year-old royal post of Master of the Queen's Music. Her duties in this role are to support music teachers in schools and champion amateur orchestras and choirs. She has written music for national and royal occasions, including the Queen's 90th birthday celebrations and the UK's official commemoration of the 1918 Armistice.
Sinfonia Comatica is a short dramatic piece, a bit like a fanfare. It makes a dramatic and vibrant opening to our concert. 
Introduction from Judith Weir
Activity
Sinfonia Comatica is a short burst of vitality and energy – and in our concert, it acts like a sort of fanfare. A fanfare is a short, loud piece to announce the beginning of a ceremony or the entrance of an important person.
In small groups, using body percussion or other instruments, compose a short, ear-catching idea. It's really good to mix up long and short notes i.e. long long short-short long.
It does not have to be complicated. Make sure everyone in the group can play/perform the idea. Remember – most fanfares are loud! To show how important the person or ceremony is.
Then make an order for performing the piece. Start with one person then add one more on each repetition. Or, find another structure.
Finally, compose an ending: a group 'rumble' (like a drum roll) is a good ending, especially if you add a short sharp band to the end.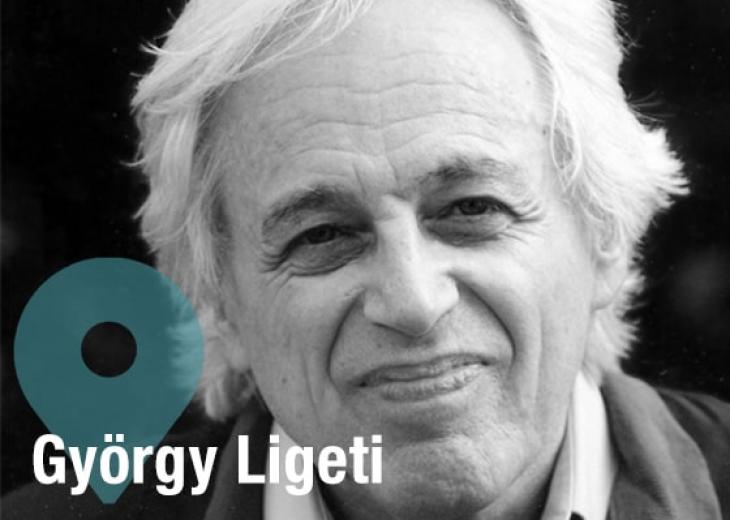 György Ligeti (1923-2006)  
No. 1 from Six Bagatelles 
György Ligeti was a composer born into a Jewish Hungarian family in Romanian Transylvania, in the village of Diciosânmărtin. He lived in the Hungarian People's Republic and studied and taught music in Hungary until the Hungarian Revolution in 1956, when he fled to Vienna, Austria.
He was then able to meet and work with leading composers and try out new contemporary music styles and techniques including working on electronic music which was very new at the time. His music is often quirky, with a sense of fun and great rhythmic energy.
You will hear No. 1 from Six Bagatelles, which is written for a wind quintet made up of flute, oboe, clarinet, horn, and bassoon. The first bagatelle, Allegro con spirito, is comprised of only four pitches.
Activity
Can you try composing a piece using only four notes/pitches or four sounds? 
Choose your four notes (Ligeti chooses C, E-flat, E and G. But you can choose your own to suit your instrument for instance C, E, F & G work well). If you are using unpitched instruments, choose four different sounds. 
Spend time composing or inventing different ways of using these sounds/pitches. Here are some ideas: 
An interesting rhythm that uses only one of the pitches/sounds. Repeat this rhythm – explore different dynamics (levels of volume) with it. 
A musical pattern that uses three of the four pitches/sounds – can you play it backwards as well as forwards? 
A harmony that combines any number of the pitches/sounds into one sound – i.e you play them all at the same time. This can be very effective in quieter dynamics. 
Once you have composed several ideas – think about how you might structure them into a piece. Which idea starts? Which idea finishes? Are there two ideas that would sound good when played at the same time? Do certain ideas return during the piece?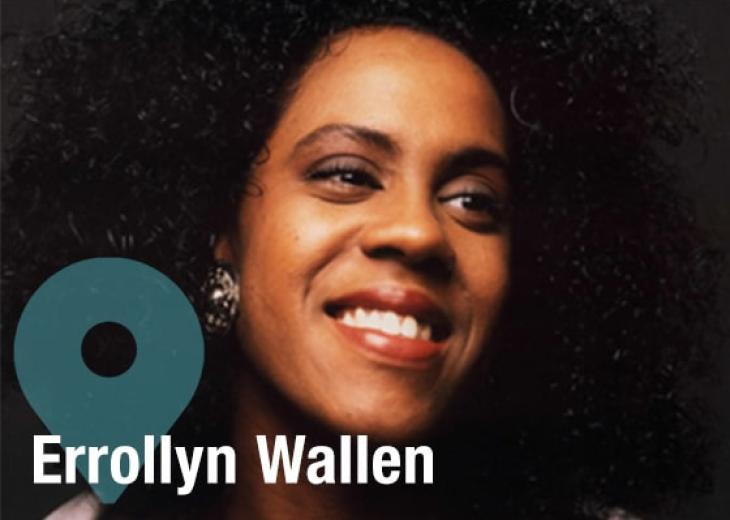 Errollyn Wallen (born 1958) 
Postcard No. 1 from Five Postcards 
Born in Belize, Errollyn Wallen is a British composer. Before becoming a musician, she trained at the Dance Theatre of Harlem, New York, but left to study composition in London and Cambridge.
Her first orchestral commission was a concerto for percussion and orchestra, written for percussionist Colin Currie and premiered by him during the finals of the BBC Young Musician competition in 1994. This piece was subsequently performed at the 1998 BBC Proms, making Wallen the first black female composer to receive a performance at that festival.
At the Sound Out concert, you will hear Postcard No. 1 from Five Postcards for violin and viola.
Activity
Errollyn Wallen's Postcard makes use of a musical device called an ostinato. An ostinato is a musical pattern that repeats over and over. It is a very common musical idea – you can hear it in lots of music around you. It can be a rhythm on a drum or a short melody on a xylophone or a pattern of chords on a ukulele. 
Working in pairs or small groups: compose an ostinato - a simple pattern that you can repeat over and over. Decide who and which instruments will play it. You can have one instrument playing it over and over or two or more instruments taking it in turns. 
Extension: Then, other instruments can take turns improvising a short musical idea that fits with the ostinato. To improvise means to make something up on the spot, to follow your instinct. It does not need to be complicated or difficult. The important thing is to listen to the ostinato so you 'fit' with it. If there are two improvisers, you can have a musical conversation – imagine your improvised music is a language… talk to each other!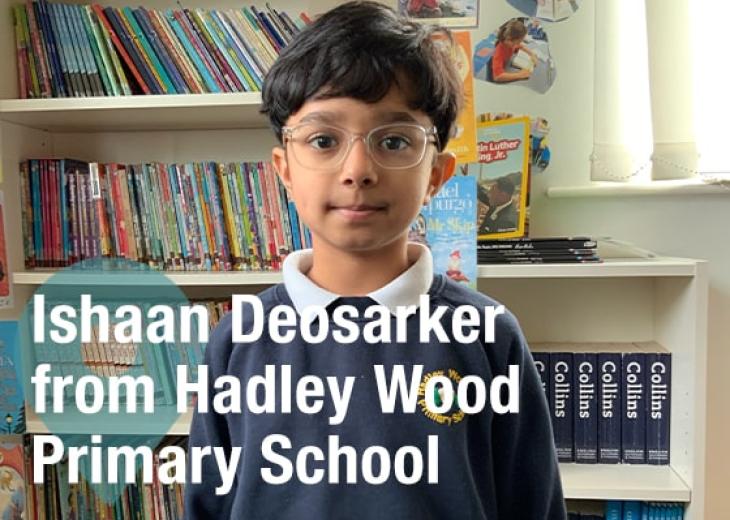 Ishaan Deosarkar, Year 3, Hadley Wood Primary School, Enfield 
The Unstoppable Exciting
Ishaan describes his piece as 'An Amazing Composition. High and Low Sounds. Sudden Tones. Fading in and out. Different Sounds. Cool Rhythm.'
We chose this Postcard Piece because it has all the ingredients of an exciting, dramatic piece of music and we loved how Ishaan mixed graphic symbols and shapes with colours and written instructions to give it lots of detail.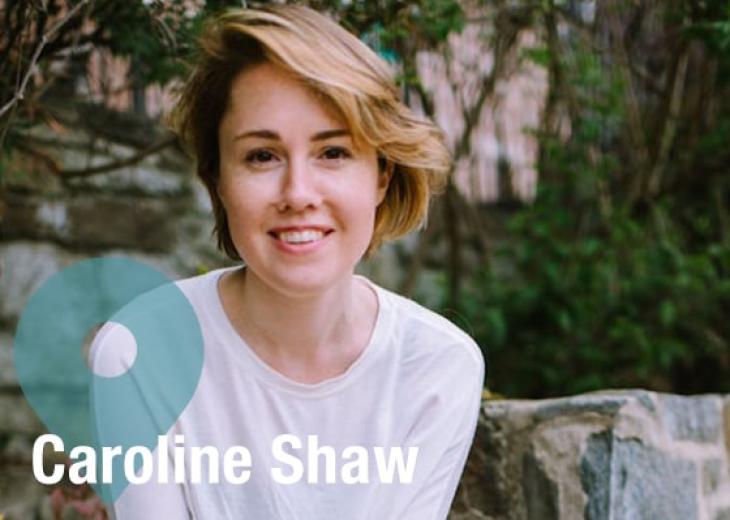 Caroline Shaw (born 1982)
The Orangery from Plan & Elevation: The Grounds of Dumbarton Oaks
Caroline Adelaide Shaw is an American composer, violinist, and singer. She began playing the violin when she was two years old and started writing music when she was 10. She likes to try and imagine a world of sound that has never been heard before and writes for lots of really interesting combinations of instruments and voices including a piece for cello and flowerpots! Aged 30, she became the youngest recipient of the Pulitzer Prize for Music for her work Partita for 8 Voices.
Today you will hear The Orangery, which is for string quartet – two violins, viola and cello. It is part of a larger work called Plan & Elevation: The Grounds of Dumbarton Oaks. Shaw was inspired by shape and design of the building as well as how it was used.
Activity
The Orangery is inspired by a building. You can compose a piece of music inspired by a building or place too. 
Choose your subject. It could be famous landmark building like London Eye or The Shard. Or it could be a building in your borough, even your school. It could even be a park or an outdoor space you know and like. 
First, think about the building – its scale, its shape, what it looks like in different weather even. Is it a huge, tall building made of glass and steel or a small, cosy building made of wood. 
Think about its use: is it a place where many people bustle around or is it a place where one or two people go to relax? How does it change at different times of day? 
List everything down: i.e. tall, glass, imposing, busy, echoing, shiny, gleaming etc.
Compose, in groups or pairs, some musical ideas that represent or capture some of these words in sound. What sort of sounds can you make to be imposing or to represent 'busy'.  
When you have a number of different musical ideas, think about how you might structure them into a piece – which idea comes first, are you going to have one idea at a time or can you layer them on top of each other? What sort of story can your piece tell?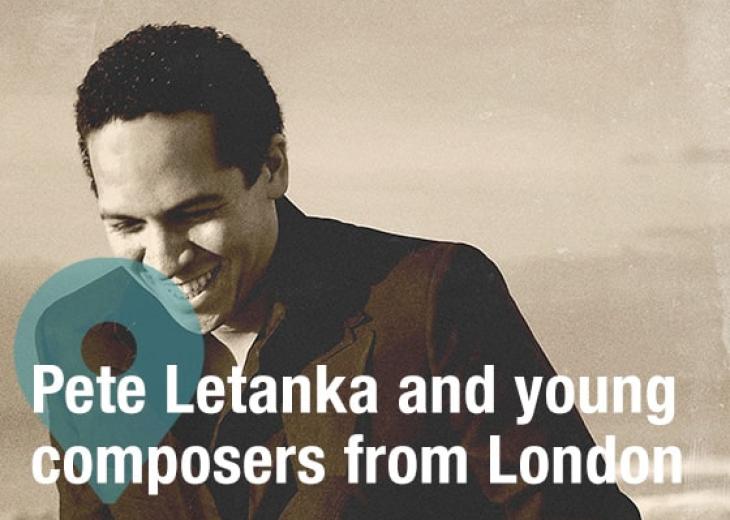 Pete Letanka and young people from Enfield, Haringey and Waltham Forest  
Shifting Sands
Pete Letanka is a jazz pianist and composer. He studied Jazz and Contemporary music at Leeds College of Music, where he won a scholarship to spend a year studying at the University of Maine in the USA. After graduating, he formed the Pete Letanka Trio and released his debut album, 'Afrostocracy'.  
Pete has been working with young people from Buxton School, Waltham Forest, Woodside High School, Haringey and St Anne's Catholic School for Girls, Enfield to create the new piece you will hear in this concert. It will be performed by young musicians from Waltham Forest, Haringey and Enfield alongside the London Sinfonietta.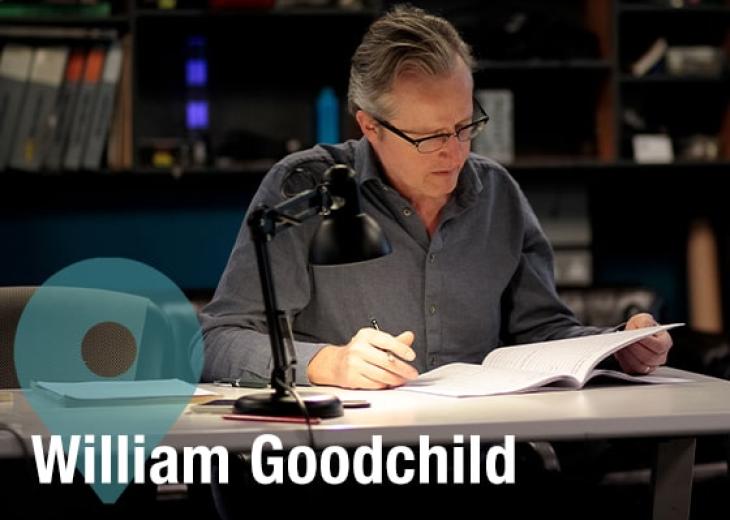 William Goodchild (born 1964) 
Land of Plenty
William Goodchild composes and produces music for film and television as well as for concert halls. He has written music for over 90 films, including many wildlife documentaries (including some narrated by David Attenborough).  
Land of Plenty was written to accompany the BBC Two Natural World documentary 'Africa's Giant Killers'. The document follows Africa's largest herd of elephants as they face a fearless pride of lions in a fight for survival. The music accompanies a scene where we learn about the Savute in Chobe National Park, Botswana. William use's quick tempos and syncopated rhythms to show rising waters. He scored the piece first with a piano, to match the music to the visuals, then added more instruments to accent the events in the documentary.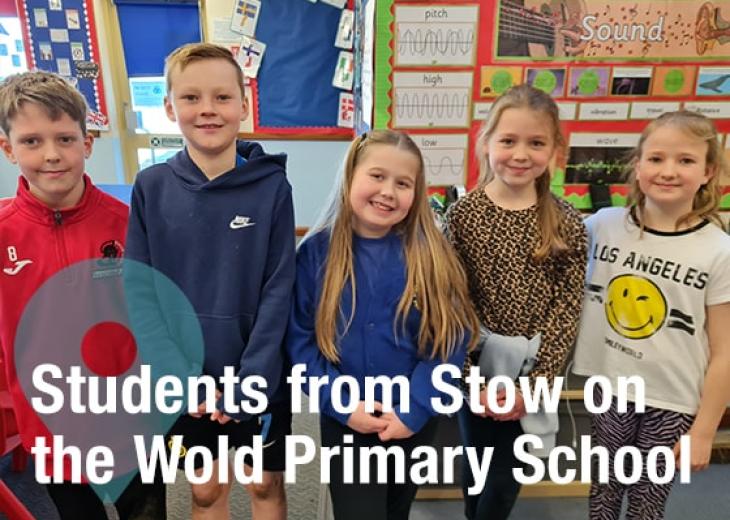 Students from Stow on the Wold Primary School, Gloucestershire
Numbers and Patterns
This piece was created using the London Sinfonietta's Numbers and Patterns Composition Challenge. Young people used number lines to create melody (the tune), rhythm and harmony (the accompaniment). This piece is inspired by Spiegel im Spiegel (Mirror in the Mirror) written by Arvo Pärt for violin (or cello) and piano.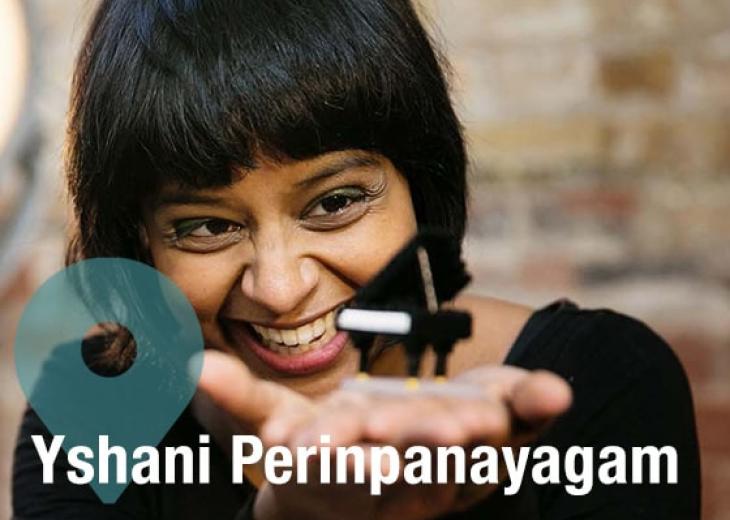 Yshani Perinpanayagam (born 1983) 
HATCH (New commission)
Yshani Perinpanayagam is a pianist, conductor and composer. She has performed in venues across the UK, conducted shows in London's West End and has written music for a whole range of different instruments including a very old computer called a Commadore 64!
This new piece involves the audience as performers, creating rhythmic sounds using their bodies –we will teach you this during the concert so you can join in. It is written as a musical canon –a piece where the musicians play the same musical phrase starting at different times.
Yshani's inspiration for this piece? She pictured a load of pterodactyl eggs hatching and the little terrors taking their first steps and stretching their wings for the first time!
Activity
Can you create your own body percussion piece? In a small group set the pulse of the piece by tapping your foot all together. Then you can each create your own rhythm – you can make it super simple or really complicated. Listening to them one after another and then try them all together to hear how your patterns sound when they are layered up and repeated again and again. Make decisions as composers about who should start, when each person should start or stop and perhaps even include some silent beats to create some space. Just remember to always keep your pulse steady as this will keep you together as a group! 
You can also have a go performing another body percussion piece written by Scottish composer Anna Meredith here: CBBC - Ten Pieces - Connect It by Anna Meredith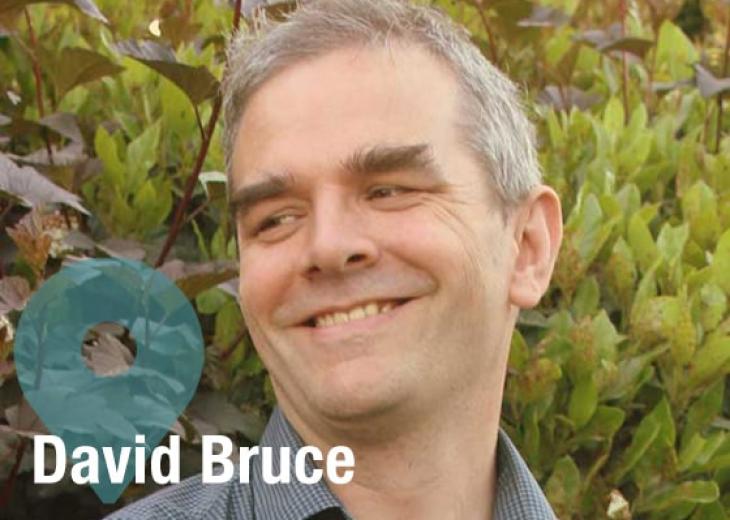 David Bruce (born 1970)
Steampunk
Born in Stamford, Connecticut, composer David Bruce grew up in England. David has been Associate Composer of the San Diego Symphony and Composer-in-Residence with the Royal Opera House. He composed the opera Nothing (after the book by Janne Teller), and the chamber opera The Firework Maker's Daughter (after the Philip Pullman story). The latter was shortlisted for both the British Composer Awards, and the 2014 Olivier Awards for Best New Opera Production. David runs his own YouTube channel, and has over 200,000 subscribers!
This piece, Steampunk, was composed for octet of mixed ensemble. David says 'I first came across the word steampunk when a friend introduced to me as such the collection of strangely futuristic lights, clocks and other objects that he'd fashioned out of copper pipes and other scrap materials. As a fan of home-made instruments it was a form of creativity that instantly appealed to me.'
 
Introduction from David Bruce
Activity
Steampunk is a type of science fiction – imagining a world without electricity (as if it had never been invented). The world is full of things we recognise but they don't work in the same way – computers might be powered by air bellows for instance or buses powered by large sails.  
Have a go at making your own steampunk instrument. 
Sound: It needs to make a sound so it is worth thinking about how it will do this – it might have a skin to strike or a string/elastic band to vibrate. It might even incorporate an existing instrument-part like a brass mouthpiece.  
Amplification: Most instruments have some sort of hollow body that acts as amplifier – cardboard boxes/ice-cream tubs/dustbins are all good. They can be small or large (or very large!). 
Look: Steampunk objects are often quite ornate and visually striking. Remember to decorate your instrument with colour, bangles, decoration and anything else that inspires you. 
Finally – and only if you have time – see if you can play your instruments and compose something fun for them to play. 
The London Sinfonietta  
The London Sinfonietta is one of the world's leading contemporary music ensembles. We perform music by living composers, commission new works and engage people of all ages in creating new music.
The London Sinfonietta musicians performing in the Sound Out Schools Concert are:
Sirius Chau  flute  
Bernice Lee  oboe 
Jordan Black clarinet  
Lois Au  bassoon 
Timothy Ellis French horn 
Darragh Morgan  violin  
Hilary Jane Parker violin 
Paul Silverthorne  viola 
Meera Raja  cello 
Siret Lust  double bass 
Patrick Bailey conductor and presenter
Composition Challenges invites young people, teachers and schools to create new music for the London Sinfonietta inspired by the works and musical ideas of living composers. Aimed at KS2/3 and free to take part.
Sound Out 2021-22 is generously supported by the Rainbow Dickinson Trust, Lucille Graham Trust, Hodge Foundation, Michael Tippett Musical Foundation, The Nugee Foundation, Michael Watson Charitable Trust, the Southbank Centre, and with the friendly support of the Ernst von Siemens Music Foundation. 
The work of the London Sinfonietta is supported by the John Ellerman Foundation.
The London Sinfonietta is a member of ACE's National Portfolio of Organisations and is grateful for the ongoing support it receives.