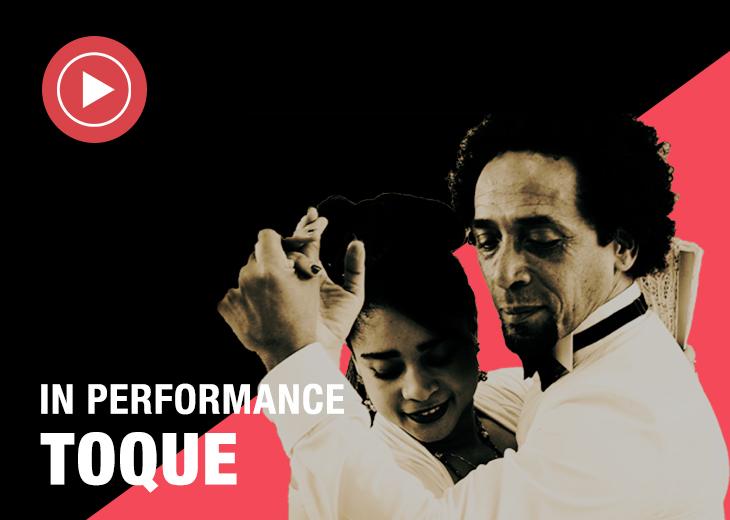 Toque by Tania León
The word "toque" in Spanish means "touch" and is used not just for physical touch, but also to signify playing an instrument, playing a game, sounding an alarm, or giving something a finishing touch. This composition is inspired by a famous Cuban dance tune (or danzon) called "Almendra," which means almond in English. "Almendra" was composed in 1938 by the Cuban band leader Abelardito Valdes. León explains that this tune is so well-known that a Cuban needs to hear only two notes of it to recognize the piece. Danzon is the official dance music of Cuba, and is based on European ballroom dancing. It is elegant and virtuosic and generally has a light and sprightly feel.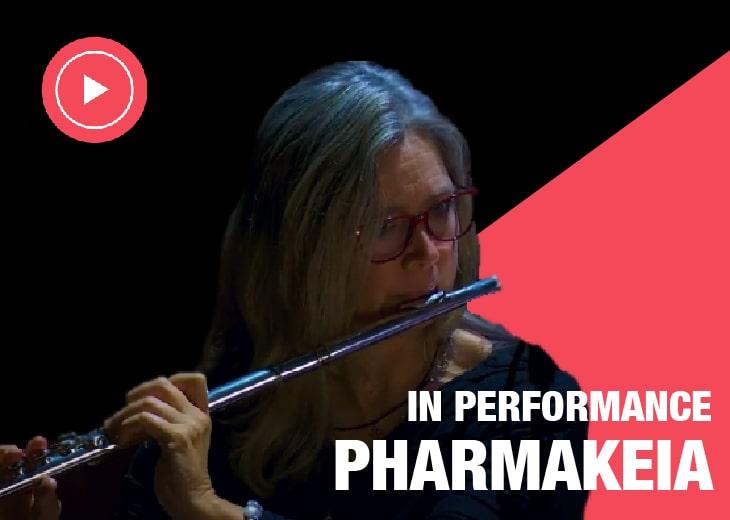 Pharmakeia by James Dillon
Watch the full concert film of Pharmakeia, the complete cycle of four movements by Scottish composer James Dillon, commissioned by the London Sinfonietta in celebration of the composer's 70th birthday, that began with his 2017 work Circe. Known for his eclectic influences, Circe transformed the Greek goddess of magic into enchanting musical forms, with moments of suspense, playfulness and mysticism throughout. Noted in the Dillon's score, the goddess' particular powers appear as transmutation, illusion and necromancy - so expect an otherworldly, unnerving fairy-tale as we experience the full cycle.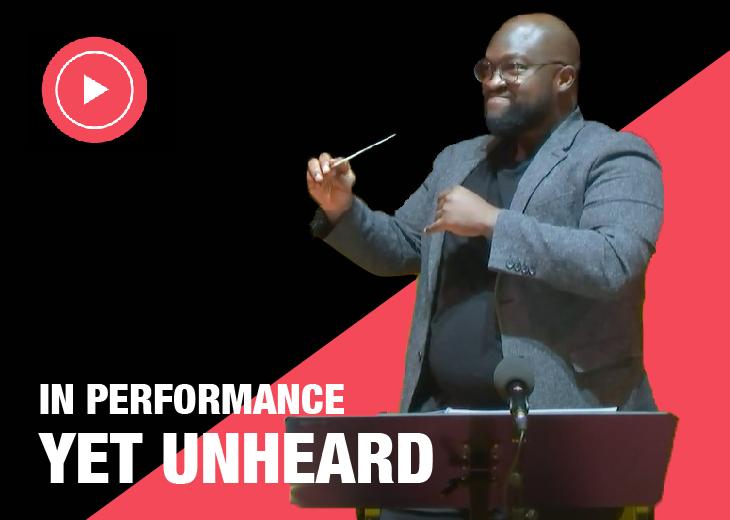 Yet Unheard
Watch the full performance of Yet Unheard, a concert of music by established and emerging black composers, co-curated by leading composer and new music thinker George Lewis and experimental vocalist, movement artist and composer Elaine Mitchener. Partly inspired by the seismic changes in society over the summer, this varied and powerful programme addresses a range of under-represented points of view. This video also includes interviews with Co-Curators George Lewis and Elaine Mitchener and with conductor Vimbayi Kaziboni.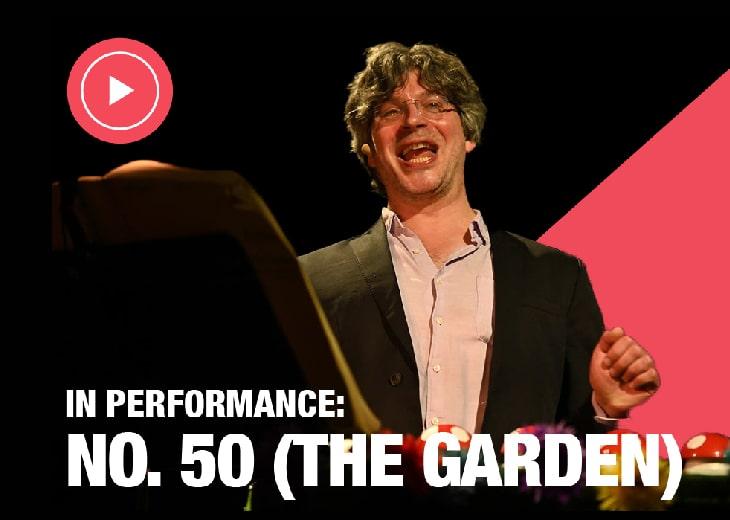 No. 50 (The Garden) by Richard Ayres
A new film of Richard Ayres' humorous, quirky and yet deeply affecting work, edited by Martha Colburn, mixing footage of London Sinfonietta's performance in April 2019 with her own characterful animations of the storyline. Inspired by Dante's The Divine Comedy, Ayre's music and text reflects upon, amongst other things, man's impact on the planet.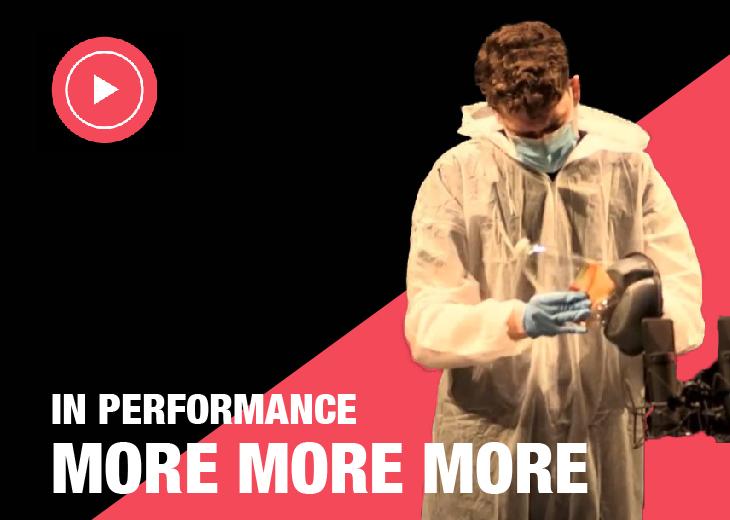 more more more by Matthew Herbert
watch the full performance of Matthew Herbert's London Sinfonietta commission more more more, the composer's comment on endless consumerism. This live video, recorded at Kings Place in November 2020 also features Herbert's Pianissimo and The Melt, a work created alongside young music creators from our partner hubs in North London.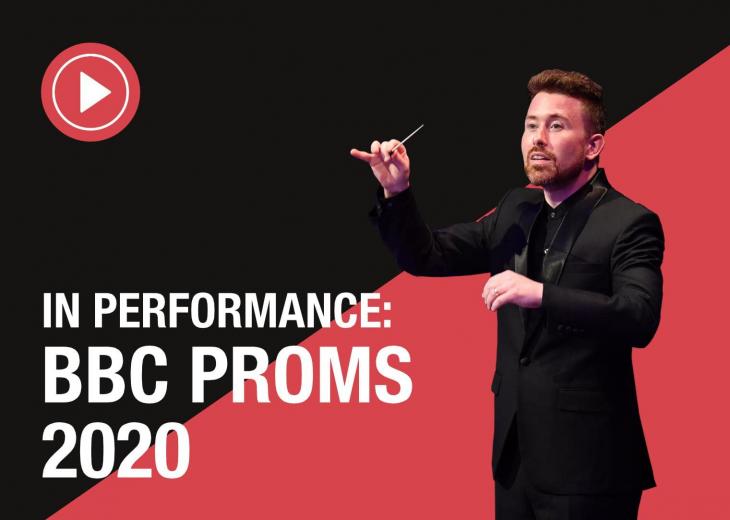 BBC Proms 2020
On 1 September 2020, we performed engaging music of the past 50 years, including five Proms premieres, three cityscapes - and a toy piano! The colourful, rhythmic and beautiful music arranges and alters sound in unexpected and intriguing ways - from sampled speech and street sounds woven into music, to an amplified bassoon transformed into an electric guitar.  The programme (performed both on the stage, and from places around the Royal Albert Hall) includes music by four Americans, including two giants of the minimalist movement Steve Reich and Philip Glass, as well as music by three inspiring British composers who have a strong association with the ensemble.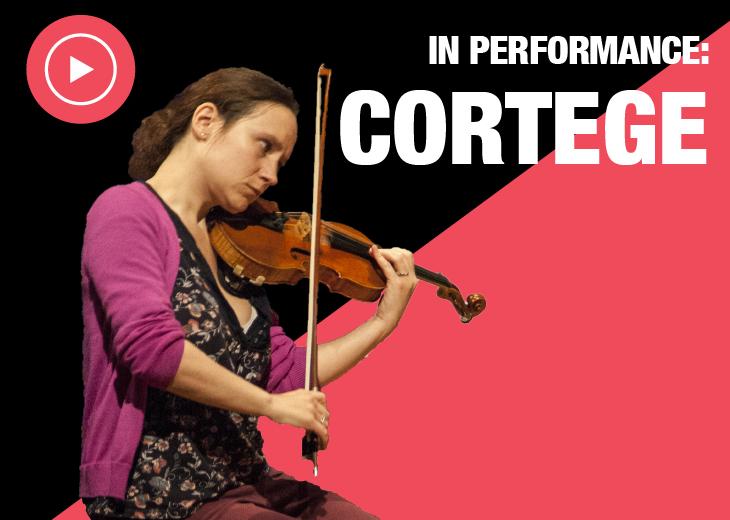 Cortege by Sir Harrison Birtwistle
Cortege is Harrison Birtwistle's completely new reworking of the earlier work Ritual Fragment - which itself was dedicated to the memory of the former director of London Sinfonietta, Michael Vyner. The composer wanted to revise and correct the original, but soon discovered that his intentions went much further.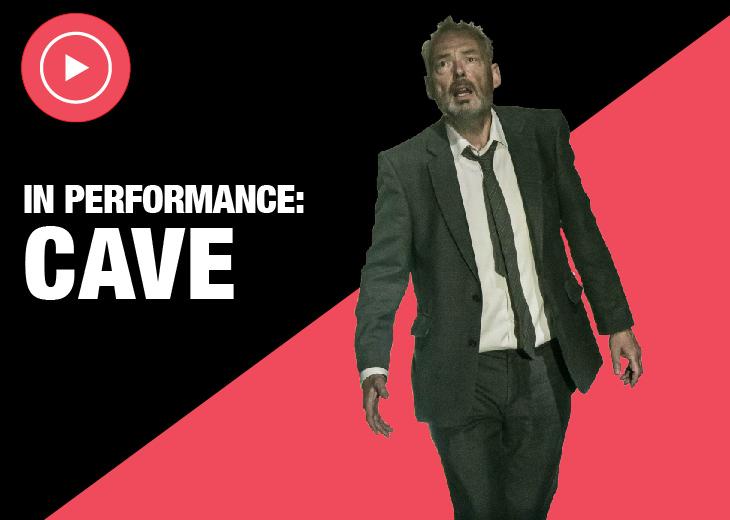 Cave by Tansy Davies and Nick Drake
In the cavernous warehouse space of Printworks London, this chamber opera follows a grieving father's (Mark Padmore) quest for survival in a world devastated by climate change.
Desperate to connect one last time with his daughter (Elaine Mitchener), he enters a dark cave, triggering a journey into an underworld of spirits. Cave was awarded the Royal Philharmonic Society Award for Chamber Composition in 2019 and was directed by Lucy Bailey, designed by Mike Britton and conducted by Geoffrey Paterson.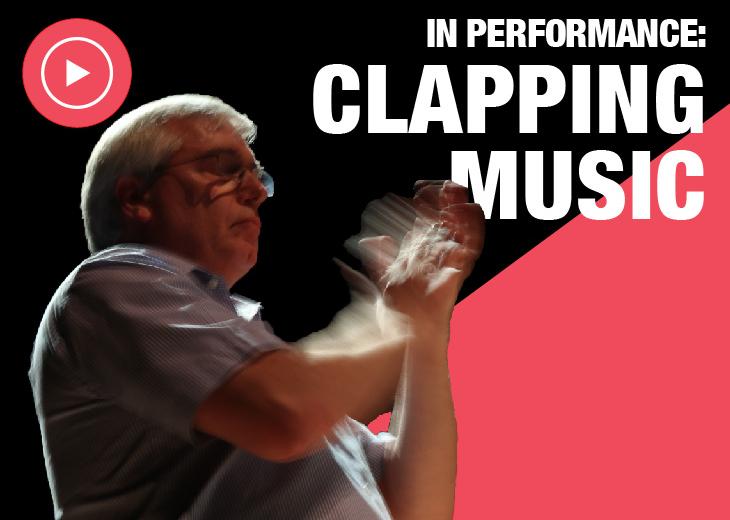 Clapping Music by Steve Reich
Performed by London Sinfonietta percussionists David Hockings and Toby Kearney.
This video was filmed as part of the Steve Reich's Clapping Music App project:
"In 1972 I composed a piece called Clapping Music and all it needs is your two hands. This app is very helpful: it will teach you to play the piece and it will prepare you to perform it live. It's a bit of a challenge but an interesting one, and you can download it for nothing." Steve Reich
Steve Reich's Clapping Music App is a new game designed to enhance the excitement of learning to play music.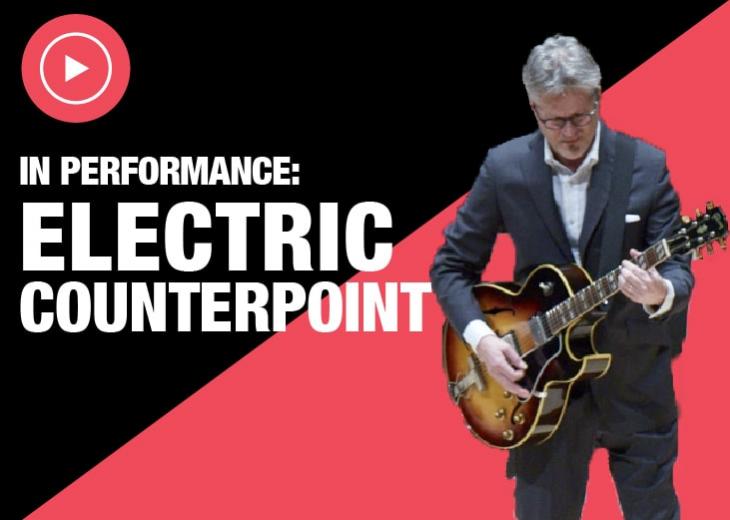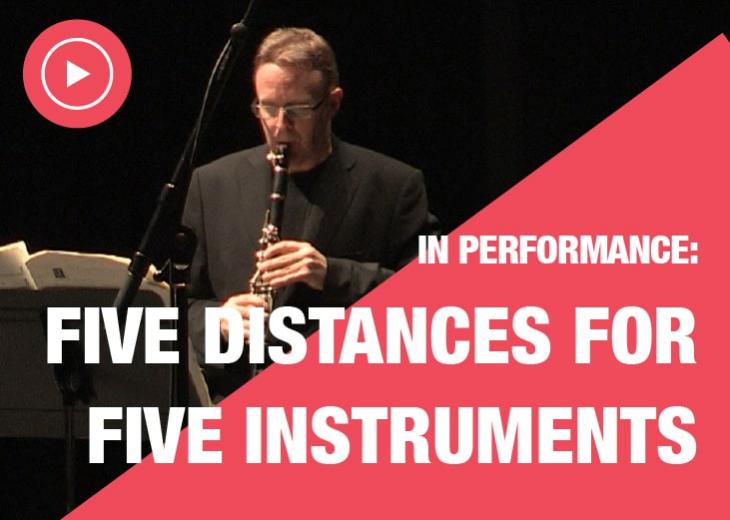 Five Distances for Five Instruments by Sir Harrison Birtwistle
This wind quintet written by Sir Harrison Birtwistle in 1993 is performed here by five principal members of the London Sinfonietta. 
In his introduction to the piece, Sir Harrison Birtwistle writes "It seems that a cheerful and lively argument is going on among the instruments in this wind quintet. The horn and the bassoon contend while the other three players offer commentary, the flute, oboe and clarinet twittering together constantly together. After about seven minutes, there is a pause (with short interruptions) – but soon the music moves on again, accelerating until it reaches the close, exhausted and slow, where it can only repeat the same motifs. Once again, this is instrumental musical theatre."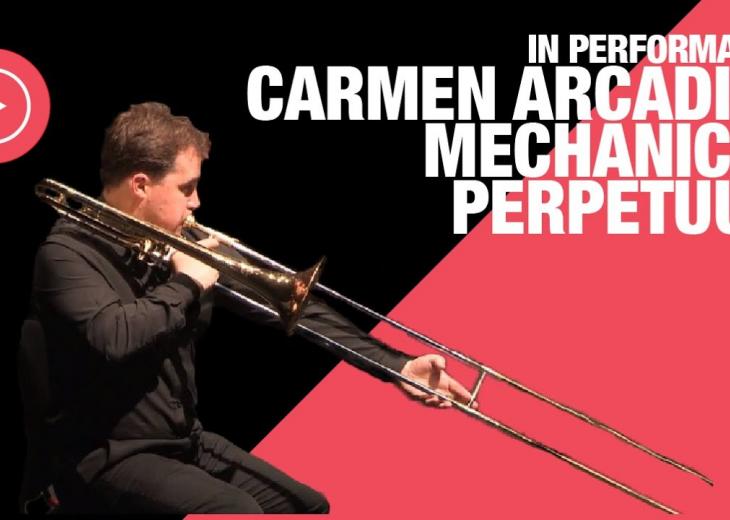 Carmen Arcadiae Mechanicae Perpetuum
Sir Harrison Birtwistle wrote Carmen Arcadiae Mechanicae Perpetuum for London Sinfonietta in 1977 and it was first performed at Queen Elizabeth Hall in 1978 conducted by Sir Harrison Birtiwistle himself. 
In this piece, Birtwistle sets out to construct a piece of music made from very clearly defined material: high, medium or low registers, loud or quiet dynamics and sustained or rhythmic figures. These elements are constantly shuffled around independently of one another so, in the words of the composer, the music is "redefining itself constantly". 
He describes the piece as being made from "six different machines or songs, musics". And then goes on to say "how they repeat in relation to one another is what the piece is about."