To commemorate our 50th Anniversary Season, we produced a limited edition book to accompany the 50th Anniversary Concert at Southbank Centre's Royal Festival Hall on 24 January 2018. As well as information about the concert, it also features in-depth articles on the legacy of the London Sinfonietta and on contemporary classical music as a whole, archive photography, a music-map of the Ligeti Chamber Concerto by Deborah Pritchard, and a complete list of the orchestra's commissions and recordings. There are only 1,250 copies in existence.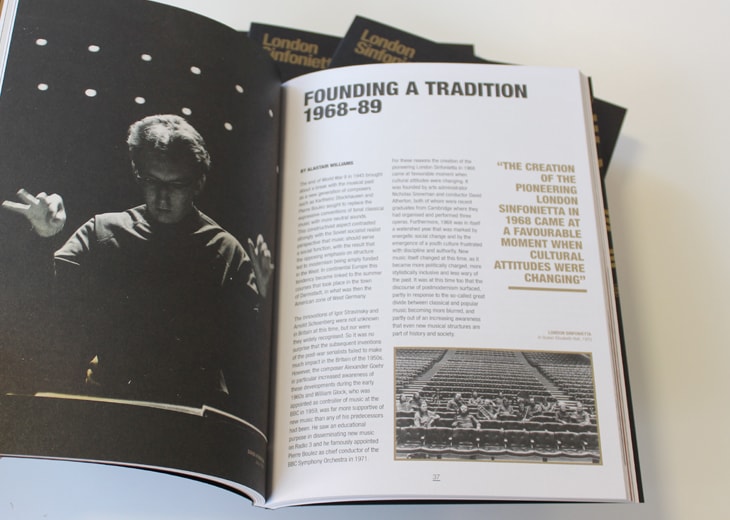 You can now own this limited edition book - a must have for fans of new music - for just £10. 
Explore the full list of contents below. 
Buy now
Contents
Articles
- 50 Years: A Celebration of Agility, Energy and Talent by Paul Griffiths
- Founding a Tradition 1968–89 by Alastair Williams 
- 30 Years of Restlessness 1989–2018 by Morag J Grant
- The London Sinfonietta and Popular Culture by Dominic Murcott 
Perspective pieces (all by Richard Bratby)
- Ensembles and Conductors 
- Collaborations and Festivals 
- Education, Education, Education
- Nurturing New Voices
- Recordings, Film and Technology
Personal Memories from 
- David Atherton (co-founder and former Music Director)
- Nicholas Snowman (co-founder and General Manager 1968–1972)
- Paul Crossley (Artistic Director 1988–1994)
- Terry Edwards (Music Director and Chorus Master of London Sinfonietta Voices) 
- Elgar Howarth (Principal Trumpet 1968–1973 and conductor) 
- Rosemary Gent (Artistic Co-Ordinator 1982–1993)
- Anthony Whitworth-Jones (Administrative Director)
- Michael de Grey (Administrative Director 1981–1989) 
- Paul Meecham (Managing Director 1991–1997)
- Gillian Moore (Education Officer 1983–93 and Artistic Director 1998–2006) 
- Cathy Graham (Managing Director 1997–2006)
- Jane Williams (Head of Artistic Planning 1997–2009)
- Andrew Burke (Chief Executive & Artistic Director 2007–present) 
More
- London Sinfonietta timeline
- Full list of commissions 
- Full discography 
- Full list of all London Sinfonietta Principal Players from 1968–2018
- 50th Anniversary Concert Programme Notes
Buy our limited edition 50th Anniversary Book
Price £10 + £3.50 postage and packaging